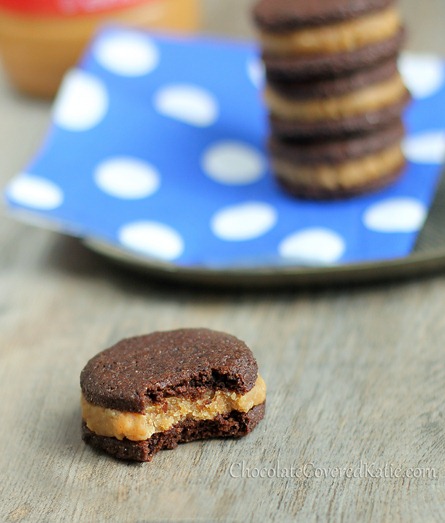 Have you ever tried Oreos with peanut butter?
The first time I tried them was after watching Lindsay Lohan's character spread peanut butter on Oreos in the movie, The Parent Trap. (This was back when Lindsay Lohan was an adorable eleven-year-old girl!)
After the movie ended and we came home from the theater, the first thing I did was pull out a sleeve of Oreos and jar of peanut butter to test it out.
And of course it was delicious.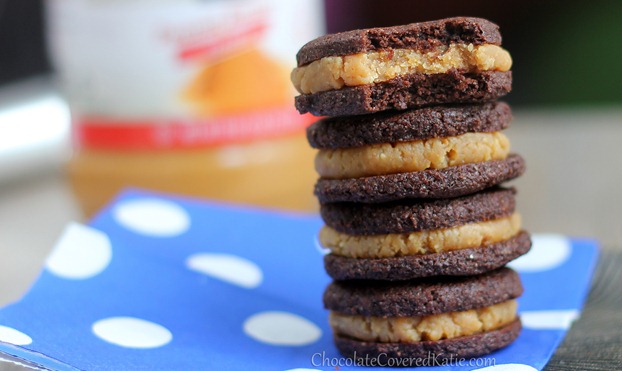 When is chocolate-peanut-butter not delicious?
That would be never.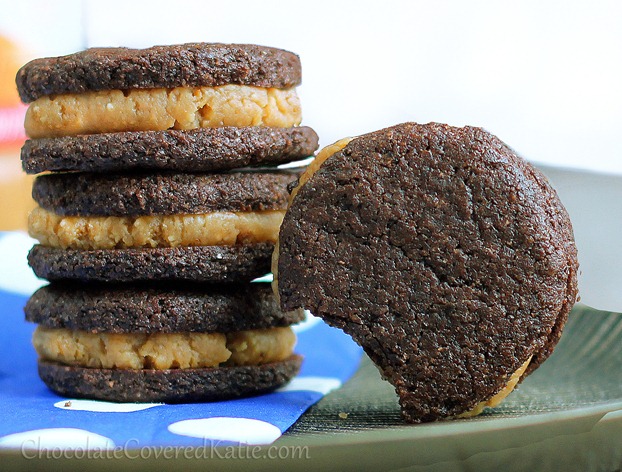 For today's homemade peanut butter Oreos recipe, instead of simply spreading peanut butter on top of regular vegan Oreos, I've replaced the cream filling completely with an easy peanut butter filling so delicious you might want to make extra to eat by itself.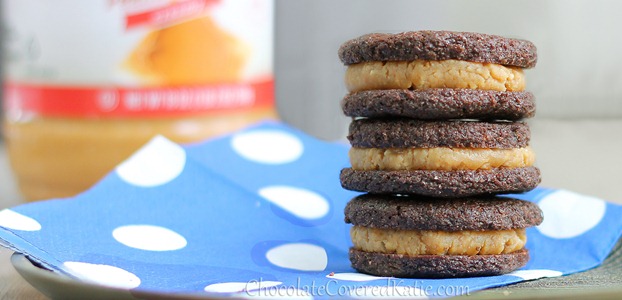 Peanut Butter Oreos
Cookies:
3/4 cup spelt flour (Readers have reported success with Arrowhead Mills gf as well.) (120g)
1/4 cup plus 2 tbsp dutch cocoa powder (30g) (Regular cocoa is fine; the Oreo cookies just won't taste as authentic.)
1/4 cup plus 2 tbsp xylitol or sugar (or coconut sugar) (78g)
1/4 tsp salt
1/4 tsp baking soda
1 tsp pure vanilla extract
1/4 cup vegetable or coconut oil (44g)
3 tbsp milk of choice (45g)
2 tbsp pure maple syrup (or agave) (30g)
Filling:
1/2 cup peanut butter (or allergy-free alternative) (110g)
1/2 cup coconut butter (For a coconut-free version, see "nutrition info" link below) (110g)
1/4 tsp pure vanilla extract
pinch salt
stevia extract to taste, or 1/4 cup powdered sugar
Combine first 5 ingredients, and stir very well. In a separate bowl, combine all liquid ingredients for the cookies. Mix wet into dry to form a dough, then refrigerate 30 minutes before baking. Preheat oven to 300 degrees F. Put dough in a plastic bag, and smush into one big ball. Remove from bag, roll into a thin dough, and cut flat circles using a circle cutter or a circle-shaped lid. Bake on a greased cookie tray for 11-14 minutes (depending on whether you want softer or crispier cookies). They'll still look a little underdone when they come out of the oven, but that's ok. Important: allow to cool 10 minutes before removing from the tray.
For the filling: first make sure your coconut butter is softened. Mix all filling ingredients in a small food processor (or very patiently with a fork, if you must. Texture might be a bit crumbly if you mix by hand; be sure to start with softened peanut butter). Divide filling among half of the cookie discs, then top with remaining cookie discs and fridge so filling firms up. Makes 20-25 sandwich cookies, depending on the size of your circle cutter and whether or not you bother to re-roll all the dough.
View Peanut Butter Oreos Nutrition Facts
Tomorrow is National Peanut Butter Day!
Quick history lesson for curious minds: The invention of peanut butter is credited to Marcellus Gilmore Edison in 1884, although the Aztecs have been crushing peanuts into paste for hundreds of years.
More recipes can be found here: 100 Healthy Peanut Butter Recipes.