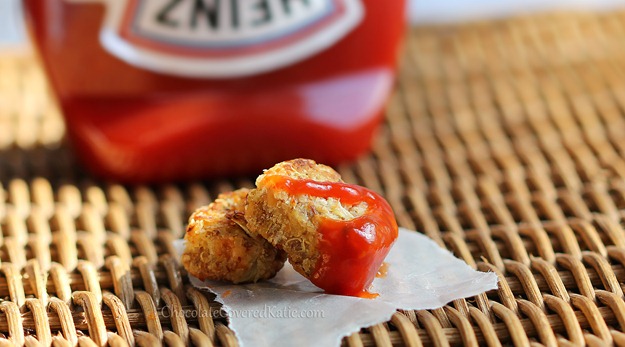 This recipe is unbelievable.
I'm serious. It's one of those recipes where you read the ingredients, roll your eyes, and say, "There is absolutely no way this recipe will turn out."
Then you try it anyway, because curiosity gets the better of you.
Such was the case when I came across a recipe for no-potato tater tots in the book Superfood Kitchen. Logical reasoning told me it just wasn't possible that the ingredients listed on the page could yield something even remotely similar to a tater tot…
Logical reasoning was wrong.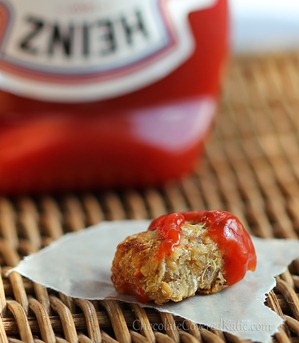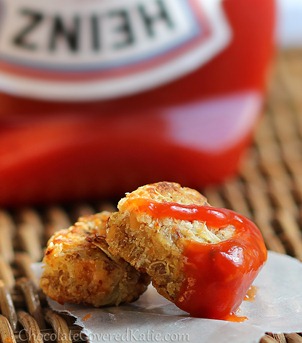 Crispy on the outside, soft on the inside…
And difficult to stop eating!
These "superfood" taters are high in protein, EFAs, and fiber. And in this recipe, no deep-fryer is necessary to achieve that perfect crispy-soft texture.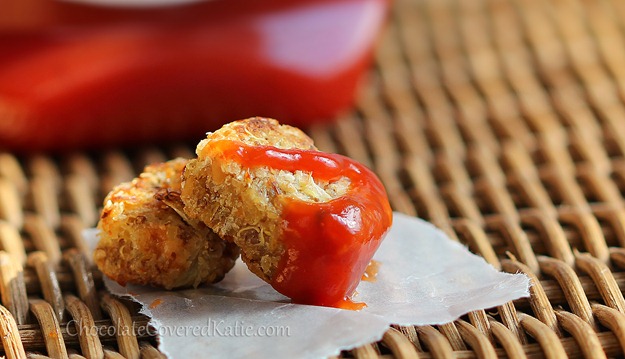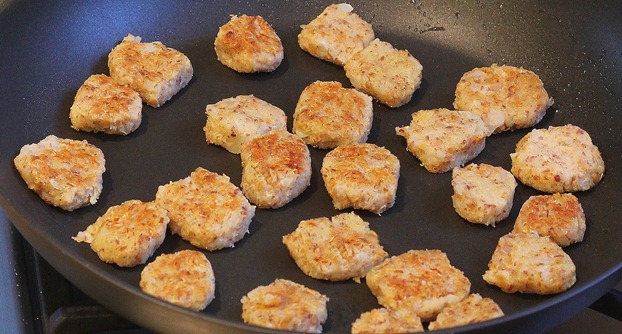 Healthy Tater Tots
(Reprinted with permission)
3/4 cup cooked white beans (such as Great Northern)
2 tbsp flaxseeds (golden for most-authentic appearance)
2 tbsp ground flaxmeal
1 cup cooked quinoa (K note: I cooked my quinoa with 1/8 tsp salt)
1 tbsp white miso
2 tbsp brown rice flour
1/4 cup finely-diced onion
oil or oil spray for the pan
Using a fork, mash the white beans in a large bowl. (If using unsalted beans, you can add a little extra miso or salt to compensate.) Mix in the remaining ingredients, except for oil. A handful of dough at a time, form 1 inch thick long logs on a chopping board. Carefully cut logs into ½ thick slices to make the tots. Warm a skillet over low heat, and pour in a little olive oil (a tablespoon or two) to coat the pan. (K note: I did these in two batches and used about 1 tbsp olive oil per batch. I did also fry a few separately in oil spray to make sure it would work, as I knew people would ask about that option!) Place tots inside the pan, and cook for several minutes until browned. Use a spatula to flip tots over to brown other side evenly. Serve homemade tater tots immediately with ketchup if desired, or freeze for later use. Serves 3-5.
Click to: View Tater Tots Nutrition Facts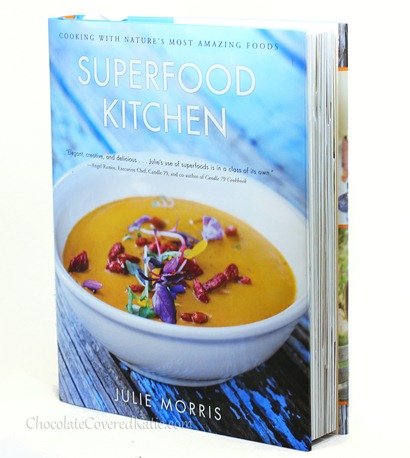 Although I've never been completely sold on the extent of superfoods' health benefits, I found myself bookmarking page after page of Superfood Kitchen by Julie Morris simply because the recipes sound delicious. Quinoa Spaghetti with Cashew Cream Sauce and Chard? Hearty Kale and Black Eyed Pea Stew? Superfood Sangria? Yes please! Along with the recipes, Ms. Morris has included a catalogue of superfood ingredients, detailing the benefits of and uses for each. It's inspired me to expand my own culinary horizons, and I recommend this book for anyone looking to break out of a cooking rut and experience a whole array of new flavors.
Do you include any superfoods in your diet?
I don't go out of my way to eat something just because it's a superfood, but my diet is accidentally filled with superfoods: blueberries, almonds, sweet potatoes, spinach, coconut, chocolate… chocolate, chocolate, chocolate. Chocolate. And no, it is not a typo that I have chocolate listed five times.
Link of the Day: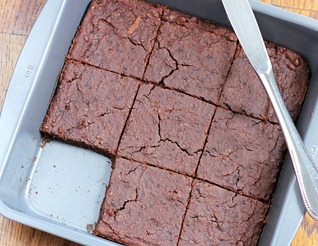 ………………    Black Bean Brownies
Beans are a superfood too. Bring on the brownies!