Every chef has a few tricks up her sleeve apron.
One of mine is the Voluminous Oatmeal Trick.
Or the plump-up raisins trick, the melted-banana trick, and now: the "Sir Mix A Lot" ice cream trick. It might seem like making Vita-Mix ice cream is simple. Just throw a bunch of frozen fruit in the blender and go, right? But a lot of y'all have left comments lamenting the fact that your Vita-Mix ice cream attempts have turned out looking and tasting more like ice, slush, or soup. The problem? A lot of the Vita-Mix ice cream recipes I've seen call for a truckload of ice.
While this might make the finished product "look" like ice cream, the resulting flavor ends up tasting more like… well, ice, of course! Not exactly something to write home Ben&Jerry's about. In general, it's wise to be wary of any Vita-Mix ice cream recipes calling for tons of ice. There are two alternatives to making Vita-Mix ice cream that looks and tastes like the real thing (without all the "bad-for-you" ingredients). One is to use a bunch of frozen fruit, as opposed to ice.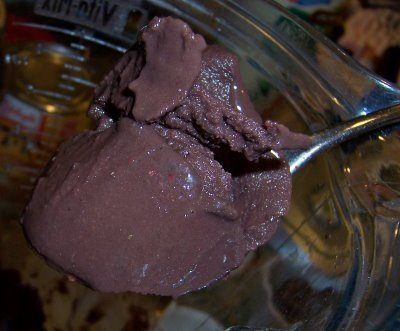 For all of the different flavors, click here: Vitamix Ice Cream Recipes
Vitamix ice cream Trick
Blend a smoothie (or you can even just mix some flavorings into milk).
Pour the liquid into a bowl (or an ice cube tray works really well).
Freeze, then remove from the bowl or tray and re-blend in the Vita-Mix (or your food processor or blender)
Two tips for any Vita-Mix ice cream:
1. Use an ice cream scoop (not a spoon) to serve, for a true "ice cream" look.
2. It helps to make at least 2 servings at once. You'll get a creamier result.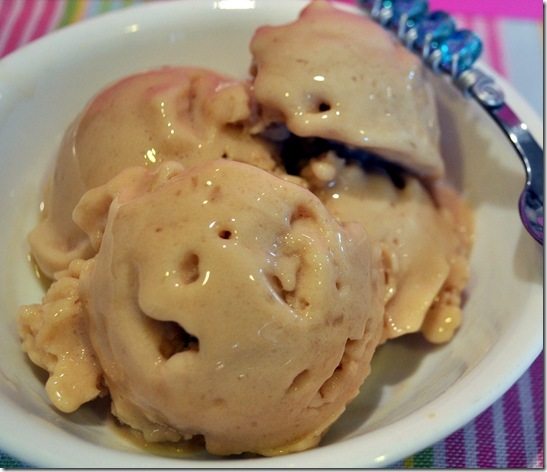 Above, homemade Peanut Butter Banana Ice Cream.