Thank goodness it's not Monday.
Sometimes I just get so frustrated with school.
It's not that I don't like learning; I love learning. I could sit for hours learning about history, politics, linguistics (grammar nerd!), or even technology. But some of my college classes are utterly ridiculous. I feel so antsy having to attend lectures or research topics when I know I'll never need the information again in my entire life.
Learning, I love. Wasting time, not so much.
Luckily, there's no waste of time when it comes to breakfast: I go straight for the good stuff!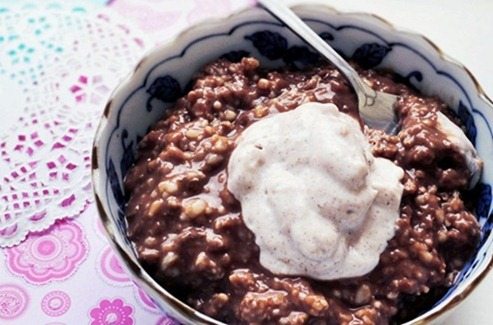 Good stuff in the form of  Chocolate Mudslide Oatmeal.
As usual, I made the oats up the night before, so breakfast could come together almost instantly after my run.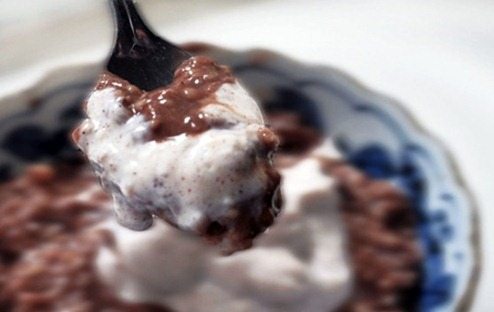 I also threw in some of my Vanilla Fudge Frosting.
And yes, I know these photos are overexposed. Ya know what? I just don't care. Sometimes, I have more important things to do than edit food photos. More important things… like actually eating the food.
Bake Sale for Japan:
Check out the yumminess: Updated Baked Goods List
As evidenced by the incredible list, we now have plenty of yummy-delicious baked goods (and raw treats) for Tuesday's bake sale.Now all we need are tons of people to bid on said yummy-delicious treats!
Also, I *just* thought of an idea: What about trying to find a company to match what we raise? This might be too last-minute to work (The sale is in two days), but I'm going to try anyway. And if any of you know of a company that might be willing to match our earnings, please let me know!!
Do you ever get frustrated with school or work?
And do you feel like you learn more in the real world than in a classroom? Whenever I'm stuck in a required class, learning useless information, I think, "Sheesh, I could be learning so much right now, if only I weren't stuck in school!" And I know that being forced to waste time on "busy work" doesn't end when one graduates. My mom is a special education teacher, and she spends more time doing paperwork (that most likely no one will even read!) than actually being with the kids. It's ridiculous and sad.