A giant, gooey chocolate chip pumpkin pizookie.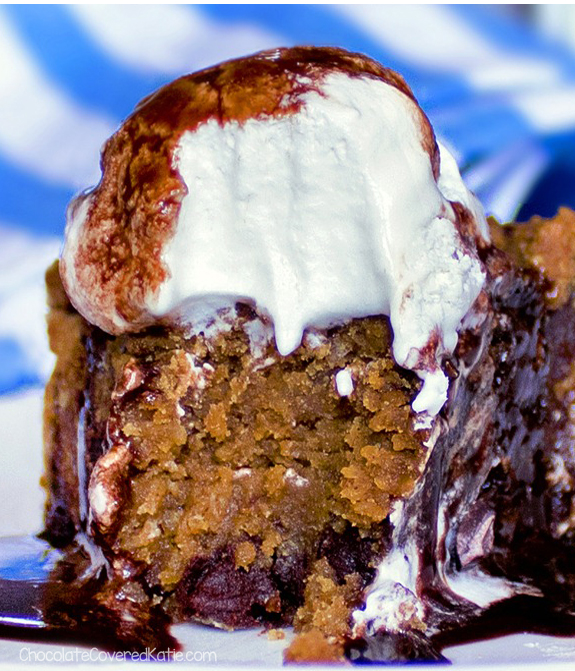 Above, topped with Coconut Ice Cream.
So what the heck is a pizookie???
It's something between a pie and a cookie. A soft, chocolatey, fudgy delicious deep dish chocolate chip cookie.
Sounds pretty fantastic, right?!
Trending Right Now: Pumpkin Banana Bread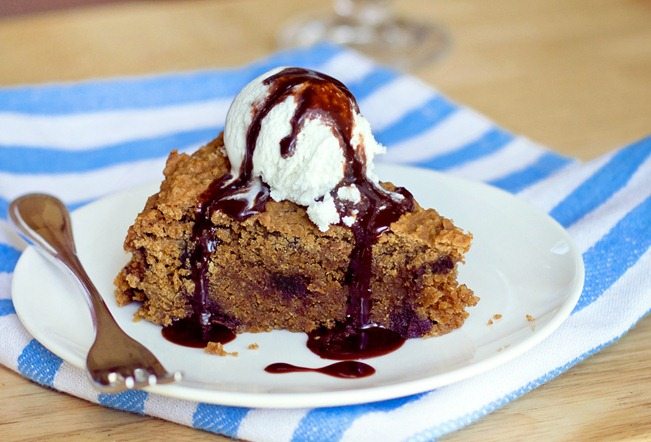 My roommate, Emily, and I invited a bunch of friends over for a housewarming party Saturday night, and I wanted to christen the new oven in style.
So I figured it was a great time to test out an idea I'd been meaning to try for a few months.
Enter this pumpkin deep dish cookie pie–with lots of chocolate chips–reminiscent of the Pizookies they sell at the chain restaurant, BJ's Brewhouse (if BJ's made a pumpkin version, which they sadly don't).
Have you ever heard of a pizookie? Apparently, the name is a combination of "pizza" and "cookie" and was first coined by BJ's Brewhouse. Their website says BJ's offers Red Velvet pizookies and Triple Chocolate ones.
Hmmmm… what flavor should I try next?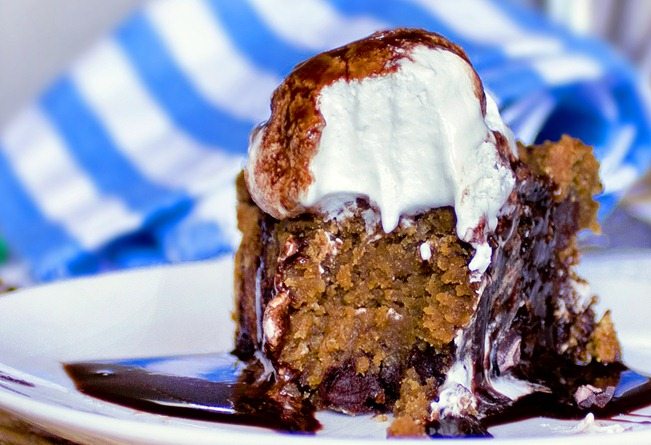 To say this pumpkin pizookie was a huge success would be an understatement!
More than one person at the party said it was the best pie he or she had ever eaten, and I think every single crumb was gone just ten minutes after I served the pie.
Seriously, do not worry about serving the following recipe to a crowd of "non-healthy" eaters. They will devour this healthier chocolate chip pie like there is no tomorrow.
If you're still unsure, read the over 1000 positive comments on this post.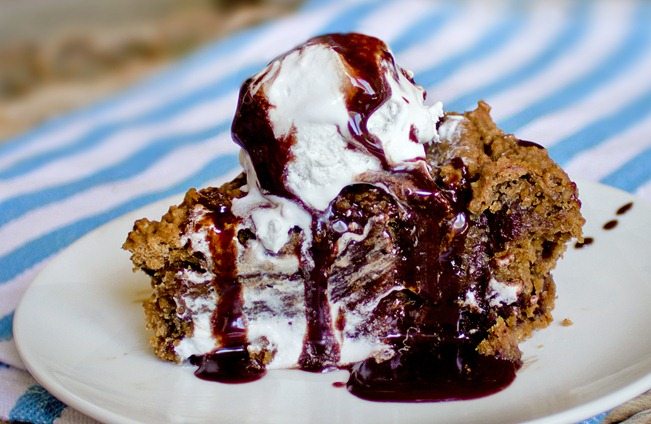 You'll find a similar number of positive comments and rave reviews if you look at my white bean blondie and Chickpea Cookie Dough Dip posts.
I know it seems weird, but these bean desserts are actually HUGE crowd pleasers.
Honest!


Pumpkin Chocolate Chip Pizookie
(gluten free!)
Inspired by the Deep Dish Cookie Pie.
2 cans white beans or garbanzos, drained and rinsed (500g total, once drained)
1 cup quick oats
1/4 cup pureed pumpkin (or butternut squash or sweet potato)
2 tsp pure vanilla extract
1/2 tsp baking soda
2 tsp baking powder
1/2 tsp salt
1 and 1/2 tsp cinnamon
3 tbsp vegetable oil or coconut oil, or 1/4 cup almond butter
1 1/2 cup sugar, unrefined if desired (For a sugar-free version, use xylitol. I know some readers have successfully made my original pie with maple syrup, but I haven't tried.)
1 cup chocolate chips
Blend everything except the chips very well in a food processor. (A blender can sometimes work, but the taste and texture will be much better if you use a food processor.) Blend until it's super-smooth. Mix in chips, and pour into a pan. (I used a 10-inch springform pan, but you can use a smaller pan if you want a really deep-dish pie.) Cook at 350F for 35 minutes. Let stand at least 10 minutes before removing from the pan.
More Healthy Party Desserts: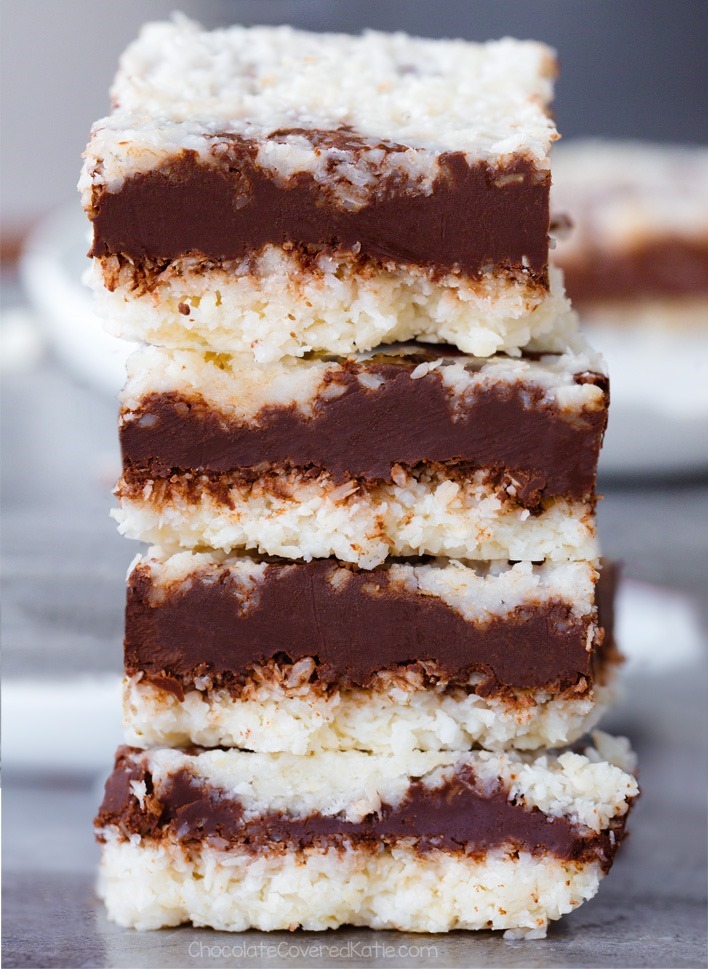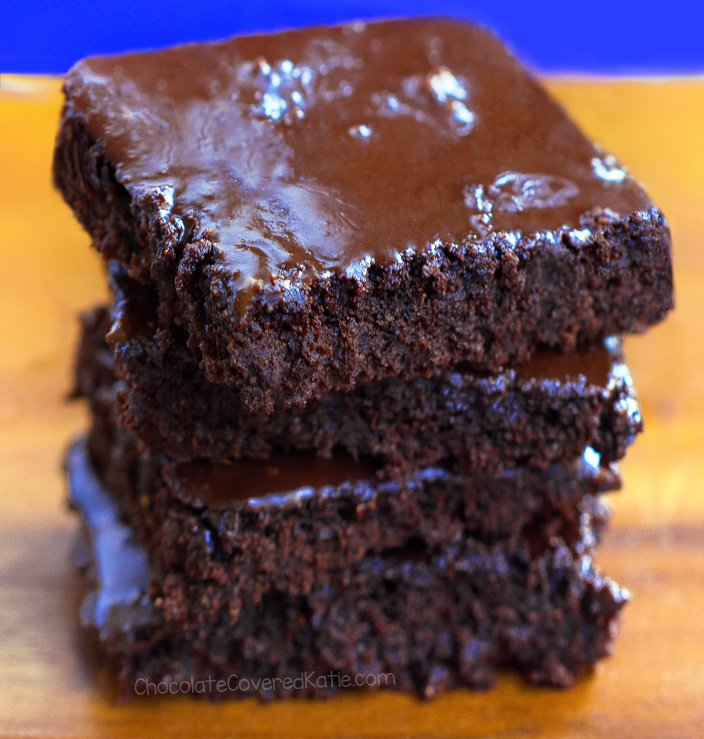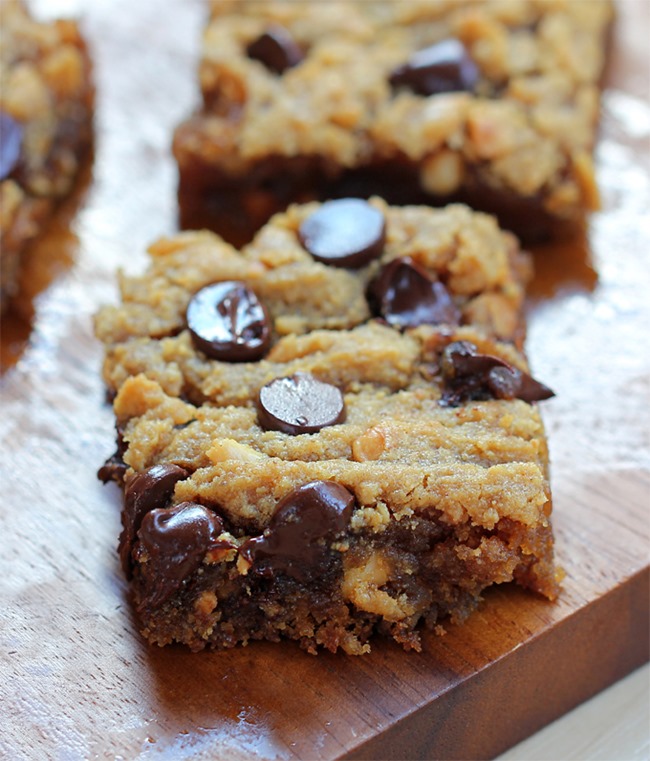 Chocolate Chip Peanut Butter Bars