But first, breakfast:
Warm and delicious Pumpkin Baked Oatmeal.
On a whim, I made my boatmeal with coconut butter as the fat source. As it turns out, coconut butter pairs really well with pumpkin. Not that I expected any different; coconut butter pairs really well with everything!
And this single-serving recipe never fails me.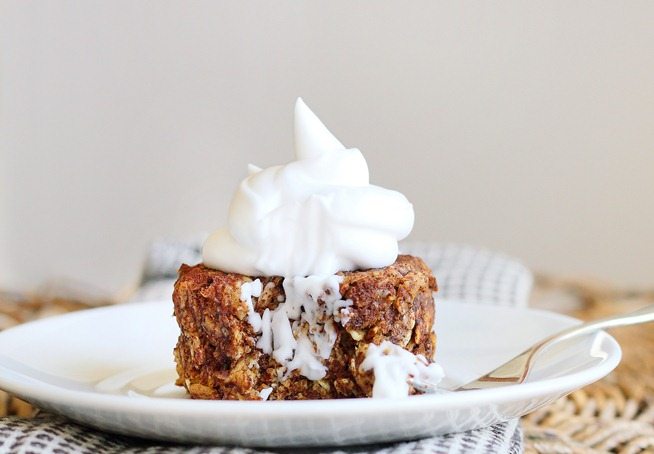 I also ate the last of my samples of Vegan Greek Yogurt.
Then, after breakfast, it was time to meet a friend… and move into our new place!!
That's my big news. (See? I told you it was something that was a huge deal to me, but that y'all probably wouldn't care about. Your guesses about me running away with my blind date were much more interesting!)
We spent Thursday, Friday, and some of Saturday moving furniture, unpacking boxes, and organizing everything. The actual process of moving is never any fun, and I'm definitely not a stranger to it.
As a child, my parents bounced me all over the world: London, Tokyo, Philadelphia, Manila, Shanghai, and Dallas. And the bouncing didn't stop when I got out on my own, moving first to a dorm in freshman year of college. When I transferred to SMU, a friend and I found an apartment together. Junior year, I moved to a single apartment after my friend graduated, and it was an adorable little place. But I arrived home one day to find a note taped to the door that said: "Move out, because we are demolishing your apartment to make room for the George Bush Library."
Ugh.
So I got another apartment, with a roommate. And then, tired of all the moving, I moved back in with my parents for senior year. Living at home was awesome. It was free, familiar, and I got to see the people (and puppies!) I most love in the world. However, it's just too easy to pretend you're still a kid when you live at home. I was ready to get out on my own again and be independent.
Question of the Day:
If you don't live with your parents, when did you move away from home?
Or when do you think you will leave home? Although I've lived on my own before, this is the first time I'll truly be independent; paying my own rent and bills.
P.S. Can someone quickly go "like" my Facebook page?
I'd be so grateful… I know it sounds ridiculous, but I'm superstitious and am scared of 6666s! 😕