As my mom was sitting there, yesterday morning, eating her breakfast of Fage with blueberries and granola, I wondered… I've never actually eaten Greek yogurt, and sometimes I'm kinda curious as to what it tastes like. For a second, I contemplated taking a tiny bite today, just to see. It's not like any animal would have been harmed from one tiny taste of something that was being consumed anyway.
But then, I felt a little grossed out, remembering the reasons I don't eat dairy in the first place.
I decided that even if I did decide to take a tiny spoonful, my opinion of the stuff would already be biased towards the negative. So there was really no point. (I'll publish a "deeper" post about vegans and non-vegan cravings soon.) Instead, I decided to make my own vegan Greek yogurt. And I am going to ask: Anyone want to tell me what Greek yogurt tastes like?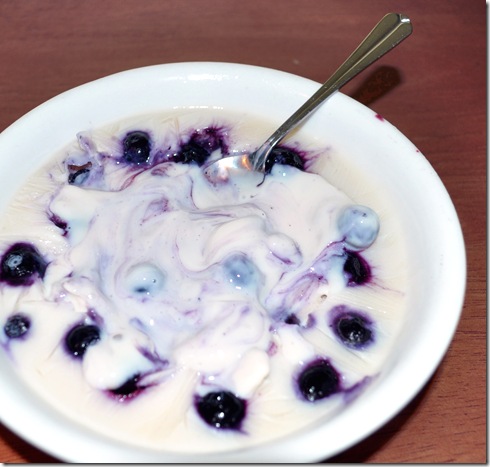 Not sure if, when unsweetened, my "whipped cream in a bowl" would fit the bill for vegan Greek yogurt.
It's a bit hard to recreate something when you don't know what you're going for! But this tastes so good, I don't care if it replicates the real thing or not.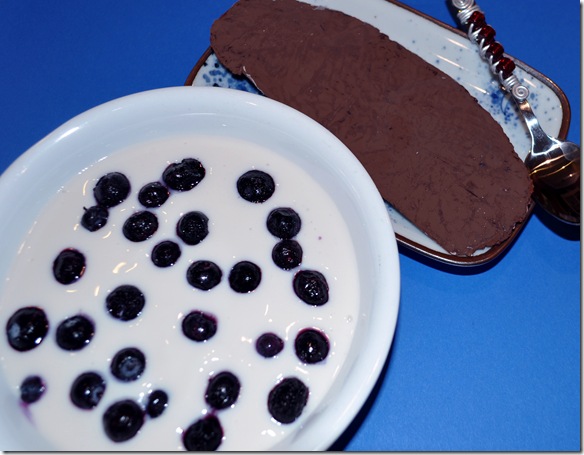 Snack yesterday: the cream, with frozen blueberries and a PMS Chocolate :).
Question of the Day:
Have you ever had Greek yogurt? Or a good vegan substitute? What's your favorite use for the stuff? Also: Is there a food (or maybe a blogger's recipe) that everyone else seems to be eating, which you've yet to try?