The smashing sequel to Singing in the Rain.
Murphy's Law:
If you are out running, and a rainstorm hits, it will hit when you are far away from home.
Sad to say, Murphy doesn't like me much. I checked the weather forecast very carefully, and it clearly stated "scattered showers beginning at 10AM."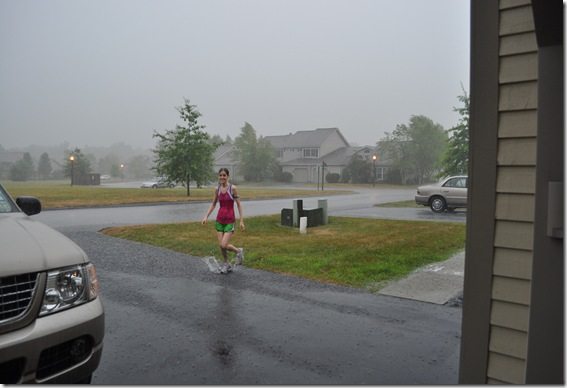 Beginning at 10AM, my foot! It was perfectly clear when I left at 7, with only a 10% chance of precipitation listed for 8. But at around 7:45, all hell floods broke loose.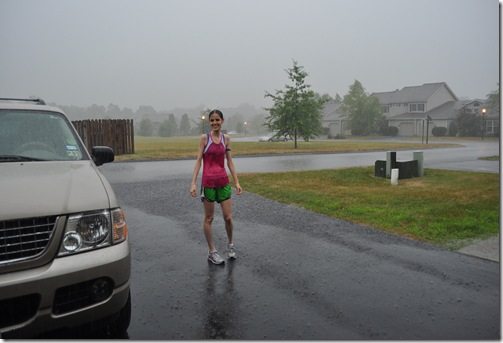 When I finally arrived back home, my mom was there to greet me.
But what did she have in her hands?
A. a soft, dry towel?
B. a warm cup of tea?
Nope, it was a camera, to capture my ridiculous, soaking-wet style. Thanks a lot, mom!
Her words: "I figured you'd want to post a photo for all your blog friends to see."
How well she knows me! (And, as it turns out, she did have a towel for me too. What a nice mommy.)
Question of the Day:
Have you ever gotten caught in a rainstorm? Or, have you ever been a victim of Murphy's Law?
For some reason, it seems to rain a lot when I go to the grocery store and have many bags to carry out to the car! As for running in the rain, I kinda had fun yesterday. It cooled me off. At first, the rain was getting in my eyes, which was uncomfortable. But I figured out how to turn my head so it wasn't a problem anymore. I felt pretty hardcore… until my dad told me he used to play soccer in thunderstorms all the time.
And if you think I look silly when soaking wet, you should see these guys! 🙂