Only better!!
Mothers Day: I wasn't with my mom for the actual day, so one random Sunday morning she was surprised to find creamy rice pudding, juicy fruit salad, and ice-cold oj resting lazily on the pillows when she awoke.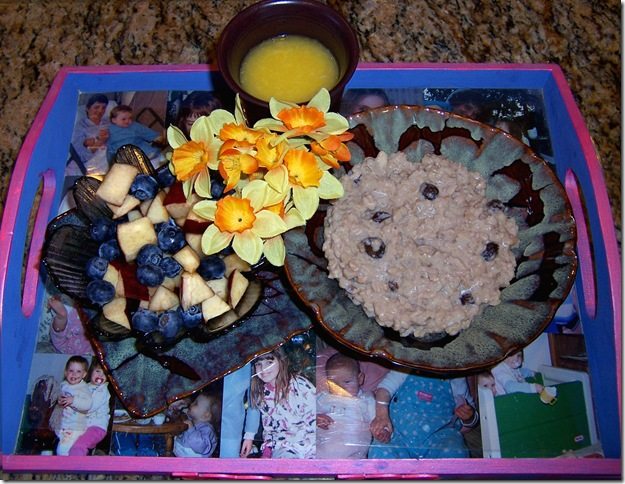 Above, a feast of fresh blueberry-and-apple fruit salad, orange juice, and homemade rice pudding (I made the homemade tray for Mothers Day last year.) Close-up of the food: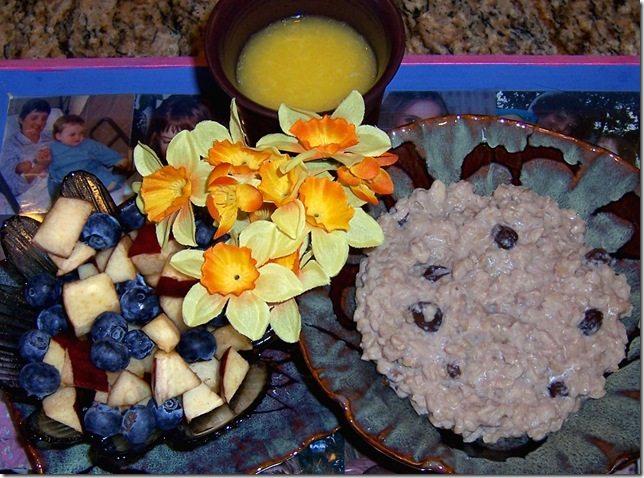 Now about that rice pudding… Last year, I made the famous Oatmeal Raisin Pudding for my rice-pudding-loving mommy.  But this year, she was treated to real rice pudding.  As usual, I eschewed the recipe books (Why do I even own these things?), opting to make up a recipe of my own.
Better-than-Kozyshack Rice Pudding
(Serves 1)
· 1/5 package silken tofu
· Sweetener of choice, to taste
· 1/2 teaspoon (or more) vanilla extract
· 1/4 teaspoon (or more) ground cinnamon
· 1/4 cup brown rice (uncooked)
· Raisins
· Dash salt (this is important, as salt actually brings out the sweetness in foods)
In a blender/food processor, blend the tofu with 2T of water until it's smooth (I used my Magic Bullet).
Cook the rice in water (according to package directions).
Plump-up-Raisin Trick: After it comes to a boil, add the raisins and lower to a simmer.  (Alternatively, if you add the raisins in at the end, they won't plump up.)
Drain the rice and mix all the ingredients together.  Stir.  Add a splash of nondairy milk if needed. You can either serve it now, or you can stick it in the fridge for later, giving the flavors a chance to blend.  (I made the pudding up the night before.)
To me, the idea of warm rice pudding for breakfast wasn't appealing, especially since I'd just come in from a super-sweaty run.  So for my own breakfast, I made an oatmeal variation of the above recipe (with a few modifications). It tasted just like better than that well-known Kozyshack pudding (hence the recipe title).  I can't even begin to sing this creation's praises enough to do it justice!  The sweetness, the creaminess, the all-around amazingness… Hopefully, I'll get the oatmeal variation up soon. Until then, if you make it, I hope you enjoy the rice pudding recipe as much as my mom did!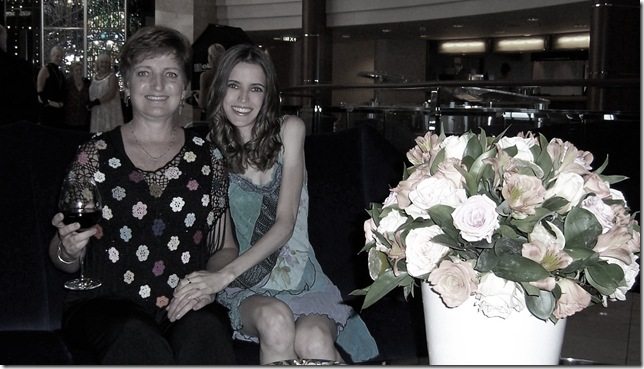 Happy Mothers' Day, Mommy!
(The photo is from our cruise)