Once upon a time when I was five, I decided to make breakfast for my mother.
I woke up really early, tiptoed into the kitchen, and perused the available supplies. Out came the pancake mix, the eggs, the milk… everything I'd seen my mother use to make pancakes. I poured the entire box of mix into a bowl and doused it in so much milk that it looked like pancake soup.
Smashed in a bunch of blueberries, which turned the batter purple, and I added more eggs than even I thought was a good idea because… well… I really liked cracking eggs. 😕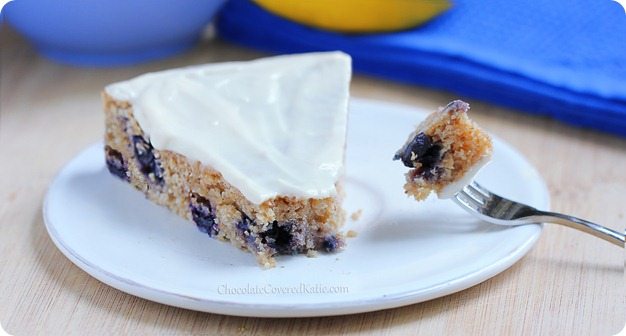 Into the mix went baking soda, baking powder, curry powder, cayenne powder, onion powder… really just every powder I found in the spice cabinet. The more flavors the better, right?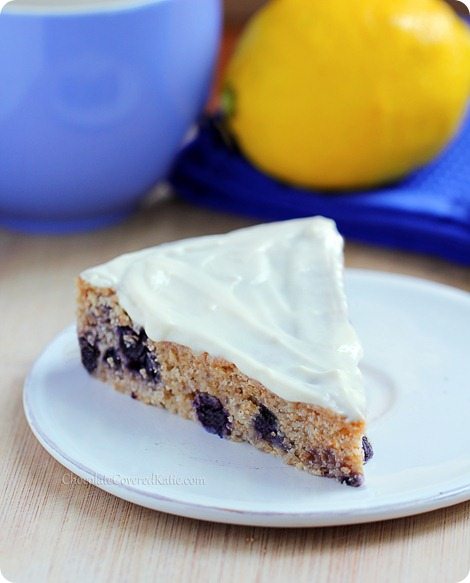 To make a long story short, my mother ended up with cereal that morning.
Thankfully, as the years went by, I learned what food combinations do and do not go together. For example, sweet blueberries are complemented beautifully by the tangy flavor of freshly-squeezed lemon juice, as is the case in today's lemon blueberry yogurt cake.
On the other hand, it's best to stay away from the onion powder.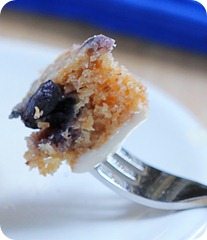 Lemon Blueberry Yogurt Cake
Inspired by: Raspberry Coffee Cake
3/4 cup milk of choice
1/4 cup lemon juice
1/2 cup plain yogurt (I used SoDelicious coconutmilk yogurt) (115g)
1 tbsp ground flax (5g)
1 1/2 tbsp lemon zest (important)
1 tsp pure vanilla extract (6g)
3 tbsp coconut or veg oil (30g)
2 cups spelt flour, all-purpose, or Bob's gf (250g)
2/3 cups xylitol or sugar (or sucanat) (130g)
4 tsp baking powder
1 tsp salt
1/16 tsp pure stevia, or 2 extra tbsp sugar (or 2 NuNaturals packets)
1 cup blueberries (140g)
1/3 cup more blueberries (50g)
Preheat oven to 350 F, and grease a 9 1/2-in springform pan. Combine first 7 ingredients (the flax too) and whisk, then set aside. In a separate measuring bowl, combine all remaining ingredients except the final 1/3 cup blueberries, and stir well. Pour wet into dry and stir until evenly combined (don't overmix). Pour the batter into the prepared pan, then sprinkle the remaining blueberries on top. Bake 45-50 minutes, or until a toothpick inserted in the center comes out relatively clean. Cool in the pan on a wire rack, 15 minutes, then remove the sides of the pan. Makes 10 servings. The icing in the photos is actually just plain yogurt! (I used SoDelicious coconutmilk yogurt.)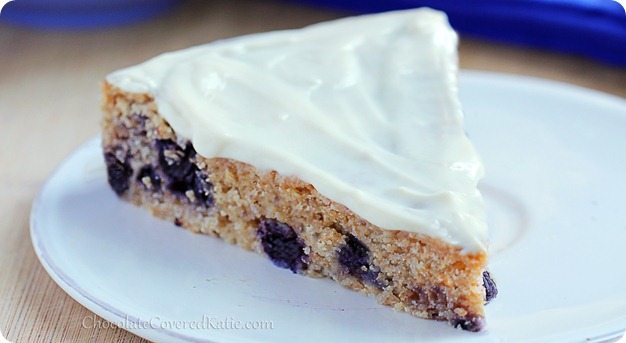 P.S. There is an exception to every rule. Onion powder goes quite nicely in my Blueberry Ketchup recipe.
Question of the Day:
When you were growing up, did you ever make breakfast for your family? 
One of the first breakfasts I learned to cook on my own was microwave eggs. The recipe consisted of nothing more than cracking an egg in a bowl, adding cheese and ketchup, and microwaving it all together. I felt so proud of my "gourmet" creation and went around making everyone try it. For the longest time afterwards, I was convinced it was my destiny to someday be a famous chef. Well… maybe it really was :).
Link of the Day: