I made the mistake of walking outside yesterday.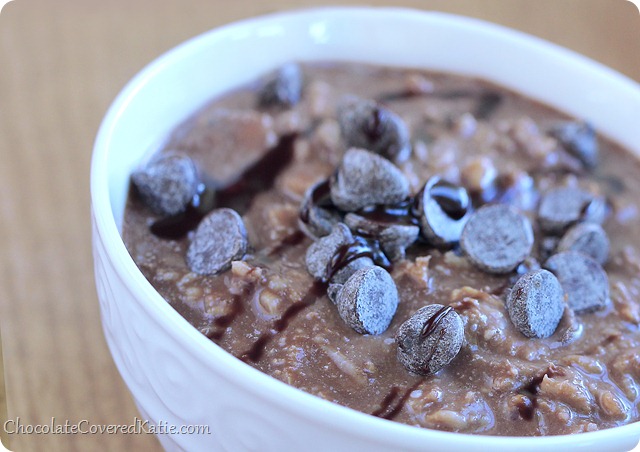 And then immediately turned right back around.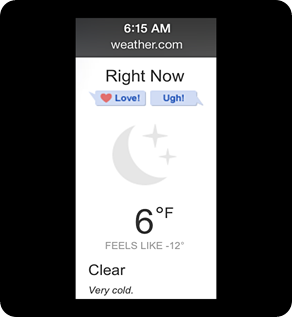 No.
Just… no.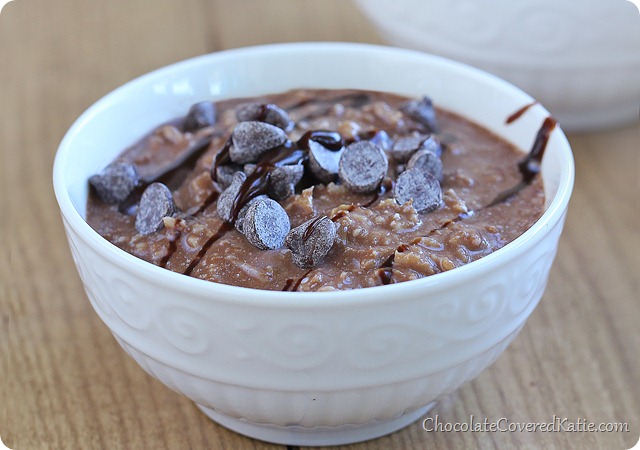 I love how they feel the need to write "very cold" under the temperature. As if seeing –12 didn't already make that abundantly clear.
There's something about abysmally-cold weather that screams comfort food. And this healthy breakfast recipe, which combines spicy chai tea, dark chocolate, and creamy oatmeal is pure comfort food in a bowl. Feel free to triple up on the chocolate by adding chocolate chips and Healthy Chocolate Sauce.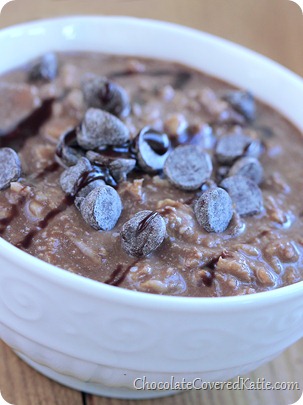 Chocolate Chai Oatmeal
(serves 1)
1/2 cup rolled oats (40g)
1 cup water or milk of choice (240g)
1/2 cup milk of choice (120g)
2 chai tea bags (decaf or regular)
1/4 tsp salt
2 tsp cocoa powder (4g)
sweetener of choice, to taste
1/2 tsp pure vanilla extract (2g)
1/2 tbsp melted coconut oil or peanut butter (optional, but much richer if added)
mini chocolate chips, optional
If using the microwave: heat the water and milk, then add the teabags and let sit for no less than 15 minutes. Right before removing the teabags, smush the tea bags a little with a fork so more of the flavor goes into the milk. Combine the liquid with the oats and salt, then microwave 3 minutes. (If it starts to boil over, you may stop the microwave and keep heating in ten-second increments until the time is up. But don't open the microwave door.) Let oatmeal sit in the closed microwave 5 minutes, then transfer–uncovered—to the refrigerator. It gets thicker as it sits, but if you want to eat it immediately simply use a little less water and cook longer. Right before eating, add all remaining ingredients and stir well.
If you wish to use the stovetop: after soaking the tea bags in warm liquid, simply heat the oats, salt, and tea soaking liquid until oatmeal is thick and fluffy. Then stir in all remaining ingredients.
Click for: Oatmeal Nutrition Facts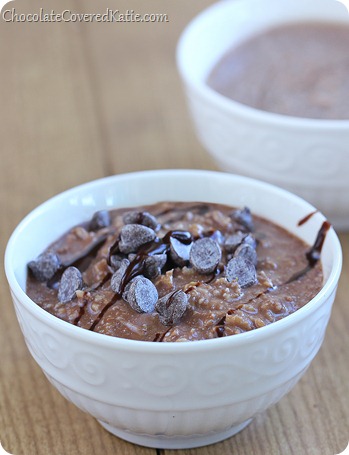 Question of the Day:
Was it freezing cold yesterday for you too?
Apparently every single state—even Hawaii!—dipped below freezing at some point during the day. However, maybe I shouldn't complain about our weather here in Washington… To people in Minnesota and Chicago, it probably sounds like a tropical vacation.