Sometimes Tuesdays are pretty awesome.
This light lemon cheesecake can be:
low-calorie / low-fat / high-protein / flourless / vegan / & gluten-free!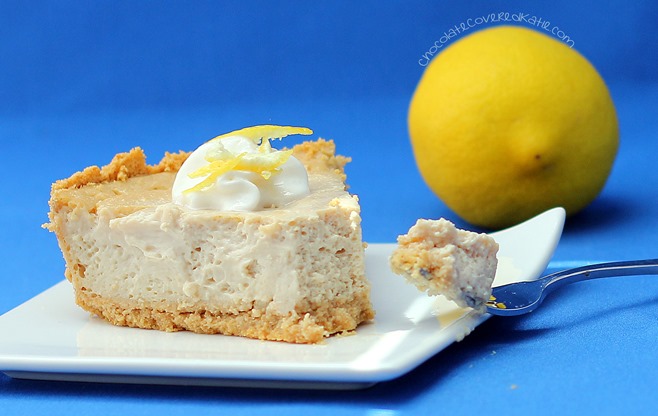 The cheesecake was adapted from the popular Cappuccino Cloud Cheesecake – the original recipe inspired by an ex-boyfriend who claimed to hate anything healthy.
Accepting the challenge, I had created the recipe and served it to him without first mentioning it was low-calorie, low-sugar, and high in protein. And I definitely didn't mention the secret ingredient until after he'd demolished one slice and was going in for a second.
In general, it seems to be best not to mention the healthfulness of a recipe until after guests have tried it and formed an opinion. This isn't to be devious but to avoid any pre-eating bias based on a negative healthy-dessert experience they may have had in the past.
Plus… it's always really fun to watch their reactions after you reveal the secret!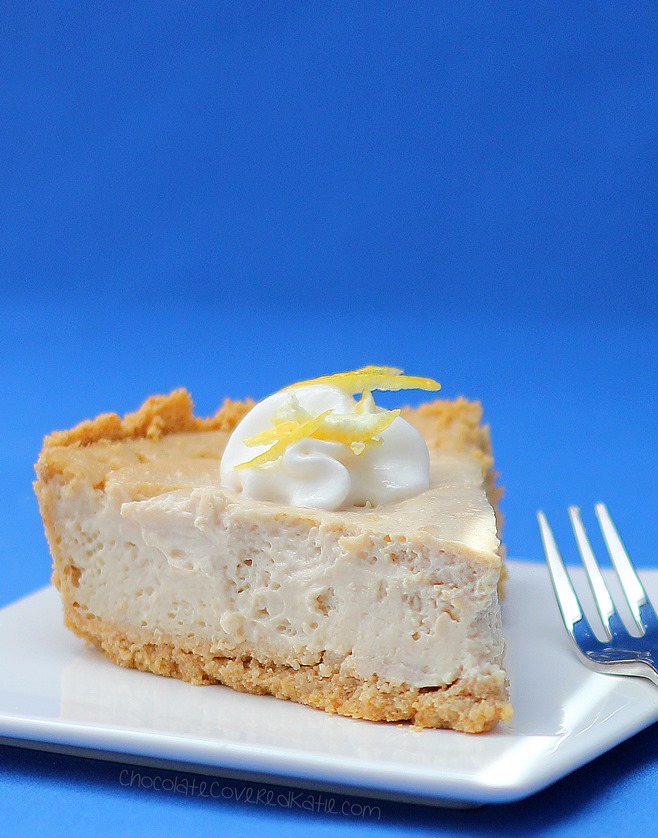 Lemon Cloud Cheesecake
(Can be crustless if desired)
1/2 cup lemon juice (120g)
1 1/2 tsp pure vanilla extract
zest of one lemon
1/4 cup pure maple syrup (55g)
2 packages mori nu firm tofu (Soy-Free alternative here – just add lemon extract and zest)
1/4 cup sugar or coconut sugar OR 1/8 tsp uncut stevia
1/3 cup melted coconut butter or raw cashew butter (80g)
1/2 tsp salt
Preheat your oven to 350 F and fill an 8.5-in springform pan with a crust (or crumbs from 16 graham cracker squares), or grease the pan well if a crustless cheesecake is preferred. Combine all ingredients in a food processor until smooth – don't over-blend, as you don't want to introduce air to the cheesecake, which would cause cracking when it bakes. Pour into the prepared pan, then bake one hour on the middle rack. Remove from the oven—the inside will still be wobbly—and let cool. Refrigerate very loosely covered for at least 8 hours, during which time the texture and taste of this healthy lemon cheesecake will change completely. (If using a different size springform, you'll have to experiment with baking time.) Once the wait period is over, go around the sides with a knife, then remove the springform. I recommend MoriNu, as people sometimes find other brands of tofu to have an aftertaste in recipes.
View Lemon Cheesecake Nutrition Facts
Link Of The Day:
Flourless Chocolate Chip Brownie Pie
I've also been working over the past few months with a digital agency to redesign the entire website so that it will soon be much more reader-friendly: with easier navigation for readers, faster page speed, and a gorgeous new mobile-responsive design. Look out for this new design on the blog soon… I'm really excited about it!