Baked sweet potato skins.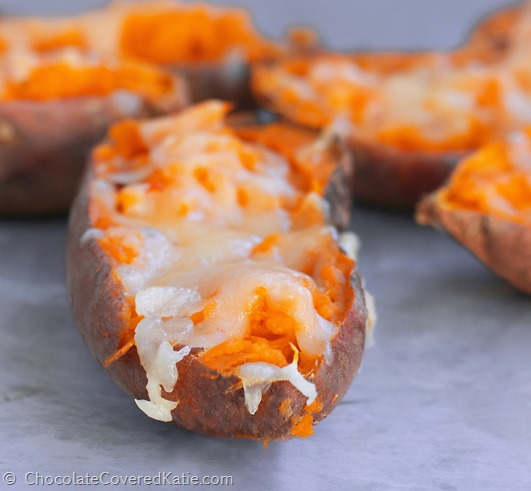 The crowd-pleasing Super Bowl appetizer that is actually GOOD for you!
These irresistible and addictive crispy baked sweet potato skins are the perfect combination of healthy and comfort food, and they're easy to make in just a few steps:

Way better than regular baked potato skins! It's a very good idea to make extra sweet potato skins, especially if you're expected to share. You can even bake the skins ahead of time and serve them plain, setting up a Sweet Potato Station with bowls of different toppings so the guests can make their own DIY baked sweet potato skins.
Topping ideas include sliced green onions, different flavors of shredded cheese such as Daiya vegan, bac'n bits (which surprisingly do not actually contain bacon), or anything else you can dream of that sounds like it'd go well with sweet potatoes!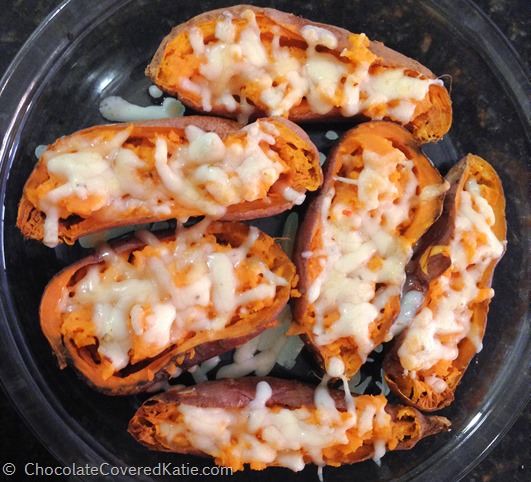 Loaded Baked Sweet Potato Skins 
(serves 6)
3 yams or sweet potatoes
oil or oil spray
toppings of choice
Poke a few holes around each potato with a fork. If using the microwave: wrap the potatoes loosely in paper towels and cook 14 minutes. If using the oven: Preheat oven to 400F place potatoes on a tray or baking dish, and bake for one hour. For both methods, once the potatoes are done, slice each in half lengthwise and scoop out about 2/3 of the flesh (save this scooped-out flesh). Preheat oven to 430 F, and either brush the skins with oil or spray with oil spray. Place on a baking sheet. Bake 15 minutes, then remove from the oven and re-stuff with filling. You can also add cheese-type shreds (such as Daiya) at this time. Place under the broiler, and broil (or bake at the oven's highest temperature) 3-4 minutes or until cheese shreds have melted.
View Sweet Potato Skins Nutrition Facts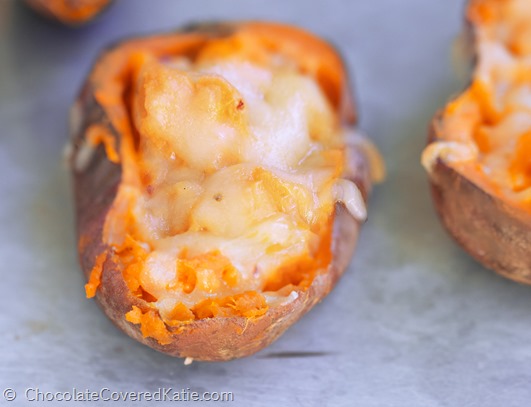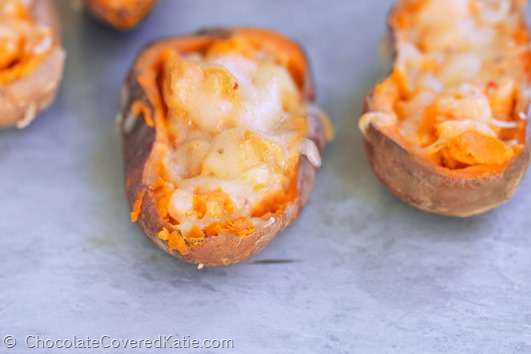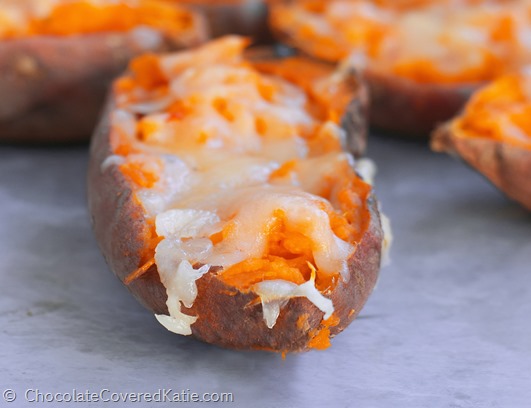 Question of the Day:
What are your plans for Super Bowl this year?
I still need to figure out what I want to make this year, but there are a few ideas going through my mind, such as Macaroni and Cheese Cups, Chocolate Brownie Pie, or maybe even a peanut butter or caramel version of my Gooey Chocolate Pudding Cake (one of my personal favorite recipes).
LINK OF THE DAY: