Would you ever guess this decadent double layer cake is healthy?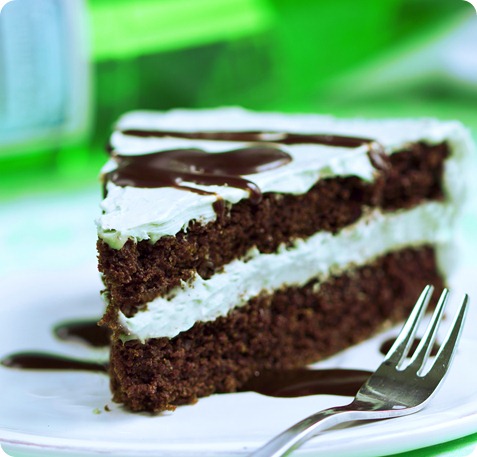 That it's not completely over-the-top loaded with oil, sugar, calories, and fat?
Or that each slice has over 5 grams of fiber, 15% of the RDA for iron, and contains healthy MCFAs? Or that the luxurious frosting can be completely sugar-free?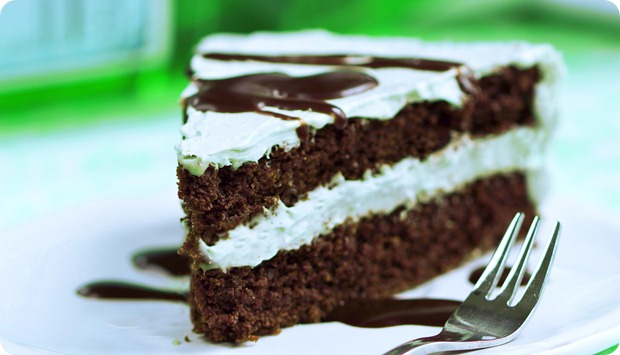 And most importantly…
Yes, it tastes just as amazing as it looks.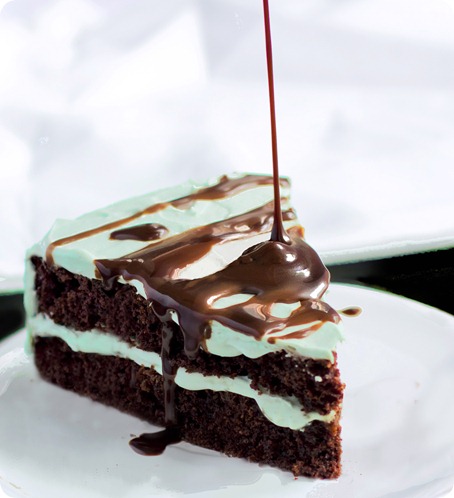 Above, topped with my recipe for Healthy Chocolate Sauce.
Because, well, why not?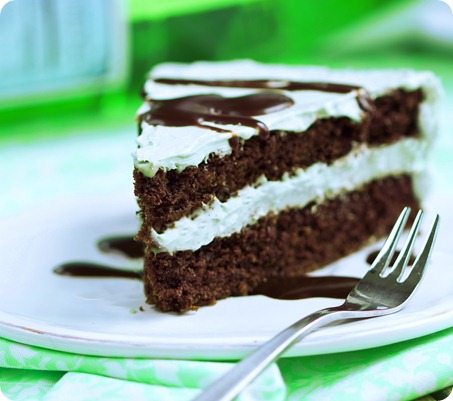 Mint Chocolate Double Layer Cake
2 cups spelt or whole wheat pastry flour
3/4 cup cacao or unsweetened cocoa powder
1 tsp baking soda
1 tsp salt
1 1/2 cups xylitol or sugar of choice
1 cup mini chocolate chips, optional
2/3 cup yogurt of choice (such as Wholesoy)
1 1/2 cup water
1/4 cup plus 2 tbsp vegetable oil or melted coconut oil
1 1/2 tbsp pure vanilla extract
1/2 tsp pure peppermint extract
2 prepared batches of: Healthy Mint Frosting
Preheat oven to 350 degrees F, and grease two 8-in round cake pans. Set aside. In a large mixing bowl, combine the flour, cocoa, baking soda, salt, optional chips, and sweetener, and stir very well. In a separate mixing bowl, whisk together all remaining ingredients (except frosting). Pour wet into dry and stir until just combined, then divide between the cake pans. Bake 25 minutes or until batter has risen and a toothpick in the center of the cake comes out clean. Allow to cool at least 10 minutes before going around the sides with a knife and inverting the cakes. Frost one layer, stack the cakes, then refrigerate 30 minutes before frosting the entire cake. This cake is best if frosted right before serving. Due to the lack of preservatives in the frosting, leftovers are best stored in the refrigerator.
Click for: Mint Chocolate Cake Nutrition Facts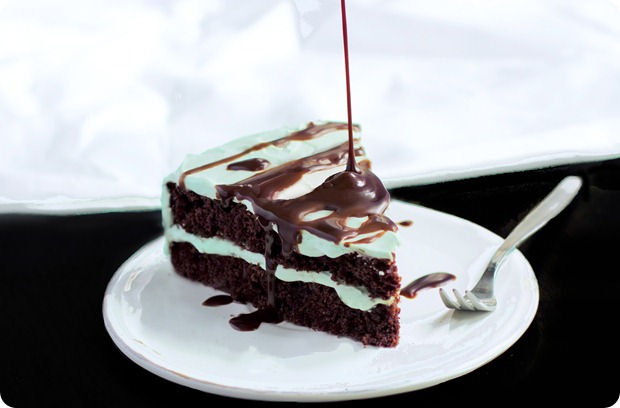 Link of the Day: