Who's still full from Thanksgiving?
Well, I'm pretty sure this guy is: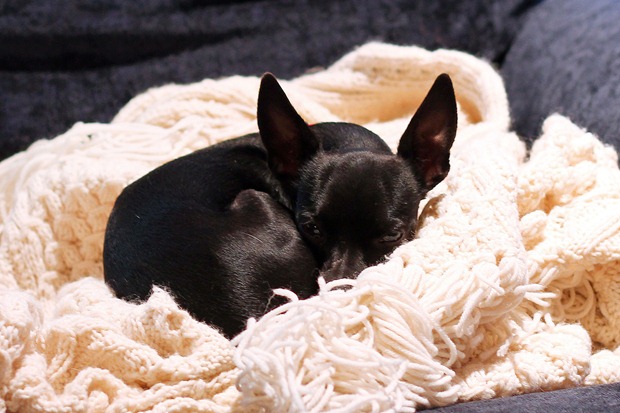 He was so incredibly naughty on Thursday night. My parents hosted a party at their house, with separate kid and adult tables to fit everyone. After dinner, one of the kids left his plate and didn't push his chair completely in. We discovered Batman on the table, eating all the leftovers!
For my own meal, I munched on all the vegan appetizers and sides (including raw veggies, eggplant dip, and my grandma's famous lemon broccoli). Then, as a main course: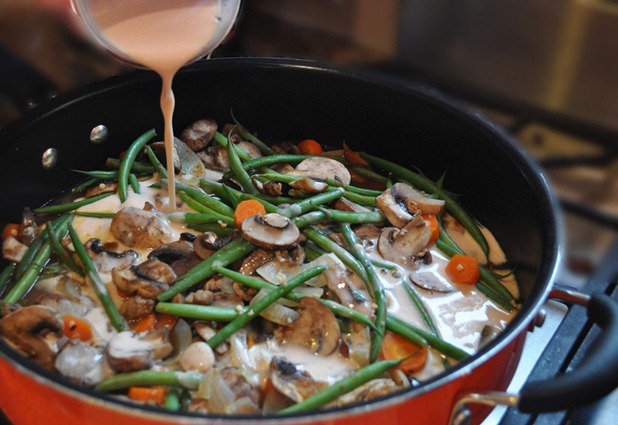 I made a delicious batch of High-Protein Mushroom Stroganoff.
I thought it could count as being Thanksgiving-y thanks to the thick mushroom gravy and sweet carrots and green beans. I served mine over barley; other guests ate it as a side dish, and they kept serving themselves more even after I told them the ingredients. Good thing I made a giant batch… although I'd really been hoping for leftovers.
Then there was dessert. Of course there was dessert.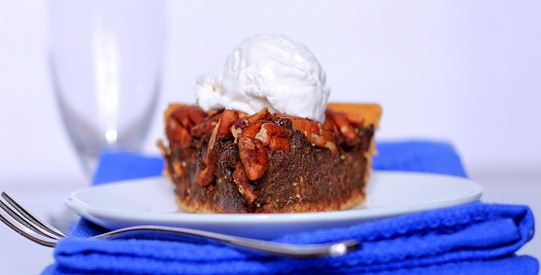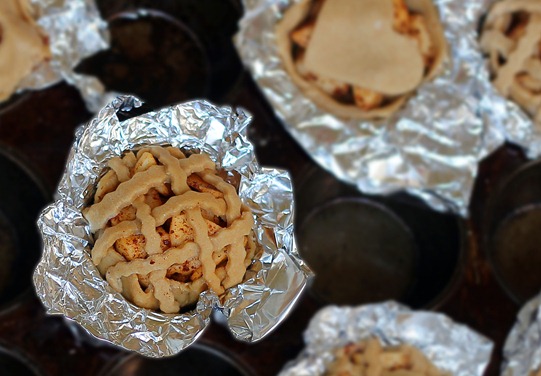 I couldn't decide whether to make pecan pie or pumpkin pie mousse or mini apple pies for Thanksgiving, so I ended up making them all. I figured it was a good time to experiment, since there'd be lots of taste-testers. And thankfully, my wonderful sister helped a ton with the apple pies so I wasn't stuck in the kitchen all day.
The pecan pie and pumpkin mousse were big hits. However, I never actually served the apple pies. They looked adorable… but looks aren't everything; the crust tasted awful.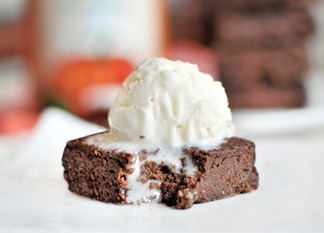 So at the last minute, I made Dark-Chocolate Pumpkin Brownies.
Definitely a good call.
Without a doubt, they were the most well-received food item of the entire night (well, except for maybe the stuffing. For some reason, people really seem to love Thanksgiving stuffing. Personally, I don't see how it can compete with chocolate!)
As for the pies, I'll get those recipes up this week. Due to the holidays, I tried to hold off from posting new recipes last week when I knew a lot of people wouldn't be reading blogs– readers often ask me to go slower so they have a chance to catch up… but it feels like ages since I've posted a new recipe! That all ends tomorrow.
Start your engines ovens. 🙂
Now, what to do with this naughty puppy???