This dish did not want to look pretty. I tried! Can you take my word that it tastes 1000 times better than it looks? If not, you'll just have to make it for yourself, to see!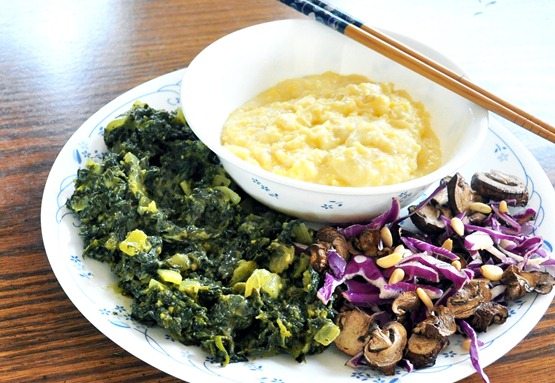 Above: saag, easy veggie salad, and Polenta for One.
(Side-note: I love raw pine nuts. They are like candy!)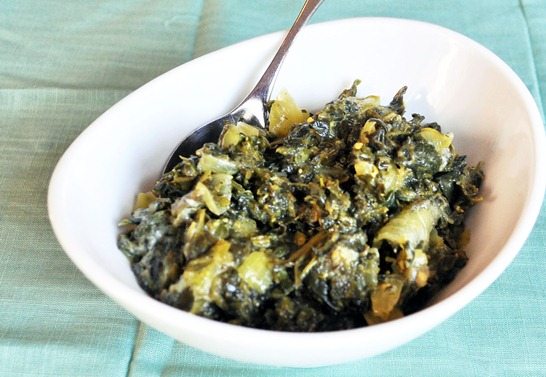 Here's one of the ugliest recipes that I adore: Saag is an Indian dish, usually made with spinach. When I attended college in Philadelphia, I often ate at a cute Indian restaurant, which had incredible (and vegan!) saag.
I also once had really good saag at the Boston Vegetarian Festival.
Sadly, Texas doesn't seem to offer anything as yummy and vegan-friendly… or at least I haven't found it yet. Therefore, frustrated and saag-less, I decided to make my own version of the dish. Right in time for the "May Flowers" part of the poem, I'm calling this "Spring Green Saag."
Spring-Green Saag
(Serves four, or two Katies!)
1 package frozen spinach, thawed (10-12 oz)
1 medium onion (160g)
2 tsp curry powder
2 tbsp minced garlic
1/2 tsp salt (or more if desired)
1/4 tsp dry ginger (or 1 tsp fresh)
1-2 tsp olive oil, or more if desired (I probably use about a tbsp)
1/4 cup to 1/2 cup yogurt of choice, depending on desired creaminess (I use Wildwood unsweetened soy)
Add onion and oil to a hot pan. Sauté 3 minutes, or until it begins to brown. Stir in the garlic, curry, and ginger, and sauté for another minute. Then add your spinach, as well as 2 tbsp water. Cook another minute, or until most of the water has absorbed. Remove from heat and stir in yogurt, as well as 1/4 cup water or milk of choice. You can also add a little coriander and turmeric, if desired, for more flavor.
New product Alert!
I updated the "New Product Alerts" page with some exciting new finds: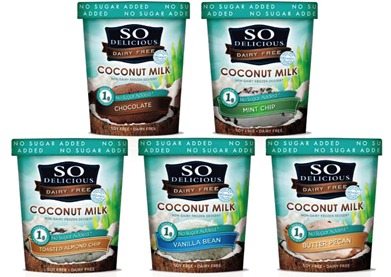 Click for more details: New Product Alerts