Gotcha!
That's what May said to us poor folks in Texas. Throughout April, we were treated to warm, sunny weather. But May hits and—bam!—suddenly it's pouring rain and 40 degrees!
So much for April showers bring May flowers.
In an attempt to brighten my mood, I turned to chocolate.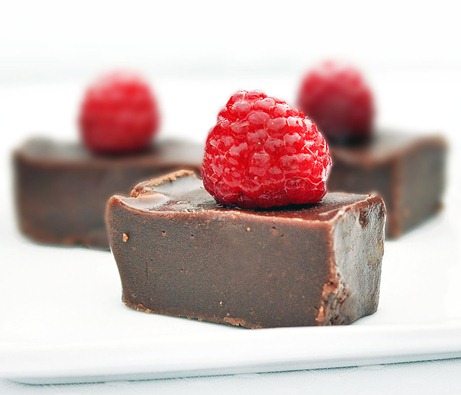 My afternoon snack did the trick: chocolate-raspberry fudge.
Aren't they supercalifraga-adorable-licious?!?
Expialidocious. Instead of making a cake, as I normally do with this recipe, I cut the fudge into bites this time. Who doesn't love bites, right? Just looking at the photo makes me smile again. Oh, and now I want some more fudge! So that you don't have to click back, here's the recipe again:
Chocolate-Raspberry Fudge Bites
80g raspberries (2/3cup)
3 tbsp cocoa powder (16g)
4 tbsp coconut butter or Homemade Coconut Butter
Scant 1/16th tsp salt
Sweetener: I like 5g agave, but my testers like 1 1/2 to 2 tbsp (20-30g)
Melt your coconut butter, then add the raspberries (I like to use frozen, thawed berries and melt them a little too) and other ingredients. (I have not tried this recipe with coconut oil, and therefore I can't vouch for the results if you make that substitution.) Mash until it's completely smooth, like chocolate butter. (If you wish, you can use a blender, but I never do. I just put it all in a Magic Bullet short cup and mash with a spoon. Use as frosting, or fridge/freeze. (If you freeze, be sure to thaw before eating.) This makes a very small serving (I used a mini springform for the slice in the photo), so if you want a regular-sized cake, make a bigger batch!! (Triple or quadruple for a normal-sized cake.)
See original fudge cake post for Nutritional Information.
(This version probably has fewer calories because raspberries aren't as calorically-dense as bananas… but what's a calorie-count anyway, if not an estimate?)
Unfortunately, while chocolate and raspberries work wonders for one's mood, they have no effect on brightening dismal weather. It continued to rain all day… with more rain predicted for tomorrow. Yuck.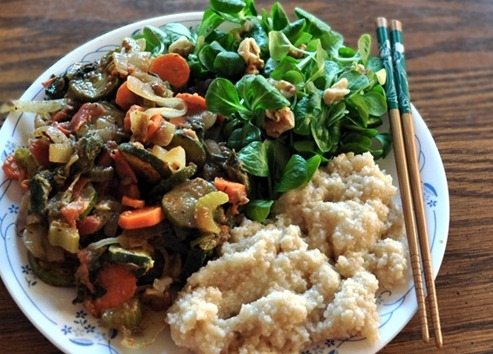 Dinner was comfort on a plate: Bread-Free Vegan Stuffing
In between snack and dinner, I escaped to the mall—I go stir-crazy if cooped up in the house all day (even if I've gotten exercise via the dreadmill). But before my great escape, I managed to make some yummy things in the oven. You might have heard me talking about these mysterious yummy things, yesterday, on Twitter. 😉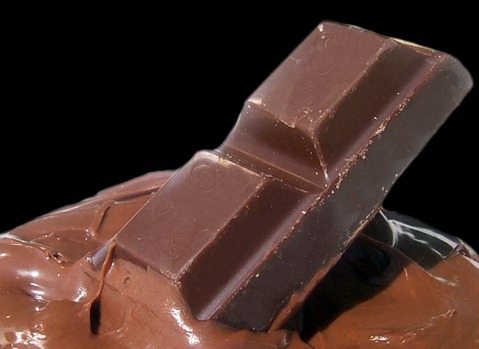 This week is going to be full-on desserts!
Cake, cookie dough, chocolate… prepare your tummies! Starting tomorrow, when things get sprinkled.
Want a sneak peek? Click for a preview of the Cake-Batter Doughnuts…