Hi, my name is Kate.
I was born in London, I have long brown hair, and I have a younger sister.
Sadly, no prince charming… yet.
Despite the similarities between Kate Middleton and myself, I must confess I've not been keeping up with the royal wedding at all. In fact, I didn't even realize it was so soon until yesterday, when #royalwedding tweets bombarded me on Twitter.
Always up for a "theme cooking" challenge, I scrambled to create a recipe for the occasion: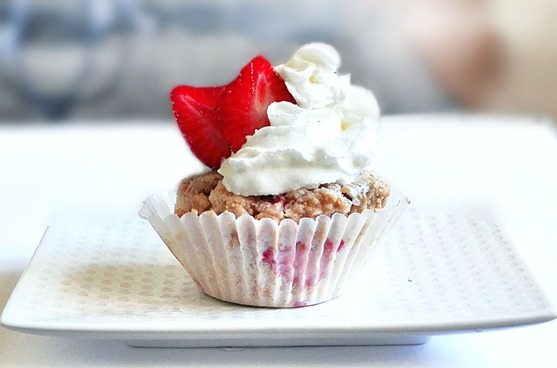 Strawberries-n-cream cupcake, with Healthy Whipped Cream.
Or, rather, it would have been healthy cream if there'd been more time! With less than 24 hours to think up a recipe, make it, photograph it, and then blog about it, I had to take a few shortcuts (hence the soyatoo in the photo). Please don't tell the queen!

Having not lived in England since I was a baby, I was pretty clueless about British desserts (aside from a reference to Banoffi pie in one of my favorite movies, Love, Actually). I often think of berries and cream in association with my birthplace; normally with scones. However, time did not permit me to create a healthy scone recipe, since I've had no prior scone-making practice. Therefore, I turned to a recipe with which I do have previous experience—the single-lady cupcake!
Of course, married maidens (like Kate Middleton, as of today!) will need to double the recipe. Perhaps this single-lady cupcake is not truly traditional. But it is truly delicious.
For a more-traditional treat, do top with the above-linked healthy cream. Alternatively, this cupcake is sweet enough and flavorful enough that you can easily opt to eat it completely naked. (Interpret that statement however you wish.)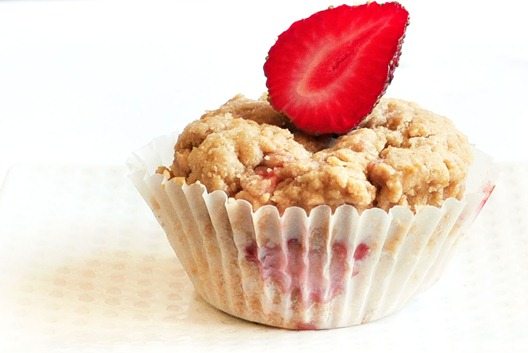 Strawberries-n-Cream Cupcake
(Makes one cupcake, Single-Lady style!)
3 tbsp flour (I used white-whole-wheat. You can use all-purpose, Bob's gf, or even ww pastry)
1/4 tsp baking powder
heaping 1/16 tsp salt
1 or 2 tbsp chopped strawberries
1/2 tsp vanilla extract
1 tbsp coconut oil (You can sub a different oil; however the coconut oil gives it a rich flavor and fun texture. You can use applesauce for a fat-free version.)
1 tbsp plus 1 tsp milk of choice (Use less if using liquid sweetener.)
1 tbsp sugar or 1 packet stevia (I omitted, but most people will want some sweetener)
Preheat oven to 330 degrees. Mix dry, then add wet. Mix until just combined (don't overmix), and bake for 17 minutes or so. (Baking time will vary, depending on the flour and oil/applesauce you use.) Or, you can cook it in the microwave, in a mug or small dish.
See original single-lady post for Nutritional Information.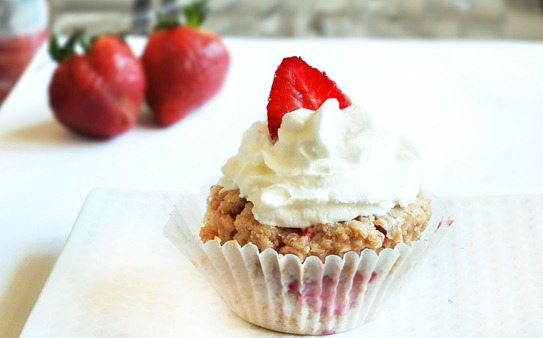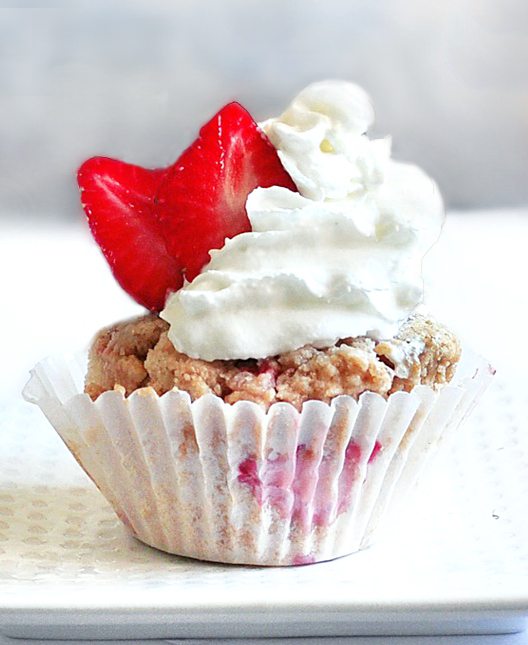 Did you watch the Royal Wedding?
Have you been following the coverage at all?
I didn't watch this morning, but I most definitely will be interested to see the photos (the gown! the cake!) in People magazine. I wish them well and really hope it lasts; they seem to have a strong bond, not rushing into anything. And I admire her courage. As handsome as Prince William is (and as nice as he seems), I don't think I could handle all the media scrutiny that comes with being a princess!
P.S. I have another royal cupcake: Click to see!