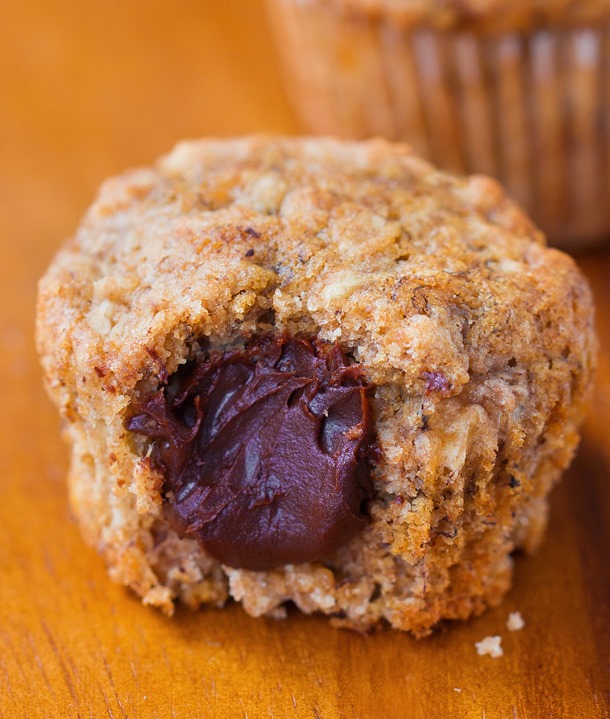 Nutella? ✔️
Banana Bread? ✔️
No eggs, dairy, or refined sugar? ✔️ ✔️ ✔️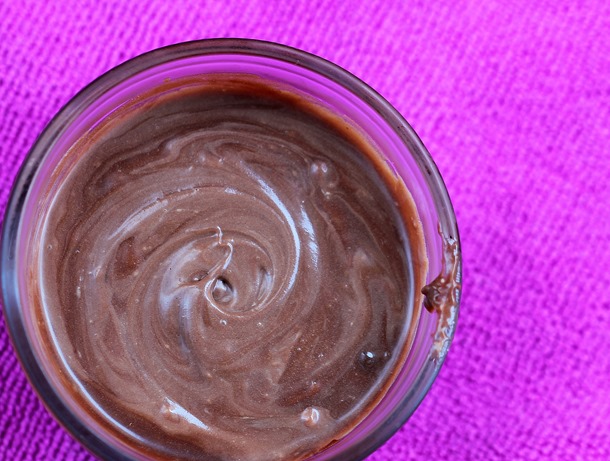 There's just something to be said for homemade banana bread Nutella muffins straight out of the oven on a cold November day.
The cold is perfect for comfort-food recipes like Healthy Mac and Cheese, homemade soup or chili, banana muffins with melty chocolate hazelnut filling… these things just wouldn't be the same in Hawaii!
(Then again, Hawaii has coconut… and pineapple… and white sandy beaches… and no snow, like, ever. Okay, so maybe Hawaii wins.)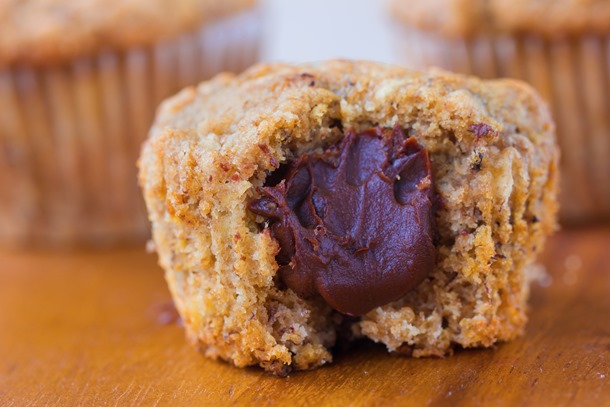 I'm not sure why it is, but I've been appreciating the cold more than usual this year. And it's given me new baking inspiration; I find myself waking up every day with new ideas I'm excited to try. Some turn out really well. (Hi, apple sour cream coffee cake!) Others, not so well. (I'll spare you the recipe for my pumpkin cheesecake muffins that exploded in the oven.)
These banana Nutella muffins are definitely on the side of baking successes. I could eat a hundred of these soft and homemade Nutella muffins and still crave more!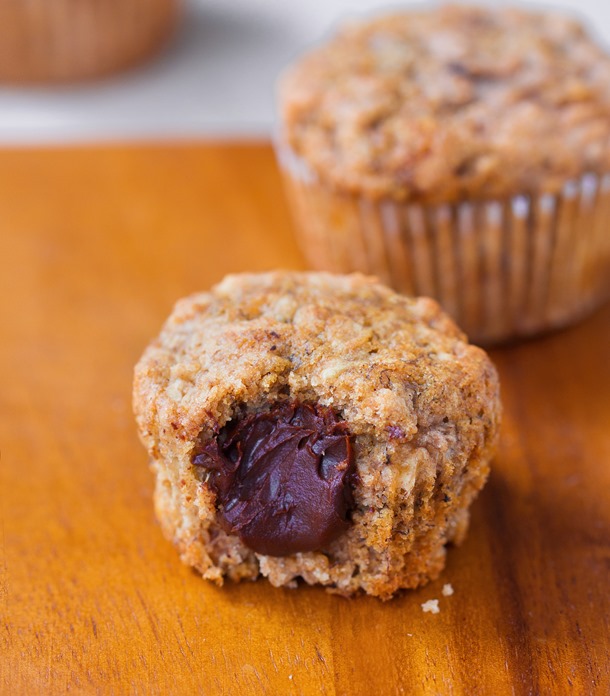 I ❤️ Banana Bread Nutella Muffins
I ❤️ Banana Bread Nutella Muffins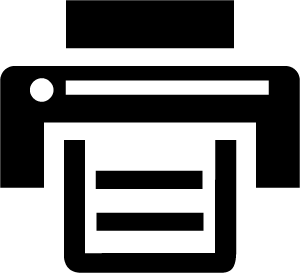 Print This Recipe
[mrp_rating_result show_count="false" show_rich_snippets="false"]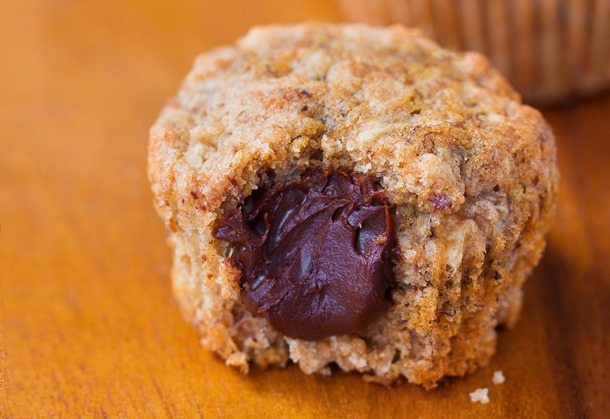 Ingredients
1 cup mashed banana (240g)
2 tbsp milk of choice
2 tsp white or cider vinegar
1 1/2 tsp pure vanilla extract
3 tbsp vegetable or melted coconut oil (30g)
1 cup spelt, white, or Bob's gf flour (130g)
only if using gf flour, 1/4 tsp xanthan gum
1/2 tsp + 1/8 tsp salt
1/2 tsp baking soda
1/2 tsp baking powder
1/3 cup sugar of choice or xylitol (65g)
10-20 tsp Healthy Nutella or chocolate hazelnut spread of choice
Instructions
Preheat your oven to 350 F, and line a muffin tin with 10 liners. In a large mixing bowl, whisk together the first 5 ingredients. In a separate bowl, combine all remaining ingredients except nutella, and stir well. Pour wet into dry, and stir until just evenly mixed. Working quickly, fill each liner about a third of the way up with batter, then drop a tsp or two of nutella into the center of each muffin. Portion the remaining batter evenly among the muffin liners. Bake on the center rack 19-20 minutes or until muffins have domed and a toothpick inserted into the center of a muffin comes out clean. Let sit 10 minutes before removing muffins from the tin. (If you want to peel off the liners without any sticking, it's best to let the muffins sit a few hours.) Refrigerate or freeze leftovers for optimal freshness.
*Another option is to bake the banana muffins without filling; then you can either add the filling with a piping back inserted into the bottom of each muffin or you can cut a hole in the tops, fill the muffins, and then replace the tops.
Link Of The Day: