So many people have been asking me for my mashed cauliflower recipe, and I realized– Oops, I never posted it!  Time to remedy this.
Monster Mashed Cauliflower
(version 1… scroll down for version 2!)
1 head cauliflower (or one bag frozen cauliflower)
1/2 veggie boullion cube
up to 1 tsp salt, and pepper to taste (I don't use much pepper)
1 tbsp dijon mustard
Dash of chopped parsley
1 clove of minced garlic (I use one tsp of the jarred garlic)
Cook the cauliflower until it is fork-tender. Drain well. Place everything in the food processor or blender (crush boullion cube first), and blend on high until it's the consistency of mashed potatoes.  If you want a creamier consistency, add a little water as needed.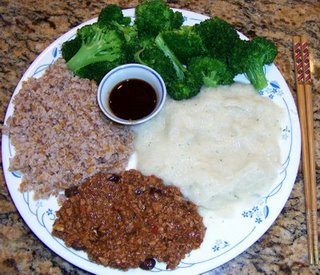 Monster-Mashed Cauliflower 2
(version 2: a.k.a. the version for lazy-butts ;))
.
Boiled or steamed cauliflower (about 300 grams when raw)

2 teaspoon melted vegan butter (such as Smart Balance Light)

Salt to taste (I use over ¼ tsp)

Mash all the ingredients together with a blender (for a more "whipped" result) or a hand blender or fork.
The mashed cauliflower also makes a terrific sauce—for veggies, for pasta, even for salad greens (yup, I've tried it).  For a thinner sauce, you can add a bit of water or non-dairy milk to the mixture.
.
.
.