Hello Thanksgiving breakfast.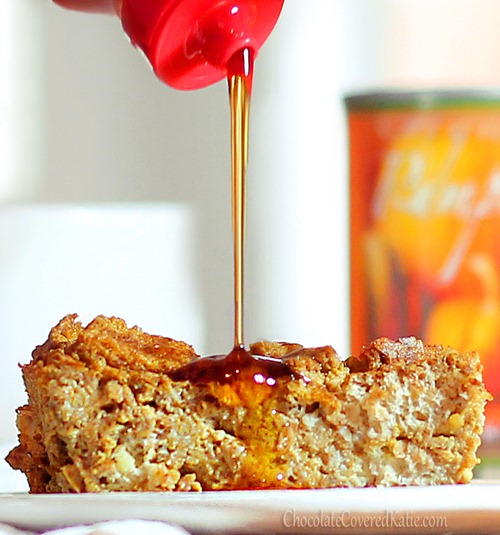 Pumpkin French Toast: A made-from-scratch breakfast casserole with sweet cinnamon and creamy pumpkin in every delicious bite. It's perfect for feeding a crowd, or for enjoying on a quiet and chilly autumn morning. Simply assemble the night before, and pop it into the oven in the morning for a delicious and comforting breakfast.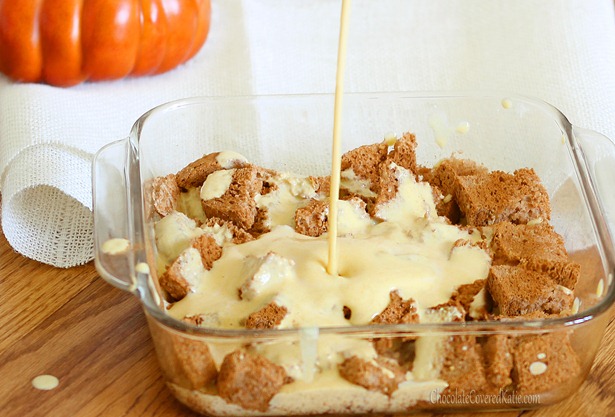 If this were a Friends episode, it would be called: The one where she has way too much fun taking "pouring shot" photos.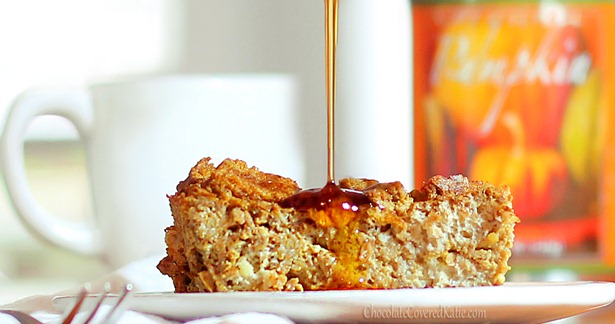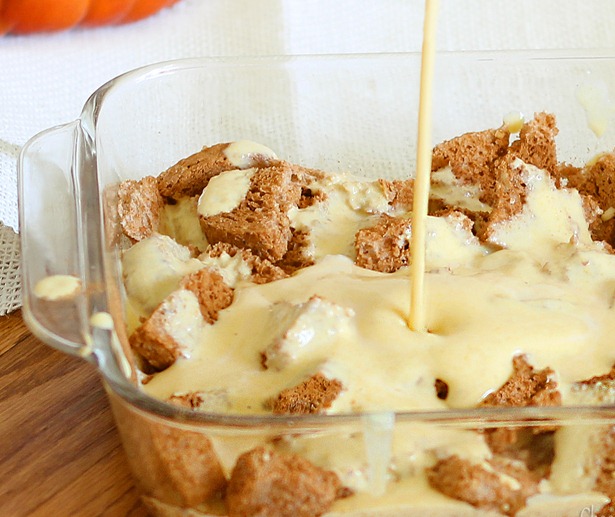 Pumpkin Baked French Toast
(Serves 4-6)
3 1/2 cups cubed bread (I used Ezekiel, but other types are fine. French bread would be really good in this recipe, as would cinnamon-raisin. Depending on the type of bread, you might need more or less than 3.5 cups. You want enough to fill an 8×8 pan.) (175g)
1/4 tsp salt
2 tsp cinnamon
1 tsp pumpkin pie spice (or just add a little extra cinnamon)
sweetener of choice (If you want to top the casserole with syrup post-baking, use 3 nunaturals stevia packs or 3 tbsp sugar. If you'd prefer a sweeter breakfast casserole that needs no topping, increase the amount to 5-6 tbsp)
1 1/4 cups milk of choice (300g) (Depending on your choice of bread, you might need to use less. This is a good amount for the Ezekiel bread.)
optional: 2 tbsp butter-type spread of choice (for a more buttery result) (30g)
1 cup MoriNu silken-firm tofu, or 1 cup yogurt of choice (240g)
2 tsp pure vanilla extract
1/2 cup pumpkin puree (I used canned pumpkin) (120g)
optional: handful of raisins
In a large bowl, combine all ingredients except bread, and stir very well. (If using the tofu, you should blend these ingredients. Otherwise, just stir by hand.) Grease an 8×8-in baking pan, and pour the cubed bread into the pan. Cover evenly with the wet mixture, then cover the entire dish with a lid or saran wrap and fridge overnight. The next morning, preheat oven to 400 F and cook about 30-35 minutes. Top with maple syrup or your favorite French toast topping (or eat plain, if you opt to use the extra dry sweetener pre-baking.)
And for everyone who asked: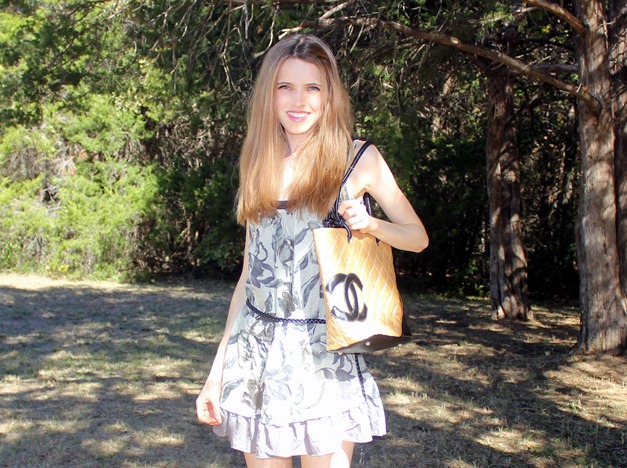 Can you guess which Gossip Girl character I was?
I didn't include costume photos in my original post for a few reasons, the main one being it's not a very elaborate costume. I didn't think it was worth posting. I also don't normally take my camera to parties, which was why the post was made up of recycled photos. In retrospect, I probably should've skipped posting on Thursday altogether. But one's mind doesn't always think straight on two hours of sleep. (Side note: I borrowed the Chanel bag from a friend, and it's actually a knock-off from Canal Street in NYC. I'm thinking Serena would not approve. Other side note: I wanted to be Blair, but they said I was too blonde. Yet another side note: …I think I've written enough side notes. I'll stop now.)
Link of the Day: Healthy Pumpkin Recipes