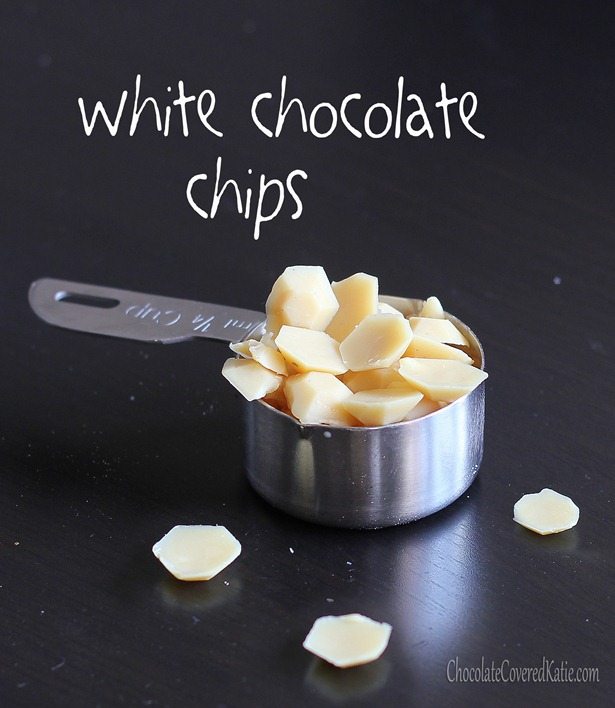 White chocolate is not really chocolate.
Just like tomatoes aren't really vegetables.
Lentils aren't really beans.
Koalas aren't really bears…
Life's confusing, isn't it?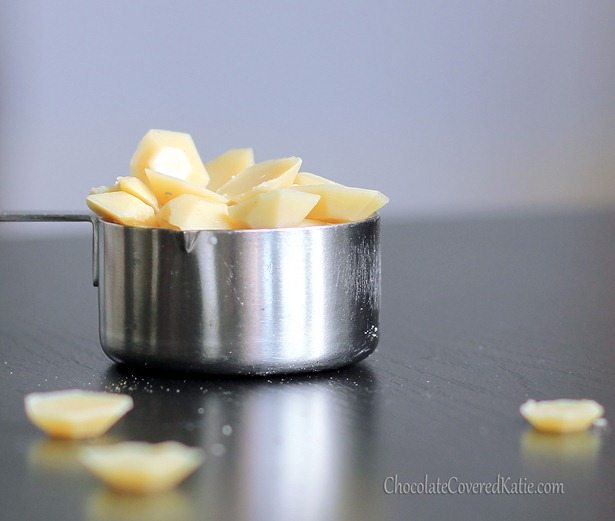 Sometimes people are surprised to find not a single white chocolate recipe on this entire chocolate-covered blog. White chocolate has just never been my favorite thing… because I want it to taste like chocolate and am mad when it doesn't!
Plus, most white chocolate chips aren't vegan, and they are full of unhealthy trans fats (partially-hydrogenated oils) and artificial ingredients.
Many of you have asked if I could come up with recipes that include chocolate's paler cousin. But to do that, I first had to figure out how to make my own healthy white chocolate.
Thankfully, it turned out to be really, really easy!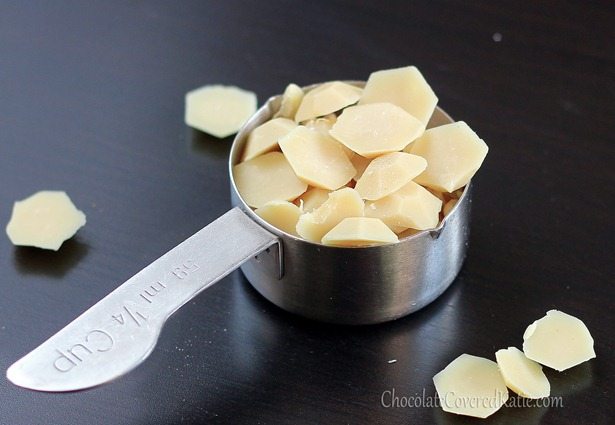 I read up about white chocolate on Wikipedia and checked out the candy bars at the grocery store. Research! (To make research fun, all you have to do is get out of the library and head to the chocolate aisle. Who knew?)
They all consist of the same basic ingredients: cacao butter, milk solids (dry milk), sugar, and salt… Pretty much, as long as you have the one magic ingredient, the white chocolate is so easy to make it can hardly even be called a recipe.
White Chocolate Chips
(can be sugar-free)
2-inch cube cacao butter (30 grams, or 2 tbsp after melting)
scant 1/8 tsp pure vanilla extract
stevia or powdered sugar to taste (2 tbsp if powdered sugar)
1 tbsp raw cashew or macadamia butter (can omit; it'll just be less creamy) (15g)
very tiny pinch salt
optional: If you can find it, I highly recommend adding 1/2 tsp dry milk powder—such as soy or ricemilk powder—to the ingredients for optimum creamy texture, as this is one of the basic ingredients in every white chocolate bar I looked at during my aforementioned research. However, knowing that a lot of people would have trouble finding the powder, I also tried omitting it. And then I tried adding protein powder instead (increasing to 1 tsp). Omitting or adding the protein powder instead will yield a texture that's a little different than store-bought white chocolate, but both ways still work! (Just please don't add liquid milk. I tried that too, and it doesn't work.)
Melt the cacao butter (either in the microwave or on the stove). Turn off heat, then stir in all other ingredients. Pour into candy molds or a plastic container, and freeze until it hardens. Healthier and vegan white chocolate chips. Yay!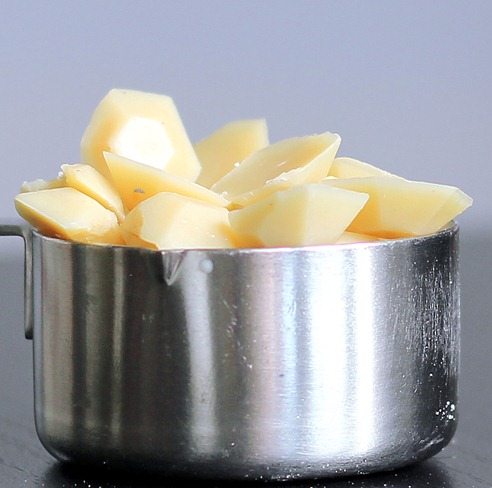 Question of the Day:
Are you going to vote tonight?
I never got around to early voting, so I will be going tonight. Unfortunately, my roommate's and my opposite votes are going to cancel each other out… we jokingly thought about just staying home!
Link of the Day: