Creamy, custardy pumpkin creme brulee – made without any heavy cream or eggs!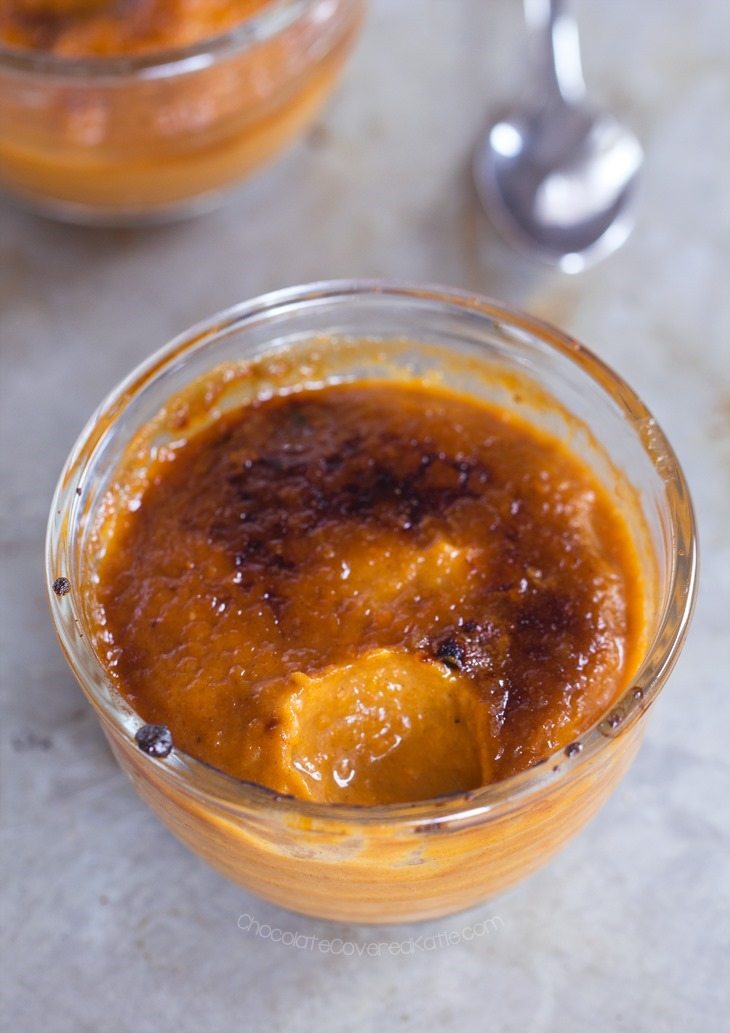 A rich pumpkin custard base hides beneath a hard shell of caramelized brown sugar…
This pumpkin creme brulee takes pumpkin season to a whole new level.
The recipe was inspired by one of the more unusual recipes on my site, the Avocado Crème Brulee.
As much as I love them, sometimes I get bored of just posting about chocolate and coconut and peanut butter all the time!
While an equal-sized serving of traditional creme brulee can have as much as 50 grams of fat, 20 grams of sugar, and more calories than an entire meal, this delightfully lightened-up recipe lets you indulge in the luxuriousness of creme brulee without all the added sugar and empty calories.
Plus, you get a serving of vegetables at the same time – even pumpkin haters will love this recipe!
Or maybe they won't.
No worries in that case… I will gladly eat theirs.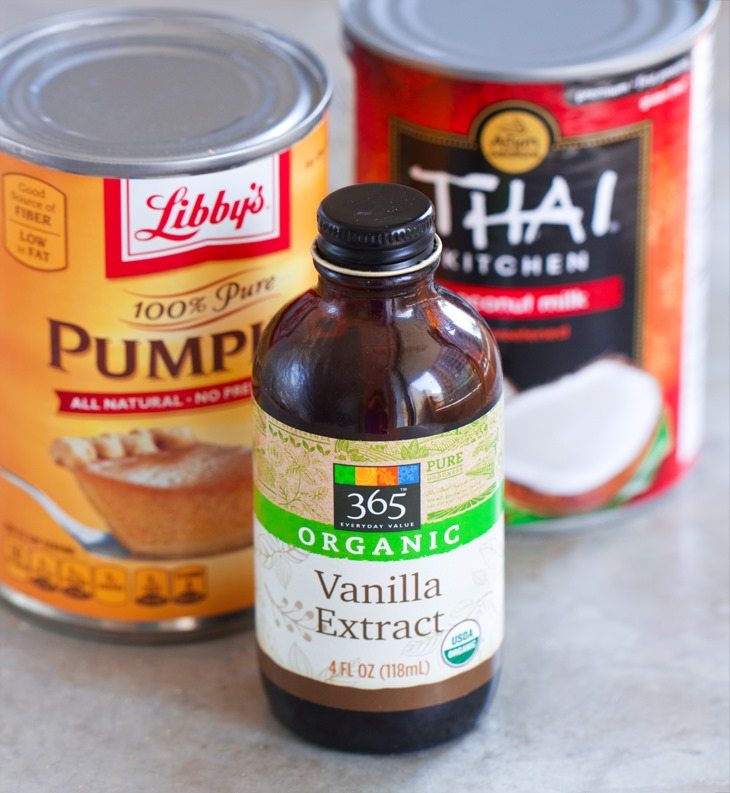 To Make The Pumpkin Creme Brulee:
Combine the ingredients until smooth, spoon into oven-safe ramekins, and smooth out the tops.
If you are impatient or just really hungry, feel free to forgo the traditional creme brulee topping and simply eat the pumpkin custard as-is.
However, adding the burnt brown sugar really elevates the deliciousness of this creamy pumpkin dessert.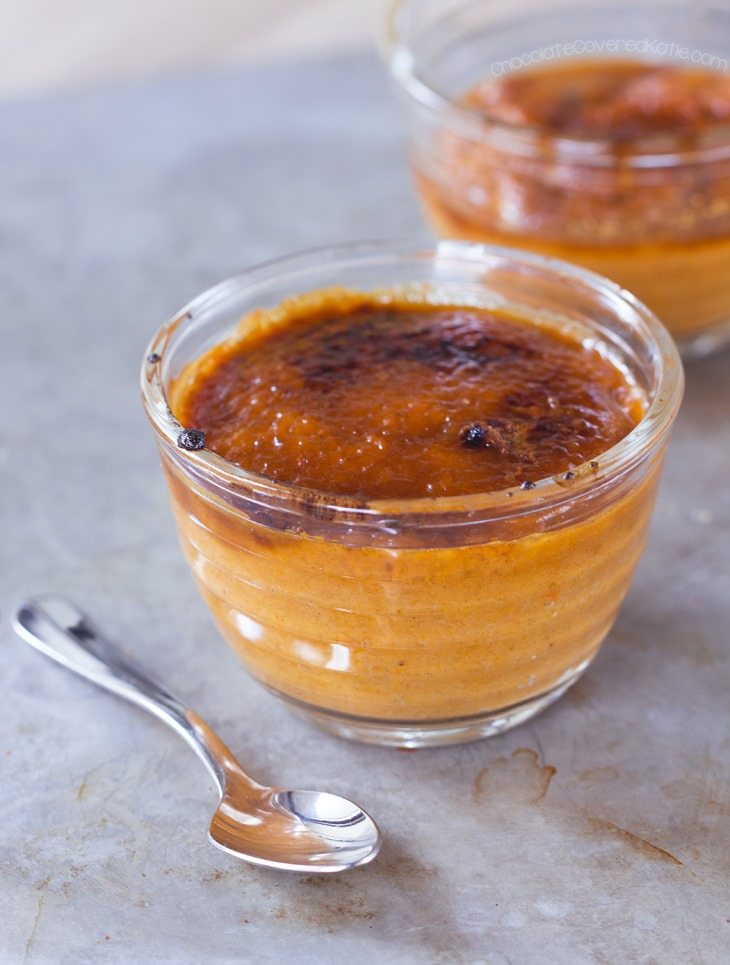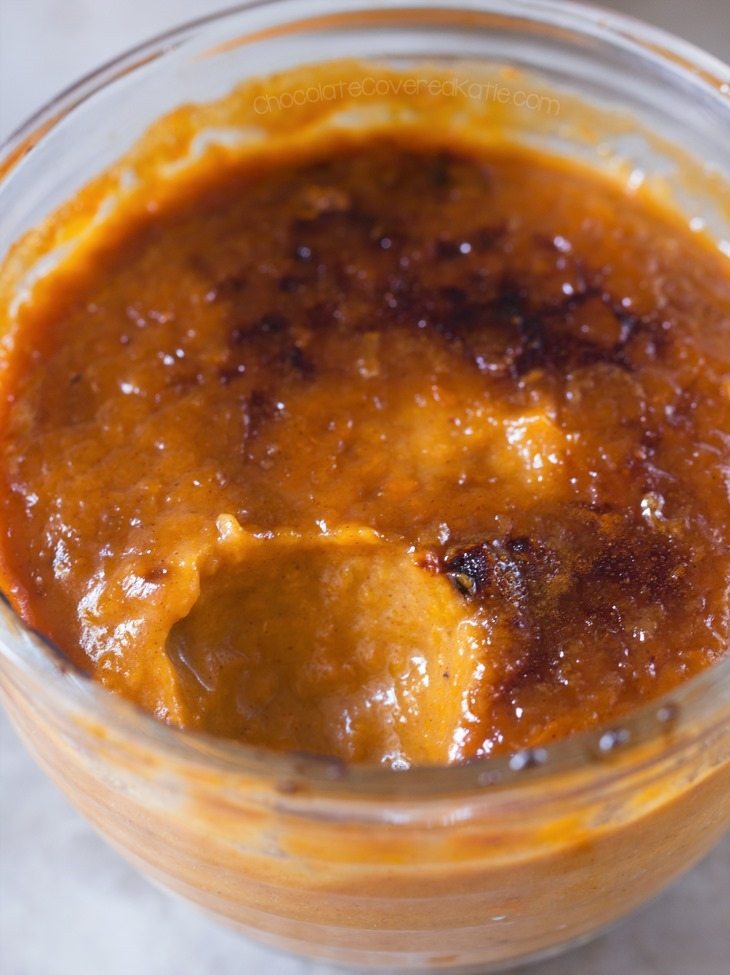 There's no need to go out and buy a blow torch.
If you don't have one, simply place the vegan creme brulee on the top rack of the oven, closest to the broiler, and watch carefully so the brown sugar caramelizes into a hardened shell without burning to a crisp.
Close your eyes, and think about how much better this tastes than a boring old pumpkin spice latte.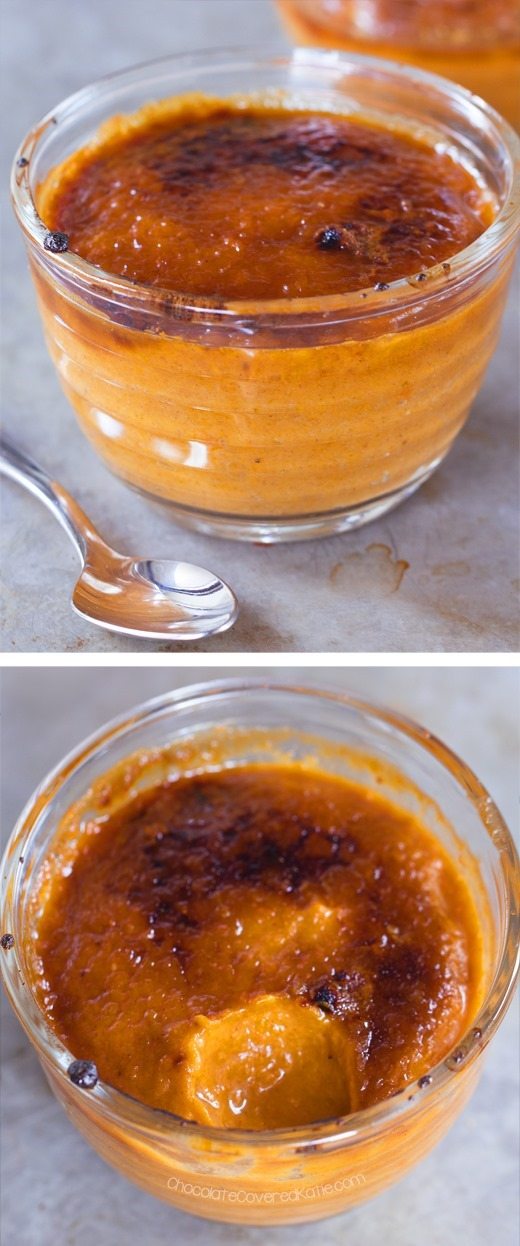 Pumpkin Creme Brulee
Creamy Pumpkin Creme Brulee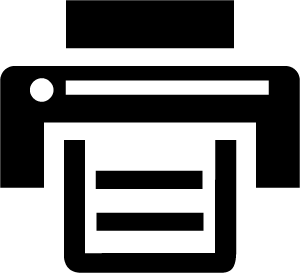 Print This Recipe
[mrp_rating_result show_count="false" show_rich_snippets="false"]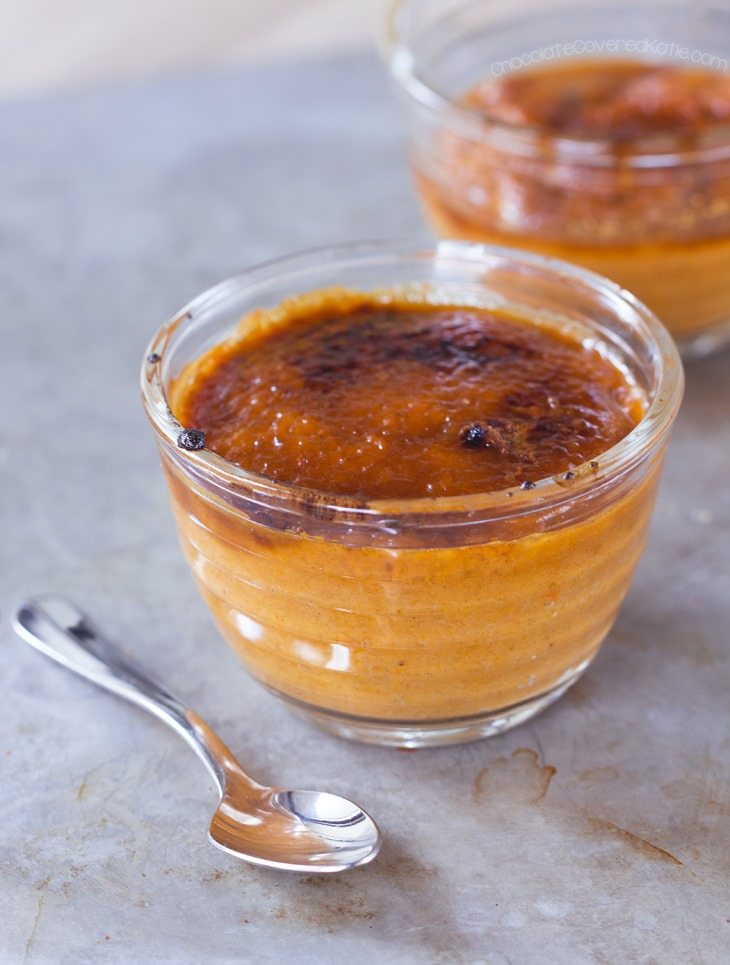 Ingredients
1/2 cup pumpkin or sweet potato puree
1/2 cup coconut milk
1/2 tsp pure vanilla extract
just over 1/16 tsp salt
1/2 tsp cinnamon
1/4 tsp ginger
1/16 tsp each nutmeg and cloves, optional
pinch stevia OR 3 tbsp sugar of choice
2-3 tsp coconut sugar or brown sugar (Omit if you want a sugar-free version)
Instructions
For best results, be sure to use full-fat coconut milk, not lite or coconutmilk beverage. Either by hand or in a blender, combine all ingredients except the optional brown sugar until completely smooth. (For smoothest results, use a blender.) Spoon into oven-safe ramekins or small dishes, and smooth out the tops. Before serving, if desired, sprinkle about 1 tsp brown sugar per dish evenly over the top. Then set as close to your oven's broiler as possible and broil OR use a blow torch to burn the sugar. If broiling in the oven, it only takes 5-10 minutes, so watch it carefully and rotate after every 3 minutes.
Link Of The Day: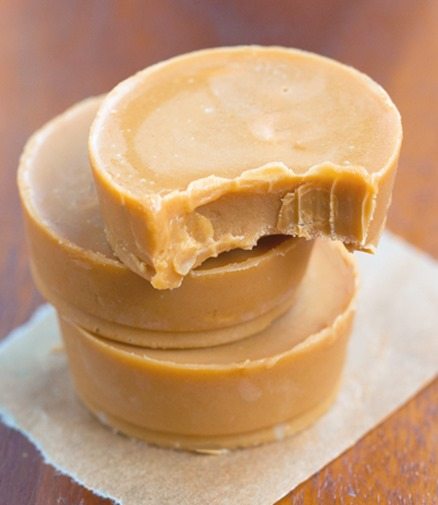 Clean Eating Almond Butter Fudge