Weekdays were meant for rich and delicious homemade molten chocolate lava cakes. And this decadent chocolate dessert recipe can be made in a muffin tin!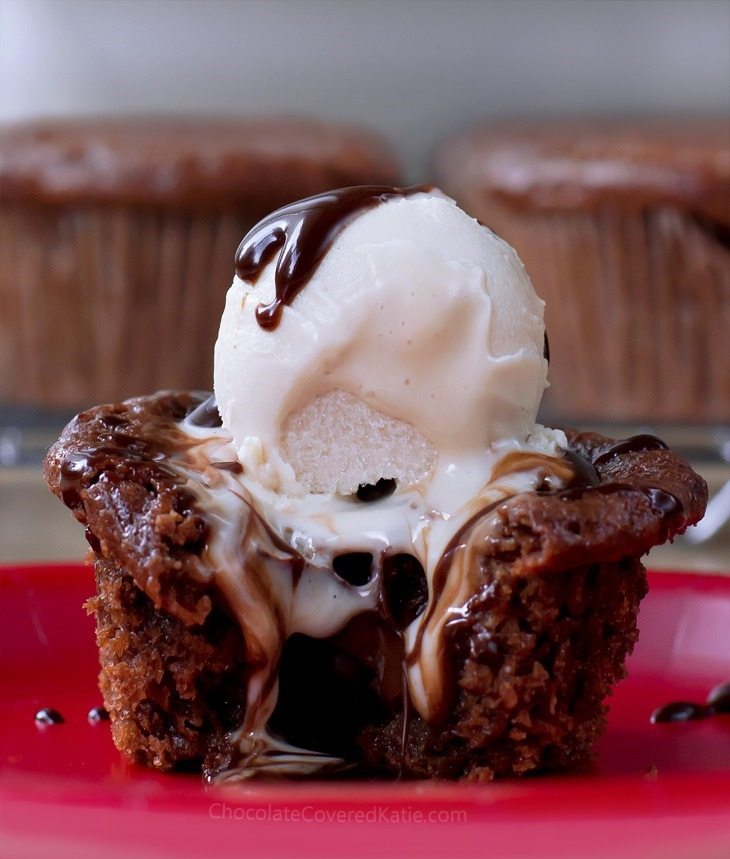 These hot-fudge-filled chocolate lava cakes will absolutely obliterate even the most intense chocolate craving.
Soft chocolate cake surrounds luxuriously dark chocolate lava hidden inside. Just when you think it can't get any darker, it surprises you.
I adapted the recipe from my 100 Calorie Chocolate Cake.
And while they were originally just going to be plain-jane chocolate cakes, who would ever choose a plain chocolate cake over one filled with chocolate lava?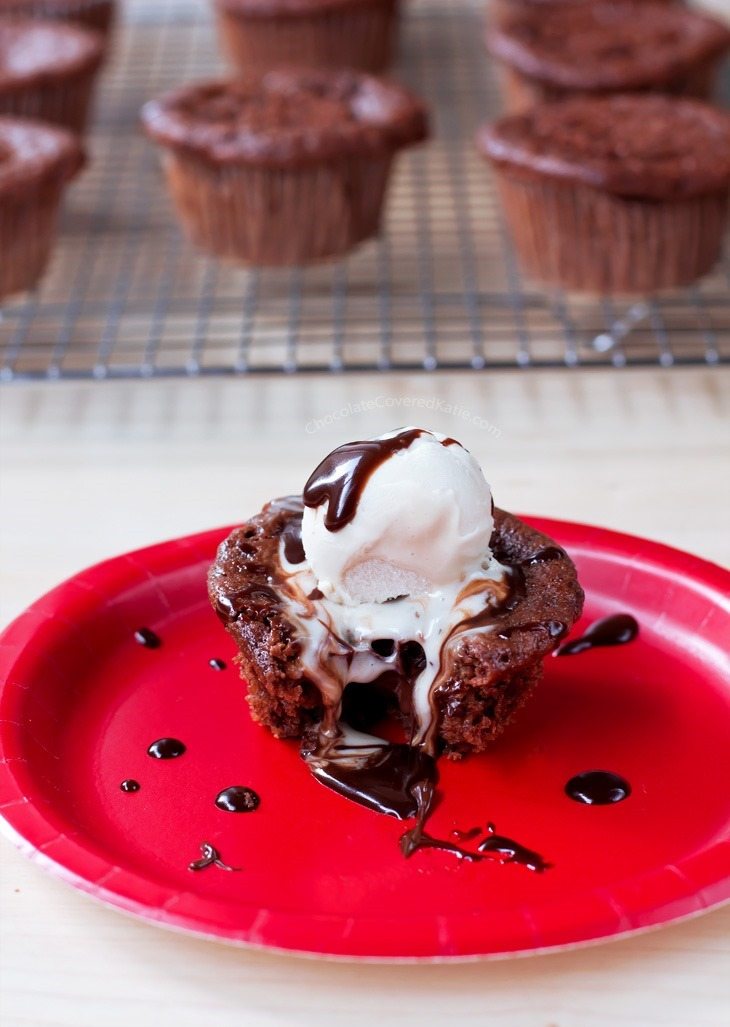 The nutrition stats for these homemade lava cakes are unbelievable:
Under 200 calories for the entire chocolate lava cake, including the molten chocolate lava filling!
While an equal serving size of most chocolate lava cake recipes will clock in at around 400 calories with an appalling 45 grams of sugar or more, these decadent healthy chocolate lava cakes have less than half the fat and calories, with a third of the sugar or even an option to make them completely sugar-free.
I feel like they'd be the perfect dessert for a sleepover party. Top them with any of the ice cream recipes linked below and round up your favorite film noir crime or detective dramas to fit with the classically dark and mysterious mood.
Step-By-Step Instructions: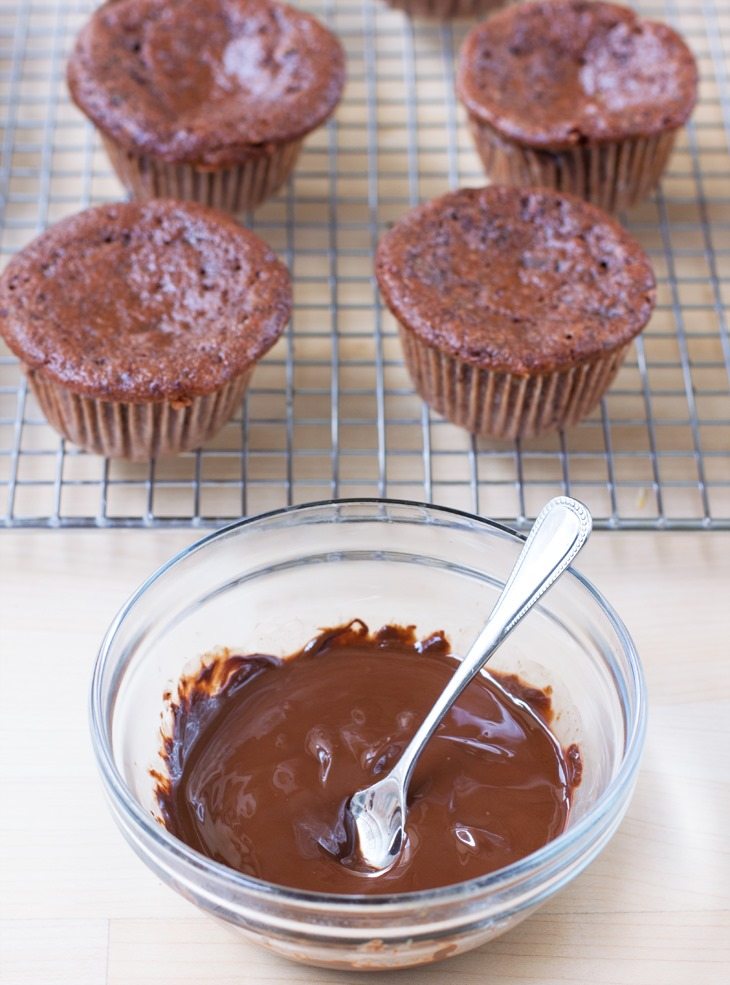 Step One:
Make up the chocolate cakes, and melt the chocolate filling in a separate bowl while you're waiting for the lava cakes to bake.
It is completely okay if they sink in the middle – these aren't cupcakes, and you'll be removing the middles in the next step anyway.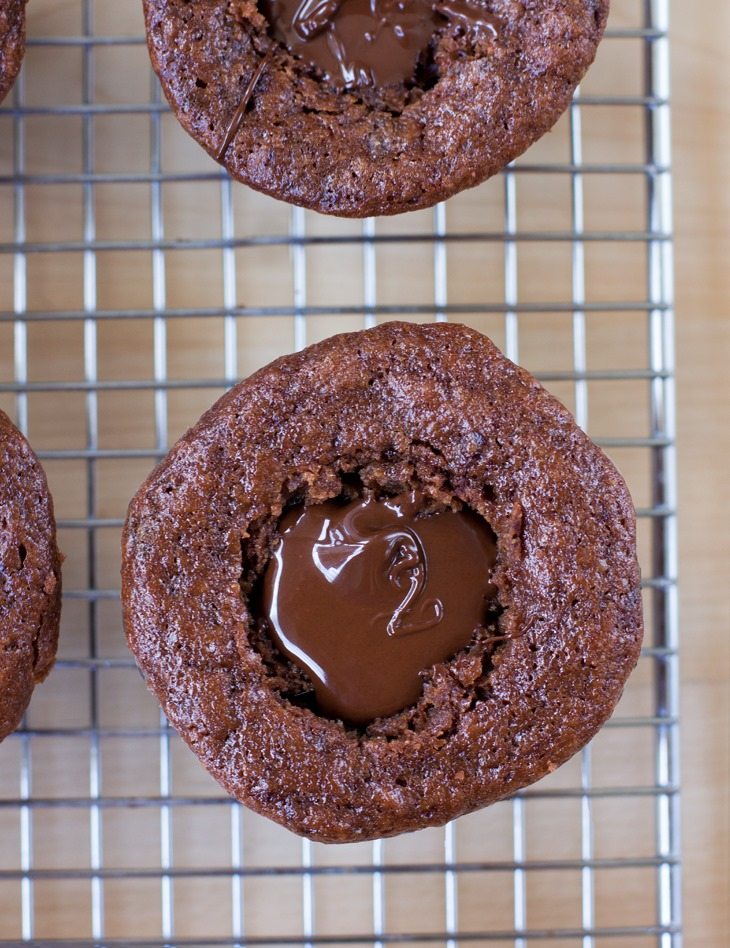 Step Two:
Using a spoon or knife, cut out the center of each lava cake—making sure to not go too far down—and set the tops aside.
Divide the melted chocolate evenly among the cakes.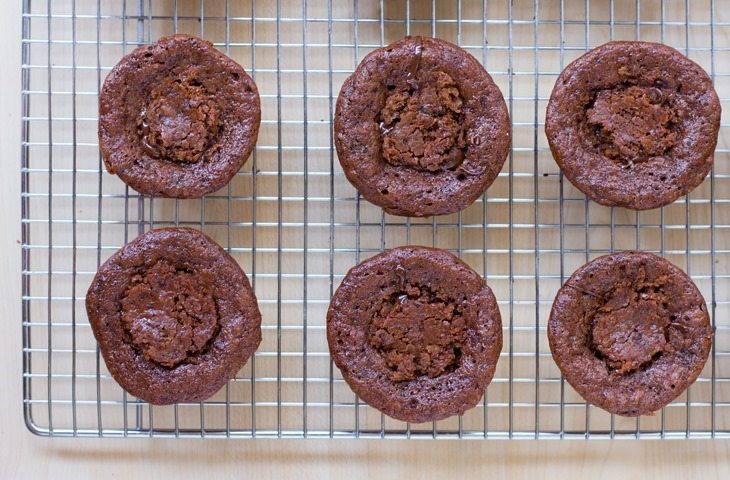 Step Three:
Place the set-aside cake centers back on the cakes.
Top with frosting, or whipped cream, or a small scoop of ice cream to cover the seams.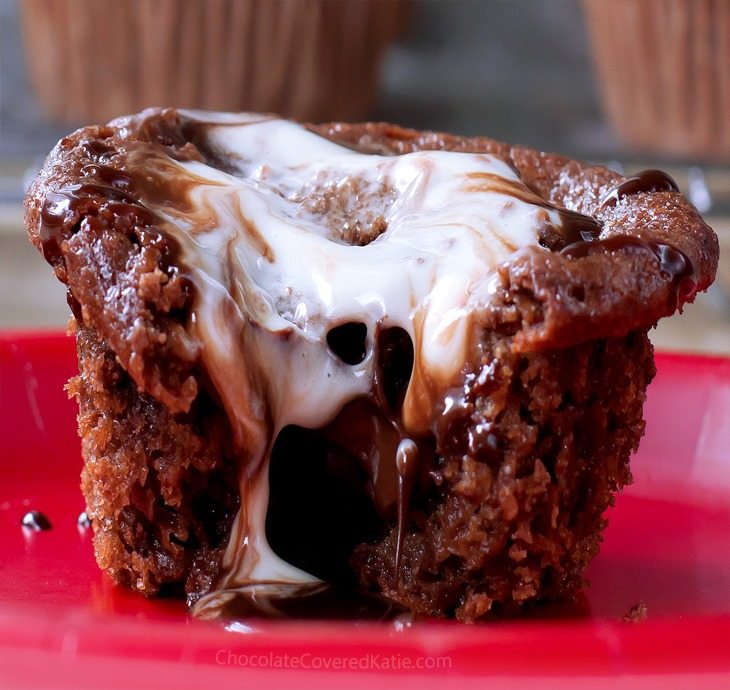 Steps four, five, and six: Devour!
The eating part is definitely a three-step process; consuming the molten chocolate lava filling is a step all to itself.
Also try this Vegan Chocolate Cake or the low carb chocolate Keto Cake.


Chocolate Lava Cakes
These rich and decadent chocolate lava cakes will satisfy any chocolate craving and can be made in a muffin tin!
Ingredients
1/4

cup

unsweetened cocoa powder

2

tbsp

dutch or additional unsweetened cocoa powder

1 1/4

cup

spelt,

white, or gf ap flour (Low carb option: Keto Cupcakes)

1/2

tsp

salt

1/2

tsp

baking soda

3/4

cup

granulated sugar or xyiltol

1/2

cup

mini chocolate chips

(optional)

3/4

cup

water

1/4

cup

applesauce or yogurt

1/4

cup

oil

2

tsp

pure vanilla extract

1

tsp

white or cider vinegar

1

cup

chocolate chips

2

tsp

vegetable or coconut oil
Instructions
Preheat oven to 350 F. Line muffin tins with liners. Mix all ingredients except the 2 tsp oil and 1 cup chips. Pour into the tins. Bake on the center rack 20 minutes or until cakes have risen and a toothpick inserted into the center of a cake comes out clean. Let cool. For the filling: very carefully melt the 1 cup chips, then stir in the 2 tsp oil for a thinner consistency. Use a spoon or knife to cut the center out of each lava cake, making sure to not go down too far. Set tops aside. Divide the filling among the cakes, then place tops back on. Top with ice cream, whipped cream, or frosting if desired to cover the seams. Enjoy!

View Nutrition Facts
More Favorite Dessert Recipes