These deliciously lightened-up & vegan enchiladas are the ultimate healthy comfort food!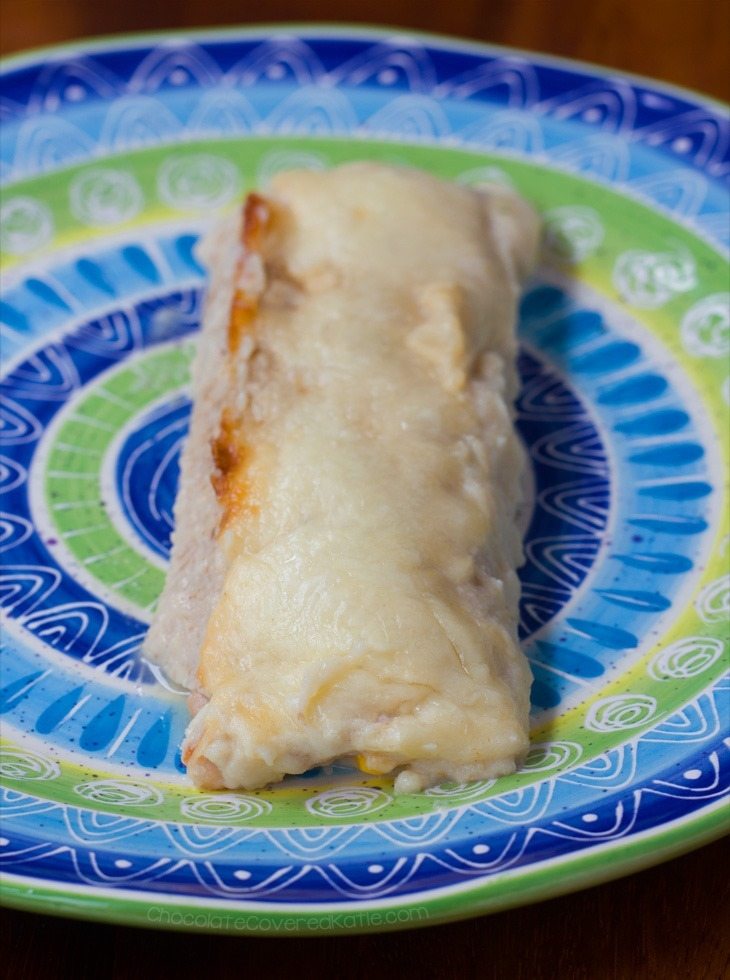 ♥ Extra cheesy & homemade enchiladas.
Completely vegetarian enchiladas that are high in protein, great for weeknights or for feeding a crowd, and they're surprisingly popular even with non-vegetarians.
I served them to two hardcore meat eaters this past weekend, and the results were overwhelmingly positive – my meat-eating friends loved the vegan enchiladas!
Who knew!
Both of them asked for seconds, and the three of us went through a 9×13 pan of enchiladas in under two days.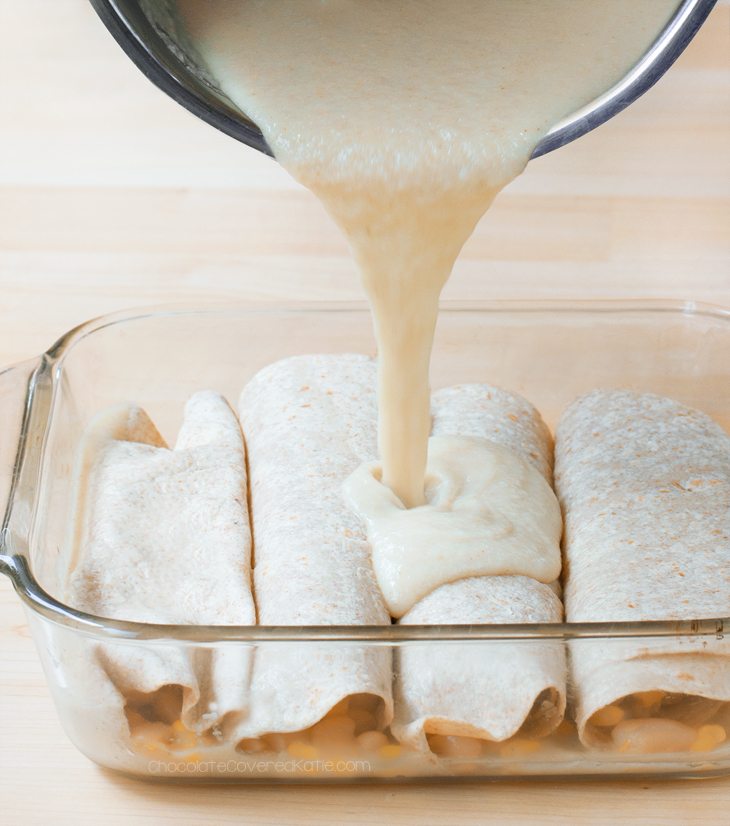 The homemade "sour cream" sauce really ups the comfort factor, and it's hard to believe there's no cream in the recipe.
Everyone who's tried the sauce is always shocked to find out about the cauliflower.
You would absolutely never suspect it's in there!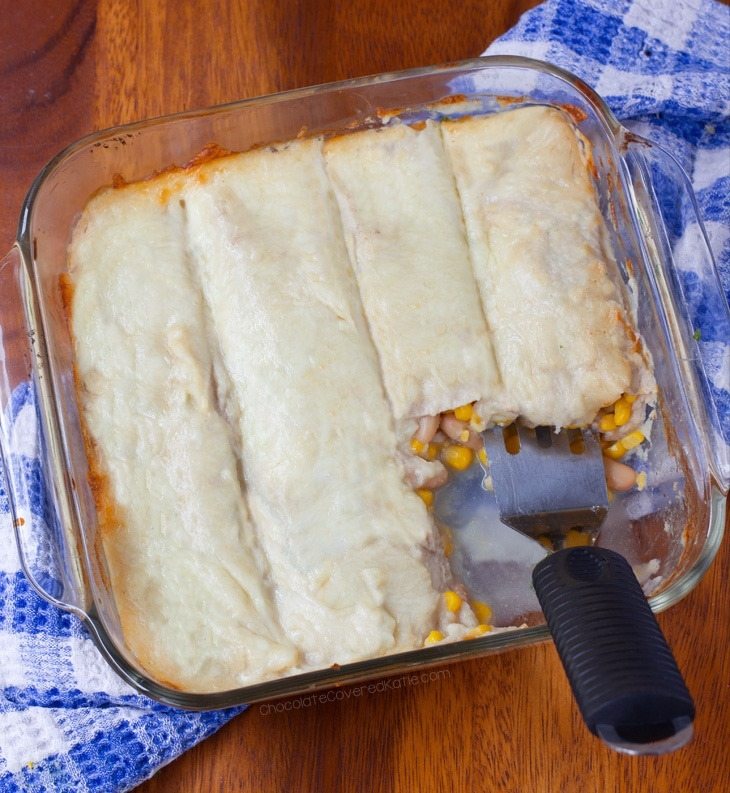 How To Make The Enchiladas:
Smooth 2/3 cup of the sauce into the bottom of a baking pan.
Add a tortilla, place about half a cup of filling in the center, and roll it up seam-side down.
Push the tortilla to the side of the pan, and repeat the process with the remaining tortillas until you've filled up the pan.
Pour the remaining sour cream sauce evenly over top, and bake until lightly browned.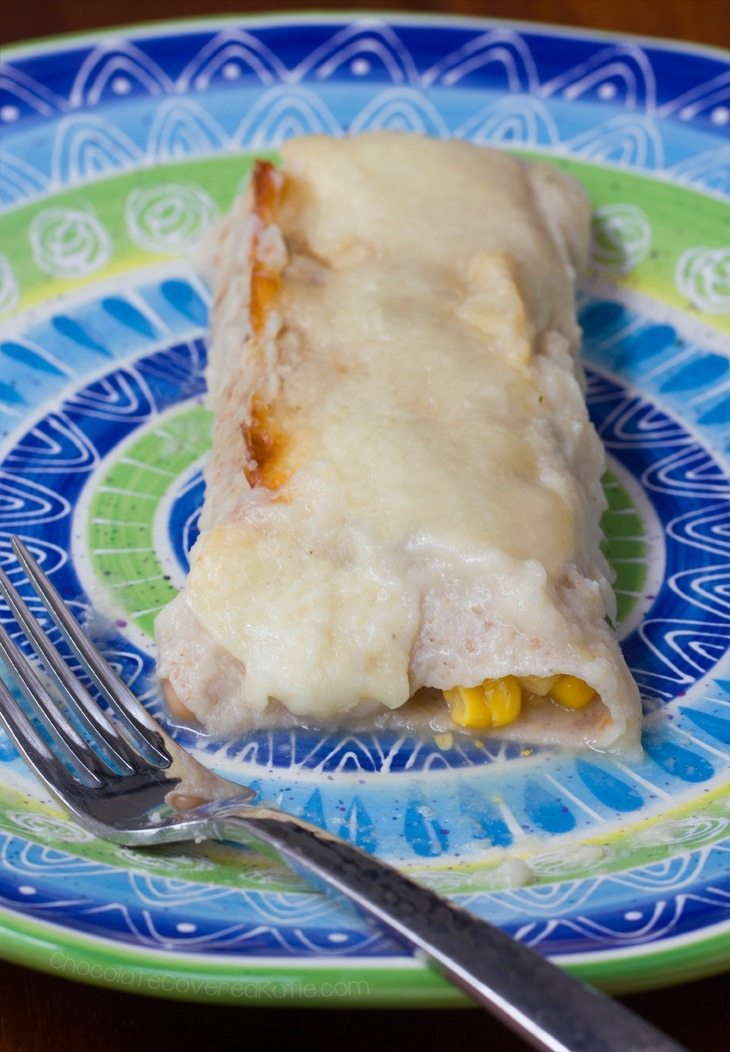 These hearty and healthy vegetarian enchiladas will keep you full for hours.
They were a perfect choice for dinner before heading out to a late-night party in the city to celebrate Halloween, one of my favorite nights of the year.
Can you guess my costume this year?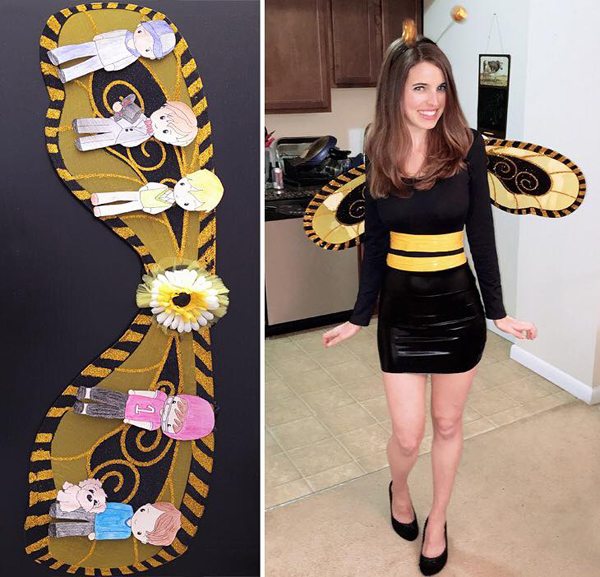 I start brainstorming Halloween costumes early.
Eating chocolate, dressing up, and getting to be creative are three of my favorite things, and I only wish the holiday came more than once a year.
This year's costume was Bumble, as in the dating app.
My first thought was to buy a bunch of Ken dolls dressed as different professions and dangle them from the wings.
But making my own cut-out figures seemed like a much more practical—and less expensive—idea. I had an embarrassing amount of fun drawing and cutting out the Bumble men.
And the costume was much more comfortable than the year I went as a Biker Chick.


Lightened Up Sour Cream Enchiladas
Adapted from Vegan Pasta Alfredo Recipe
White Enchiladas – With Lightened Up Sour Cream Sauce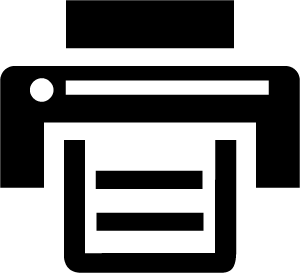 Print This Recipe
[mrp_rating_result show_count="false" show_rich_snippets="false"]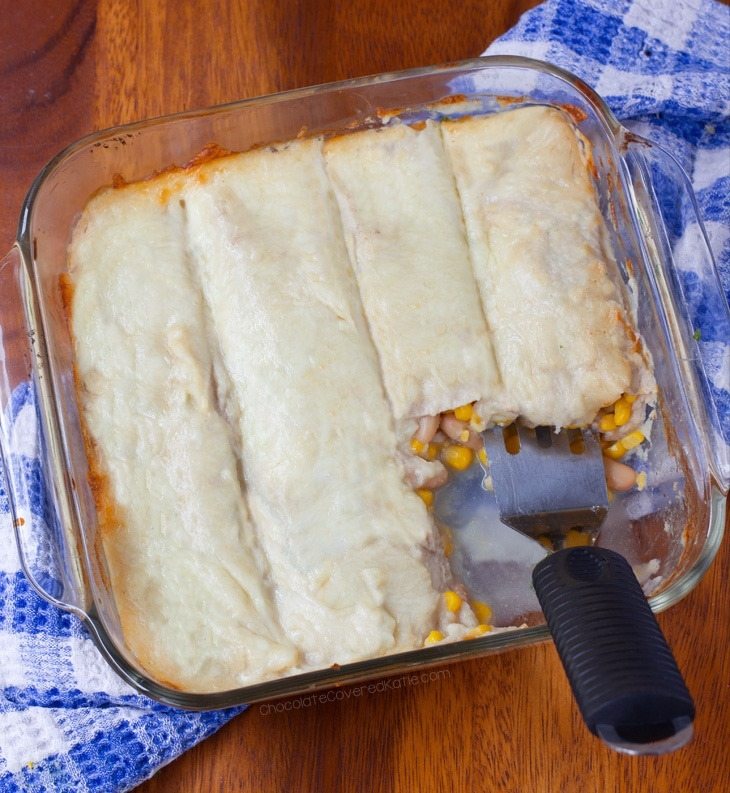 Ingredients
1 3/4 cups raw cauliflower florets (190g)
2 tsp minced garlic
1 tsp salt
1/2 tsp ground cumin
1/2 tsp onion powder
1 cup unsweetened milk of choice
1-2 tbsp buttery spread or oil
2 tsp lemon juice
4 tortillas (45g each)
1 1/2 cup protein of choice (I used 1 can white beans)
1 1/2 cup corn OR sautéed diced vegetables
2/3 cup to 1 cup cheese, such as Daiya vegan, or nutritional yeast
optional 1 can (4.5oz) diced green chiles
Instructions
*If serving to a crowd, double the recipe and bake in a 9×13 pan.
Add first 7 ingredients to a pot. Bring to a full boil. Then cover and lower to simmer fifteen minutes or until cauliflower is fall-apart soft. Turn off heat and add lemon (and chiles, if using). Puree with an immersion or regular blender. Set aside. Preheat oven to 350 F. If using beans, mash them a bit with a fork. Stir together the protein and vegetables. Grease an 8-inch pan. Smooth 2/3 cup sauce into the bottom of the pan. Add a tortilla, place about 1/2 cup protein-veg filling in the middle, and roll it up, seam-side down. Push the tortilla towards the side of the pan, and add a second tortilla next to it, filling and rolling. Repeat until pan is full. Pour remaining cauliflower sour cream evenly over top. Sprinkle on cheese. Bake on the center rack 28 minutes or until lightly browned. Store leftovers covered in the fridge, 2-3 days.
More Healthy Meatless Meals: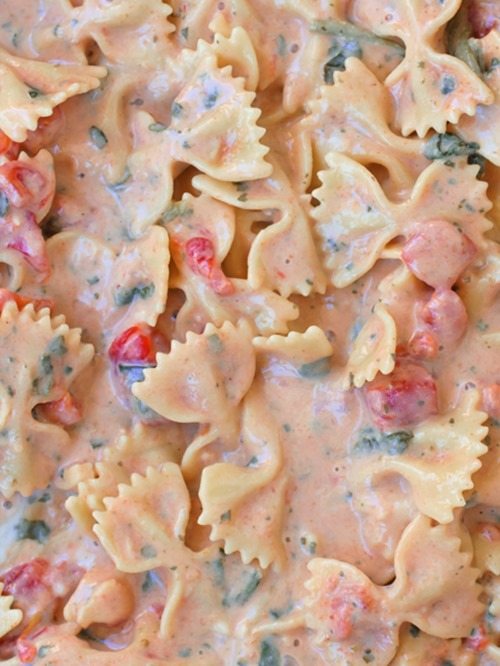 Creamy Spinach Tomato Pasta – Ready in 25 minutes!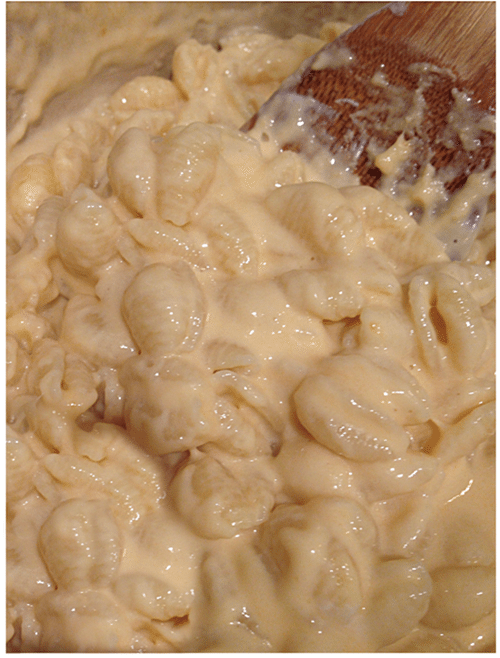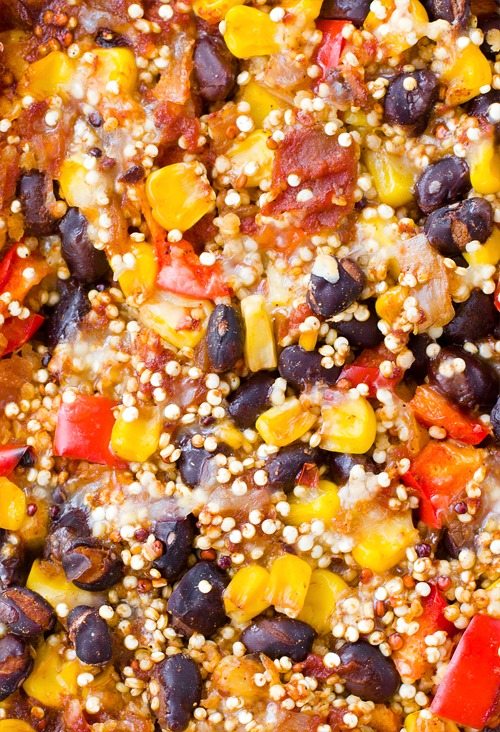 Mexican Black Bean Quinoa Casserole