Soft, light, & decadently healthy red velvet donuts – with a secret ingredient and NO food coloring!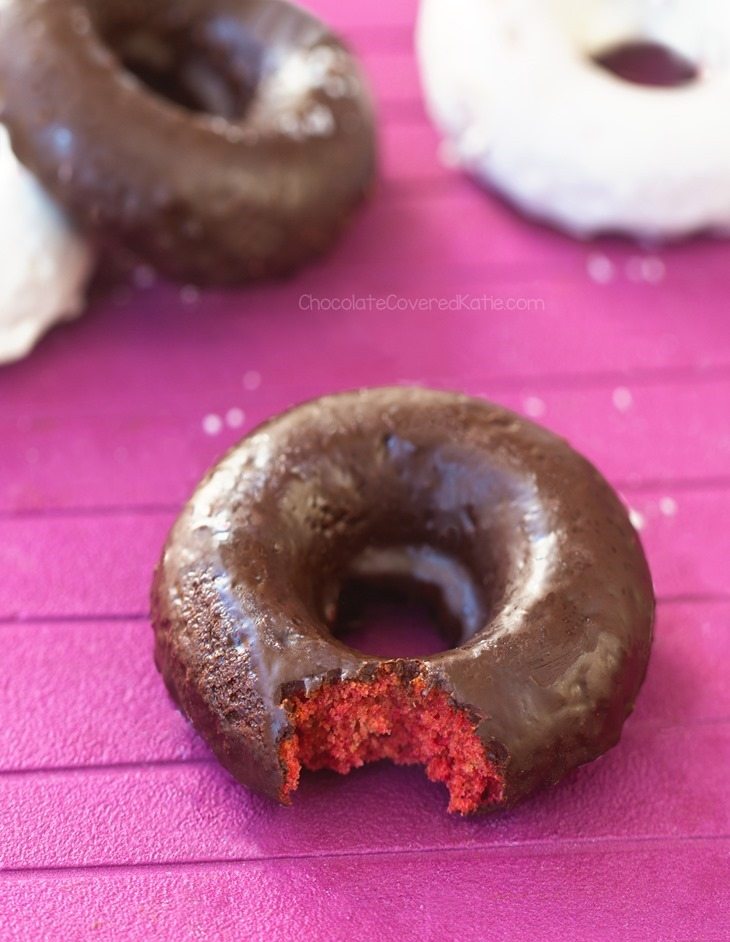 Did you notice the theme with my most recent recipes?
I've been having fun trying healthier alternatives to food coloring, first with my Magical Rainbow Unicorn Dip, and now with these vibrant red velvet donuts. They are baked instead of fried, are free of refined sugars and food dye, and they are also safe for vegans. The homemade donuts come together with just a few minutes of work and are healthy enough to eat for breakfast.
♥ You won't miss the food coloring and refined sugar!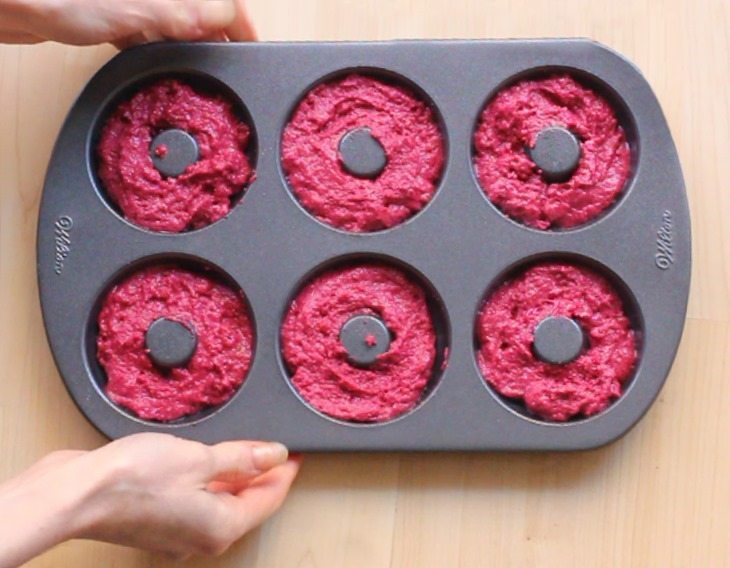 When I think of red velvet, I immediately think of Sprinkles' red velvet cupcakes, complete with a thick layer of cream cheese frosting.
But these donuts are so much better than that… mostly because donuts are so much better than cupcakes. You can eat them plain, or with chocolate glaze, or topped with melted coconut butter or my Healthy Cream Cheese Frosting.

If you want to do the chocolate glaze, either dip the finished donuts in melted chocolate (mixed with a little oil if desired for a smoother sauce) OR mix together 2 tbsp pure maple syrup, 2 tbsp melted coconut oil, and scant 3 tbsp cocoa powder and gently heat until it becomes a thin sauce.
Refrigerate to "set" the chocolate glaze. If you use the coconut-oil version, it's best to store the donuts in the fridge because coconut oil melts at room temperature.
More Healthy Donut Recipes: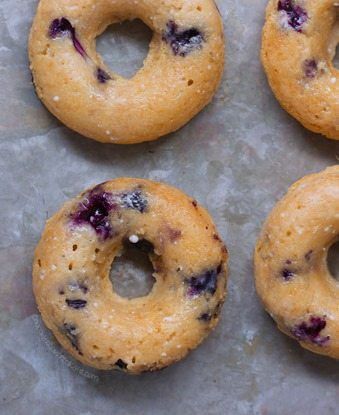 Homemade Blueberry Baked Donuts
P.S. These healthy red velvet donuts would be perfect for Valentine's Day breakfast!



Healthy Red Velvet Donuts
Adapted from Blueberry Baked Donuts
Red Velvet Donuts–Refined Sugar Free!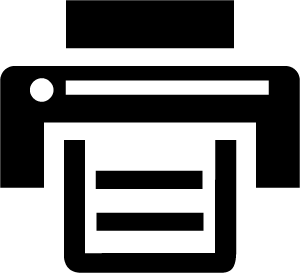 Print This Recipe
[mrp_rating_result show_count="false" show_rich_snippets="false"]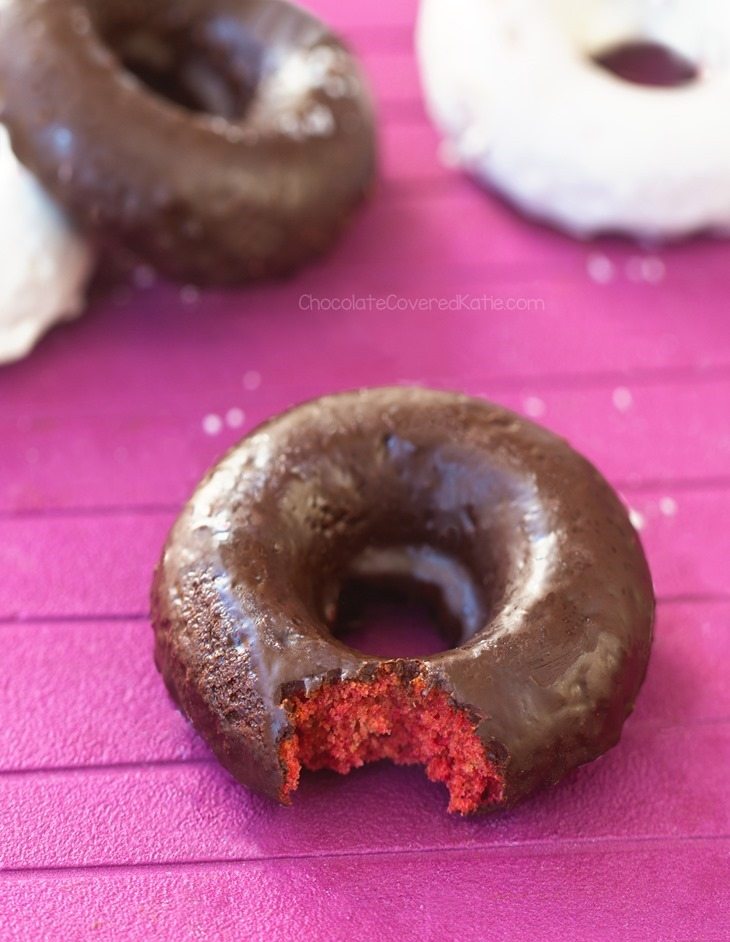 Ingredients
1 tbsp milk of choice
1 tsp white or apple cider vinegar
1/4 tsp pure vanilla extract
1/3 cup pure maple syrup or agave or honey
3 tbsp beet juice – or see substitution note below
3 1/2 tbsp oil – If you don't mind fat-free texture, you can use applesauce (35g)
1 cup flour, loosely packed (works with all-purpose, spelt, or gf all-purpose) (125g)
1/4 tsp salt
1 tsp baking powder
Instructions
*If you don't have beet juice, you can omit and increase the milk of choice to 1/4 cup and add natural red food coloring to achieve the red velvet color if desired. (They taste just as delicious without the food coloring too!)
Combine first 6 ingredients, and set aside. Grease a donut pan OR mini muffin pan, and preheat oven to 350 F. Stir together remaining ingredients, then pour wet into dry once oven is preheated, and stir until just evenly mixed. Don't overmix. Bake 10-12 minutes (depending on flour used), or until donuts have risen and batter is no longer wet. Let sit 5 minutes before removing from the pan. Frost with a basic glaze (a chocolate glaze recipe is listed earlier in this post) or even straight-up coconut butter, which is my favorite!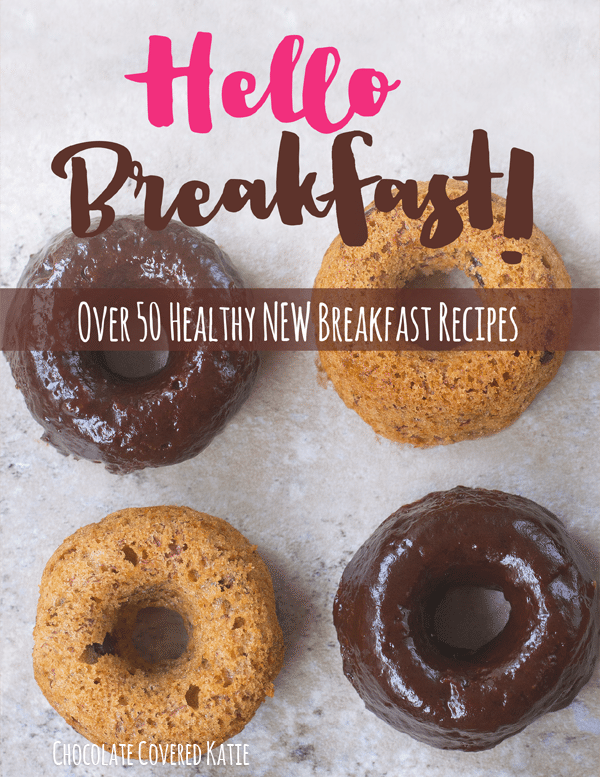 Link Of The Day: