Vegetarians and non-vegetarians love these hearty, filling, and completely vegan quinoa burgers!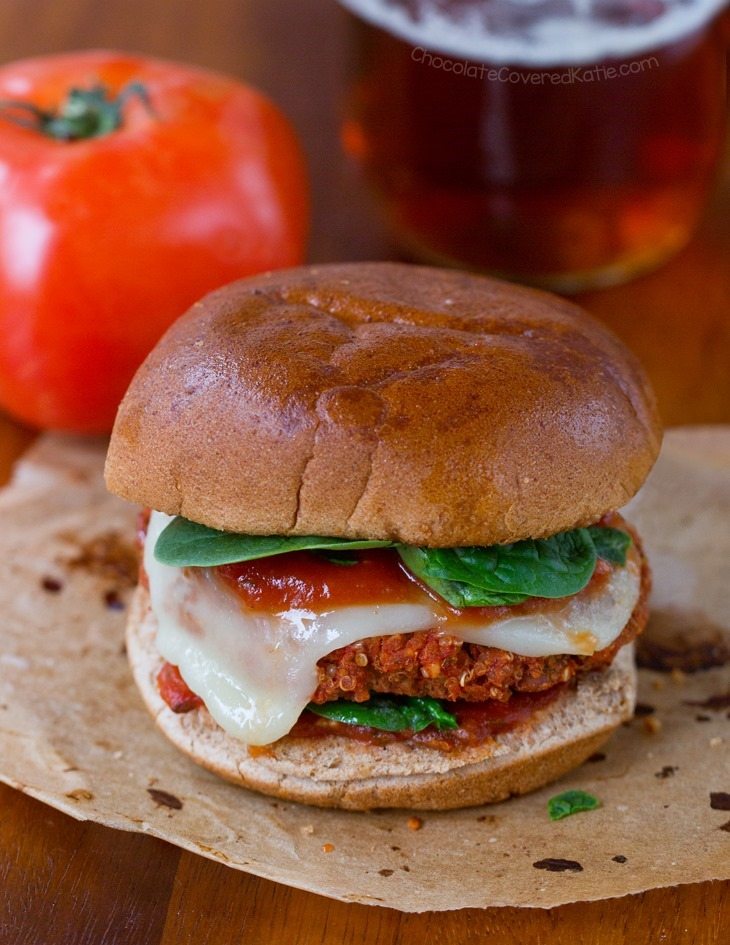 You only need 6 ingredients:
Quinoa
Tomato paste
Pinto beans
Oregano
Salt & onion powder
(View The Video, Above)

The best part about these healthy, vegan quinoa burgers?
Unlike most homemade veggie burgers, you actually need NO food processor or blender to make them!
Simply combine the ingredients together in a bowl, mashing the beans with a fork and stirring everything until even. Then form into patties and fry or bake, just like you would with any other vegan or non-vegan burgers.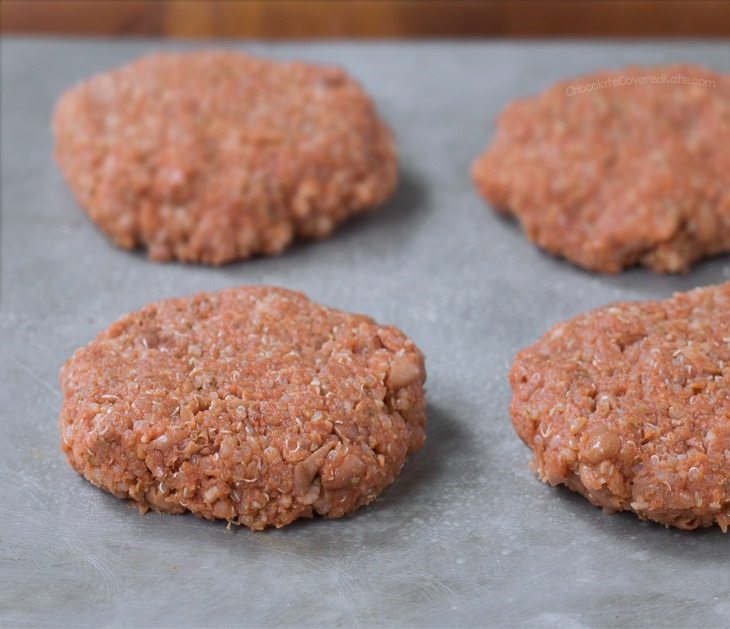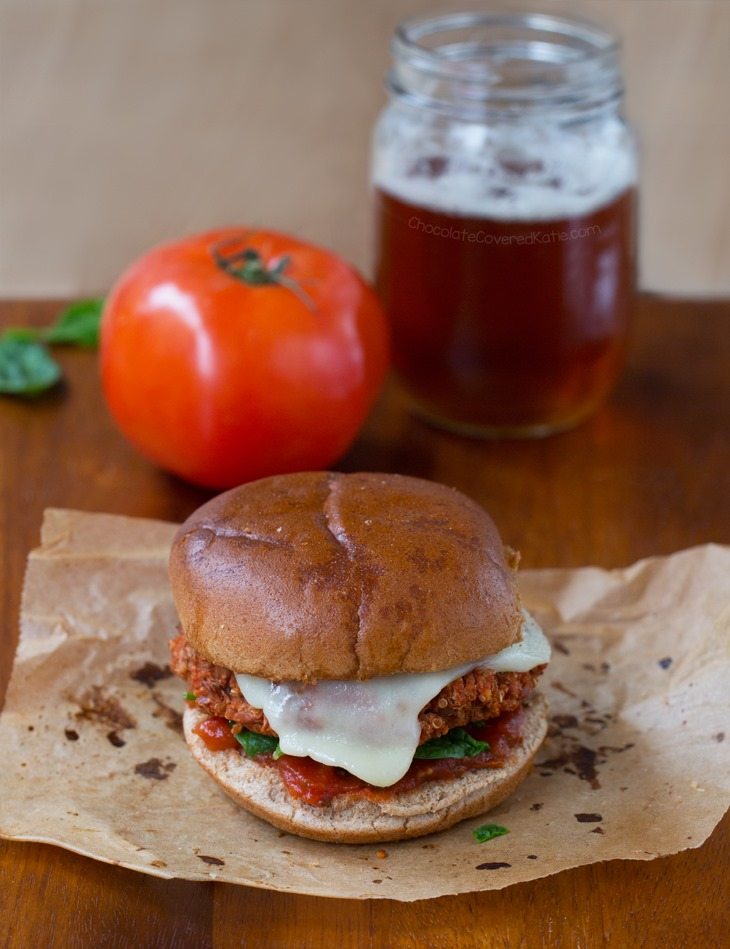 More Recipes With Quinoa:
Black Bean Mexican Quinoa Casserole


Pizza Quinoa Burgers
Adapted from Quinoa Pizza Bites
Pizza Quinoa Burgers–With Just 6 Ingredients!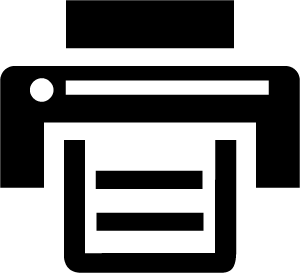 Print This Recipe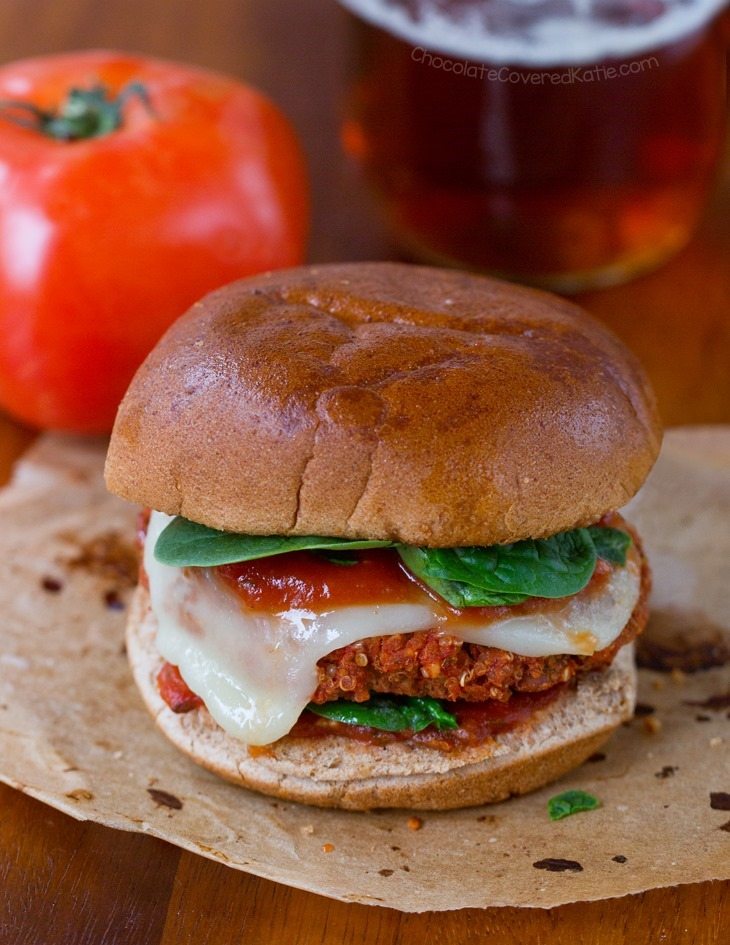 Ingredients
1/4 cup uncooked quinoa
2/3 cup water
1/2 tsp salt
1/2 cup tomato paste
2 tsp oregano
3/4 tsp onion powder
1 cup cooked or canned pinto beans (150g once drained)
burger buns and toppings of choice
Instructions
Combine the quinoa, water, and 1/4 tsp of the salt in a pot. Bring to a boil. Cover and simmer 14 minutes or until fluffy. If you wish to bake instead of fry the burgers, preheat oven to 400 F. Mash beans fully, then stir together all ingredients, including the quinoa. Form patties, and either fry over medium heat in a little oil OR place on a greased baking sheet and bake on the center rack 15 minutes, flip carefully (smushing back together if they crack while flipping), and bake an additional 6 minutes. Let cool completely. They are delicate due to the lack of flour, but they do hold together nicely as long as you use a spatula to move the patties. Top with traditional burger toppings or pizza toppings (such as fresh basil and tomato sauce) as desired.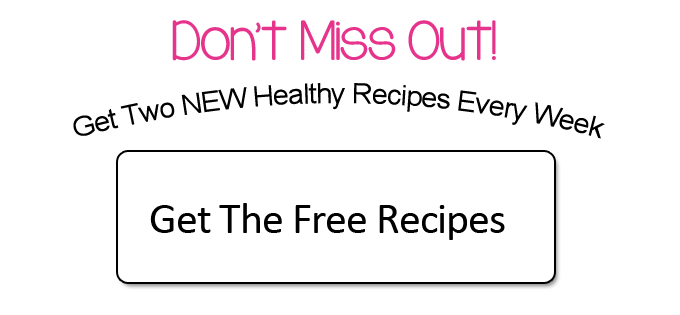 Link of The Day: