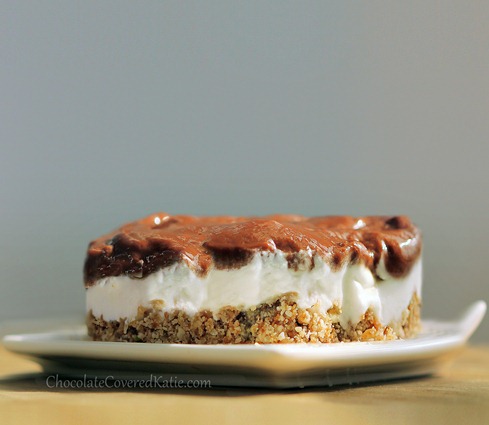 No, I didn't come up with the name.
The popular dessert has been around since at least the 1970s, and it goes by many titles: Sex in a Pan, Six Layer Dessert, Chocolate Yummy, Better than Sex Dessert, Better than Robert Redford… It makes for a great conversation piece or icebreaker at a party.
That is… if you are brave enough to tell people what it's called!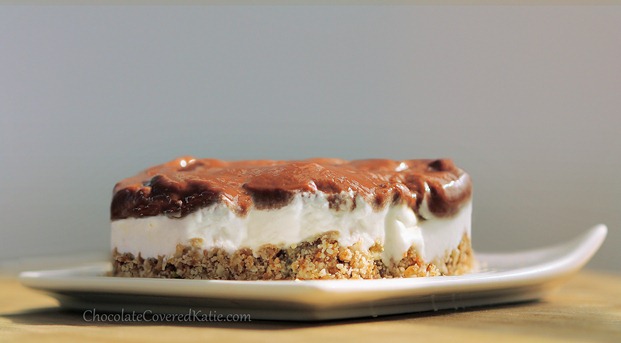 I first heard of the dessert when someone asked on facebook if I could come up with a healthier version. Obviously, the name intrigued me (How could you not wonder?), and it went straight onto my list of things to try. But finding a good time to serve the dish was tricky… It might not be the best idea to show up with something called Sex in a Pan at a neighborhood gathering, a christening, or an Easter brunch.
However, a Super Bowl party sounded perfect. So this is what I made yesterday, and it went over very well with everyone. To make it healthier, my version is a little different from the original (which calls for a butter-shortbread crust, chocolate and vanilla pudding, cool whip, heavy cream, etc.). This version is also much easier to make—with no baking required!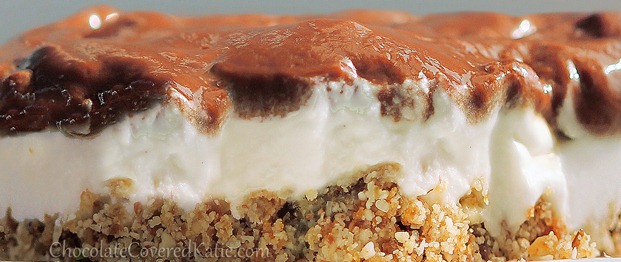 Sex in a Pan
1/2 cup almonds or pecans (70g)
1/4 tsp salt
1/3 cup quick oats (or sub shredded coconut)
1/2 cup raisins (For all substitution notes, see nutrition info link below) (80g)
8 oz cream cheese-style spread, such as Tofutti
1/3 cup powdered sugar or sugar-free powdered sugar (33g)
2/3 cup coconut cream (just the cream, not any water that might be in the can) (160g)
1 1/2 cups any thick chocolate pudding (such as this one) (360g)
Line an 8-in square pan with parchment or wax paper. In a food processor, combine first four ingredients, then press into the bottom of the prepared pan. Cream the next three ingredients together until smooth, then spread over the crust. Spread the chocolate pudding on top. If desired, you can top with another cream layer and shaved chocolate. Best to fridge at least 5 hours—uncovered—so the dessert firms up.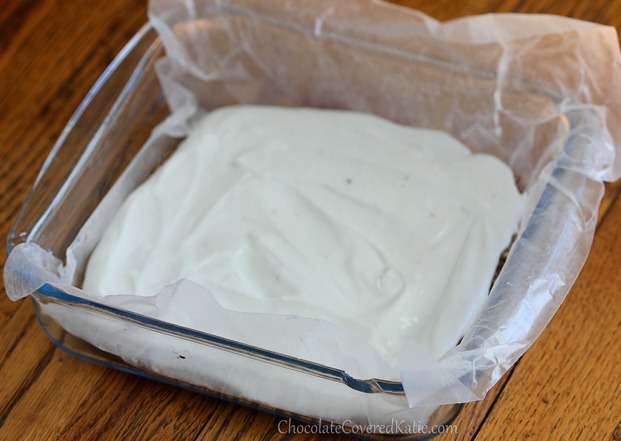 Link of the Day: