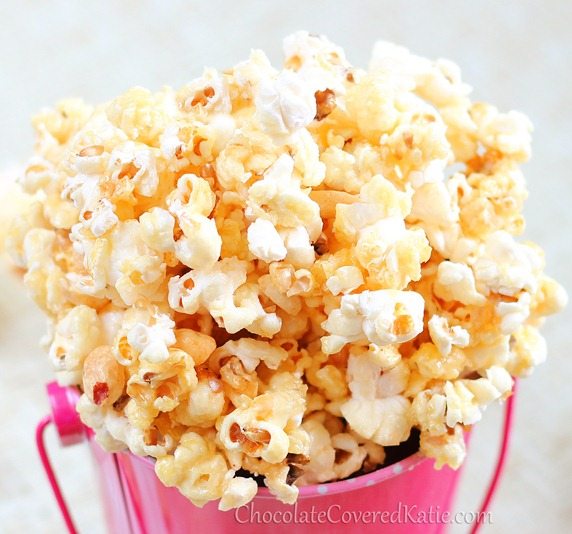 No corn syrup here!
This is a healthy caramel popcorn recipe without corn syrup. It's salty, sweet, and just plain good! As the original slogan for Cracker Jacks says:
The more you eat, the more you want.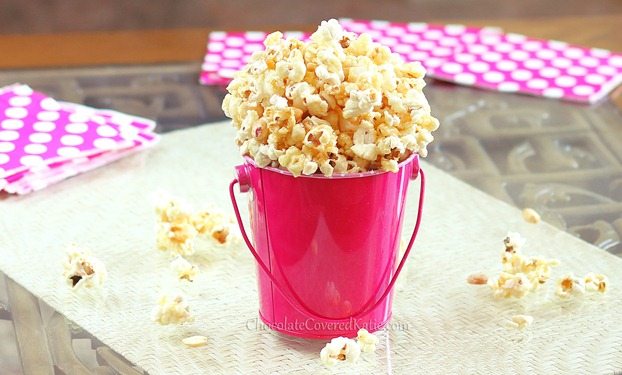 You can even add roasted peanuts for a healthier version of Cracker Jacks that tastes pretty authentic. (Yes, I bought a box to compare. Cracker Jacks might not be healthy, but they are vegan.) Or stir in dark chocolate chips or broken-up healthy chocolate bars.
I'm not saying it's as healthy as broccoli and quinoa, or that you should quadruple the recipe and call it lunch. But as far as snacks go, this caramel popcorn is a terrific healthy option: whole-grain, high in fiber, vegan, and completely free of the hydrogenated oils, refined sugar, and trans fats found in so many commercial brands of popcorn. If you use the xylitol option, it's even good for your teeth. Can't get much better than that.
With the Calorie Control Council estimating that Americans eat about 3.8 million pounds of popcorn on Super Bowl Sunday, this weekend is a great time to… get popping!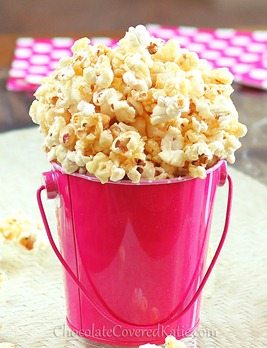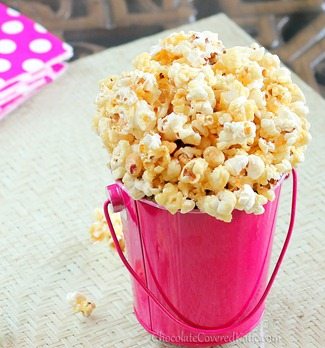 This can be a 5-minute recipe if you use the Microwave Popcorn Trick.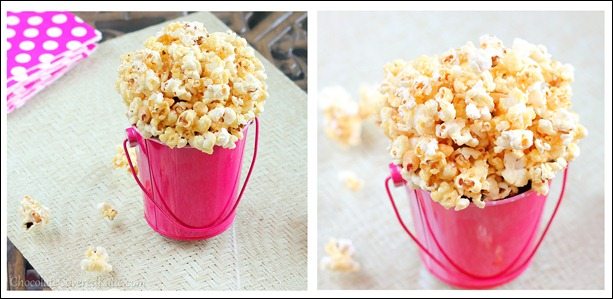 Healthy Caramel Popcorn
(or homemade Cracker Jacks)
4 tbsp unpopped popcorn (48g)
1/4 cup xylitol or sucanat (or regular brown sugar or coconut sugar) (54g)
1/4 cup agave or honey (55g) (Molasses might work; I haven't tried.)
scant 1/4 tsp salt
optional for a richer caramel flavor: 2 tbsp buttery spread, such as Earth Balance (30g)
optional: roasted peanuts, dark chocolate chips, etc.
Pop the kernels, either on the stove or using the Microwave Popcorn Trick.
Then transfer to a large mixing bowl. In a small saucepan, combine the two sweeteners (and the butter spread, if using) and heat on low—stirring occasionally—until the dry sweetener is completely dissolved. Pour this mixture over the popped corn and stir to coat. Much of the sauce will fall to the bottom of the bowl, so be sure to scoop it up and keep stirring for a full 2 minutes. Sprinkle on the salt (don't forget!) and add chocolate chips, or nuts, or dried fruit if you wish.
View Caramel Popcorn Nutrition Facts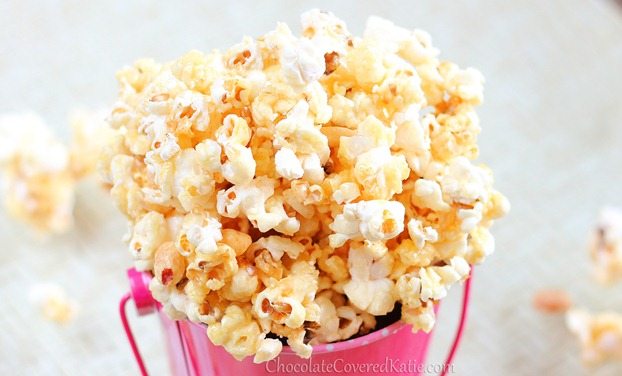 What's your favorite: Buttered popcorn or caramel corn?
I've always loathed buttered popcorn: the smell, the artificial taste, the way it gets all over the movie theater floor and in your seat… Does anyone even know what's in that butter syrup with which they drench movie theater popcorn until it turns a very unnatural shade of neon yellow? I guess I could google it, but I would probably rather not know!
Link of the Day: