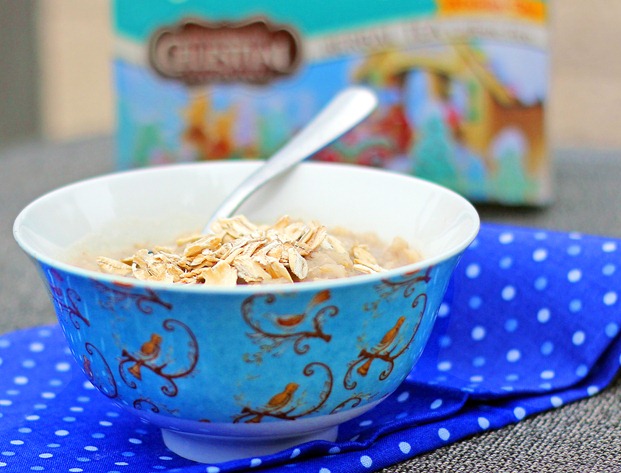 A big, fat sugar cookie.
But softer and chewier, and much more filling!
This was the delicious breakfast I made on Sunday, in honor of Christmas. As I prepared my morning oats, the box of  Sugar Cookie Sleigh Ride tea sat on the counter, staring me straight in the face. (See, sometimes a messy counter can be a good thing.) I had no idea if adding the tea would impart any noticeable flavor, but isn't that the whole point of experimenting? To see what happens? In this case, what happened was a bowl of creamy oatmeal, remeniscent of a sweet sugar cookie. Merry Christmas, indeed.
(Breakfast was festive last year, too: Zucchini Bread Oatmeal.)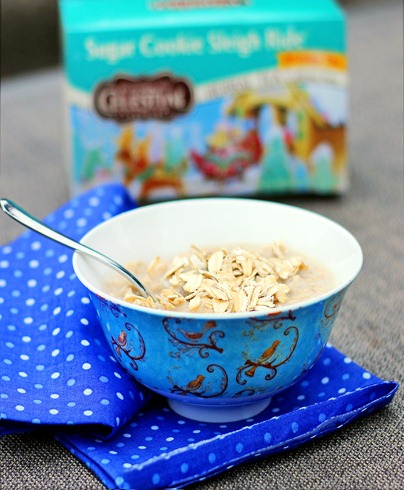 Sugar Cookie Oatmeal
1/2 cup rolled oats
1 cup water
1/2 cup milk of choice (I used almond milk)
2 Celestial Seasonings sugar cookie teabags (feel free to change the flavor by using any favorite tea)
1/4 tsp salt
1/4 tsp pure vanilla extract
sweetener of choice, as desired
optional: coconut butter or oil, or vegan butter (You can easily omit this. But I liked the extra buttery flavor I got by stirring a little virgin coconut oil into my oats.)
Heat the water and milk, then add the teabags and let sit for at least 15 minutes. Right before taking the teabags out, smush them a little with a fork so more of the flavor goes into the milk. Combine the liquid with the oats and salt, then microwave for 3 minutes. (If it starts to boil over, you can stop the microwave and keep heating in ten-second increments until the time is up. But don't open the microwave door!)
Let the oatmeal sit in the closed microwave for 5 minutes, then transfer–uncovered—to the fridge. It gets thicker as it sits. (I made this, then went running for a little over an hour. It was the perfect texture by the time I got back. Bit if you want to eat this immediately, just use a little less water.) Right before eating, add your vanilla and sweetener (and oil, if using).
View Sugar Cookie Oatmeal Nutrition Info
You can make this the night before if you prefer: just add a splash of milk before reheating the next day. Also, feel free to make this on the stovetop instead of the microwave.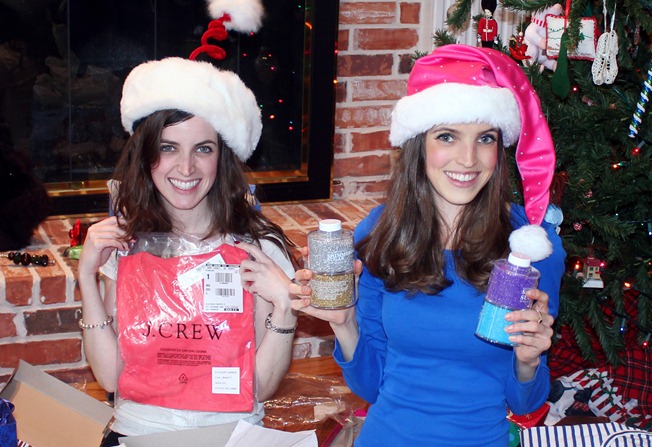 By the time I finished breakfast, everyone else was finally starting to wake up. So I parked myself in front of the tree to open presents. (And then I was forced to move, because Batman kept jumping into my lap and trying to lick my face. Ick… puppy kisses! Some presents, I'm not so sure I want.)
My sister's gift to me included a bunch of colored sugars, to feed my cupcake-decorating habit. Or maybe I can use the colored sugars the next time I make sugar cookie oatmeal. It was so good that I'm definitely planning to make it again soon!
Do you like unusual oatmeal flavors?
Or do you prefer traditional oatmeal mix-ins? I know I've posted some outlandish oatmeal recipes, but my everyday breakfasts can actually be pretty simple– basic oats with raisins, or with a big spoonful of coconut butter and some cinnamon mixed in. Still, sometimes it's fun to go a little crazy…
One of my crazier recipes: Chocolate Hugs Strawberry Oatmeal.