Isn't PMS wonderful?
If you didn't answer right away with an exuberant "YES!" then read on to learn how you can love PMS … well, one form of PMS, anyway! A few weeks ago, y'all left great suggestions for healthy dessert makeovers. One of your suggestions was so interesting I had to try it out right away: healthy Magic Shell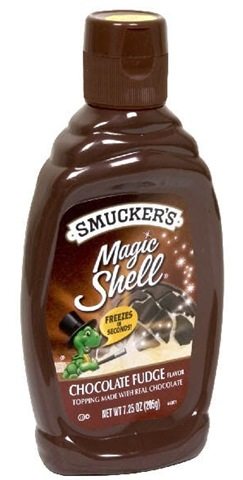 The first thing I did was look up the ingredients in real Magic Shell. Turns out that the "magic" of Magic Shell is actually coconut oil.  Who knew?! Check it out: Sugar, sunflower oil, coconut oil, cocoa, chocolate, Contains 2% or less of: cocoa processed with alkali, soy lecithin, salt, vanilla, milk
Then I had to decide which ingredients to include in the recreation. Right off the bat, milk was out (Duh! lol).  And I figured the homemade version could do without soy lecithin, sunflower oil, salt, and vanilla as well. (You can still add vanilla if you want; I just didn't bother.)  So I gathered everything else: coconut oil, cocoa powder, and sweetener. Not very many ingredients, huh? I was skeptical… but it turns out I needn't have been!  One test of the mixture sent the tastebuds into ecstasy (the legal kind!).
So what about PMS? Well, call me crazy, but that's what I've decided to name the Magic Shell.  PMS: Pseudo Magic Shell, get it? Besides, isn't chocolate supposedly good for the real PMS?
Pseudo Magic Shell (PMS)
1 serving of Chocolate Butter
Something to go under the chocolate coating, such as: bananas, ice cream, strawberries, cake (for cake balls), nuts, oatmeal (Magic Shell oatmeal???!!), cookie dough balls, dried fruit, pretzels, fudge babies (especially peanut butter babies!)…
1. For ice cream or frozen fruit (or anything pre-frozen), simply melt the chocolate butter and pour over the confection (or dip).
2. For non-frozen items, melt and pour/dip, then freeze for a few minutes prior to eating.
Question of the Day:
Isn't PMS wonderful?  Hehe, now that you've read this post, your answer's supposed to be "yes!" P.S. How much do you want to kill every boy who's ever asked you, "Is it that time of the month?" To all the boys/men reading this: never ask us that question! 😉