NYC continued…
Soon enough, after eating at Whole Foods, walking around Times Square, and exploring the amazing hotel, it was time for din-din. We journeyed to Angelica Kitchen, a vegan establishment in the East Village, for an early dinner (5PM). This left us plenty of time to get to Jersey Boys at 8.
As soon as I spied soba on the Angelica Kitchen menu, this pasta-loving girlie knew exactly what to order. Dashi + soba, and a side of the veggies with the MOST amazing sweet basil sauce ever! It was so yummy that I checked out their cookbook after dinner. Sadly, the sauce wasn't in the book.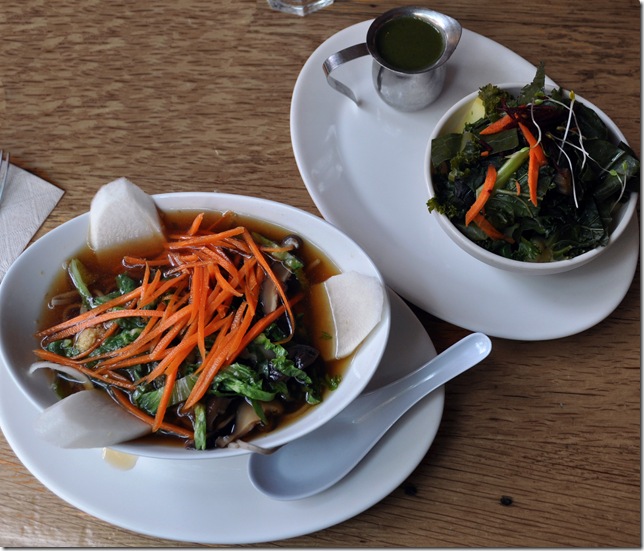 Handsome Dinner Date's order was a ½ tempeh Reuben with tomato-basil soup. I thought about ordering the Reuben, but am glad I didn't. The bite of HDD's I tried tasted overwhelmingly of sauerkraut. Perhaps that's what a Reuben is supposed to taste like? Never having eaten a real Reuben before, I wouldn't know!
Luckily, Mr. Handsome Dinner Date liked the sandwich.
As for the soup… Now that was something worth putting in my belly! Had it been a pool, I would've happily slurped my way out. Since the cup of soup was neither mine nor big enough, I refrained from this action, resigning myself to the two sips HDD magnanimously granted me. But I seriously contemplated getting a cup to go for breakfast the next day!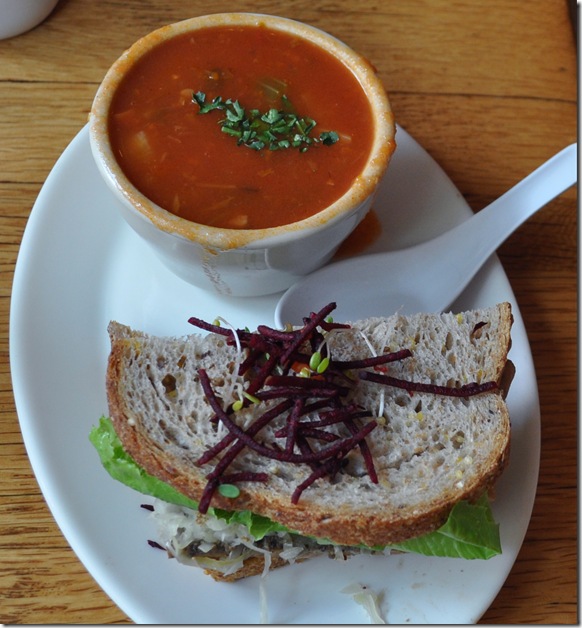 My mom is the kindest soul in the world.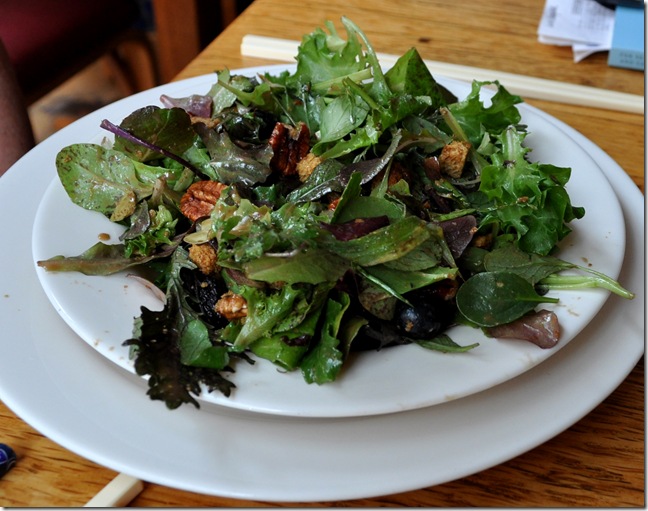 However, she's not the most adventurous.
Although she was once brave enough to try Raw Pecan Pie.
But pecan pie aside, foods like tempeh and tofu usually scare mommy dearest, so she often sticks to commonplace dishes such as salads when we dine at vegetarian establishments. But sometimes playing it safe leaves you wallowing in mediocrity. Such was the case with my mom's Angelica Kitchen salad. It wasn't bad, but it was nothing to write home about.
Me, on the other hand? I was very impressed with Angelica Kitchen. The food was flavorful and well-presented, the atmosphere was peaceful, and the service was attentive. (Their owner even came by our table!) It's definitely a restaurant to which I plan on returning next time I'm in the city.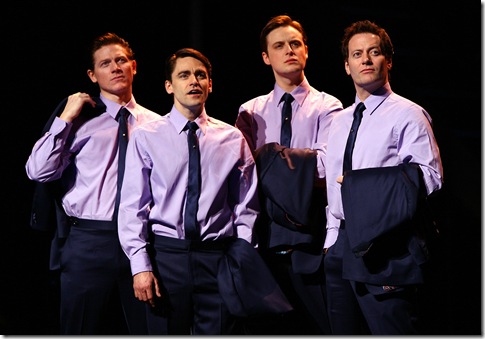 After dinner, we rushed off to see Jersey Boys. It was awesome!! Along with Wicked, this was probably my favorite Broadway show ever. Highly recommended.
Question of the day:
Are you an adventurous orderer when you go out to eat?
Or do you mainly stick to "safe" foods?
I've always gone both ways: As a little girl, I didn't shy away from ordering so-called "strange" foods. (I ate tofu loooooong before Tofutti made it popular to do so!) Especially since I lived in Japan, foods like soybeans, lychee, and bok choy routinely crossed my lips. However, I liked my safe foods too. In the eight or so years that we frequented Outback Steakhouse, only once did I order something other than their macaroni and cheese!