Delightfully soft chocolate cupcakes, piled high to the sky with fluffy homemade frosting!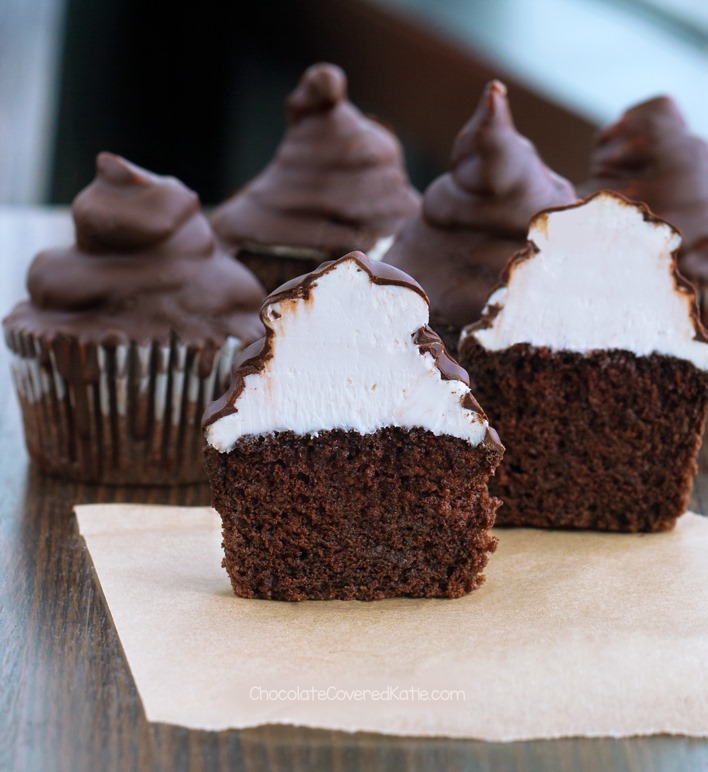 I'll tell you a secret:
These cupcakes are much easier to make than you might think.
They look and taste all fancy and professional, but they're secretly so simple to make at home – without a stand mixer!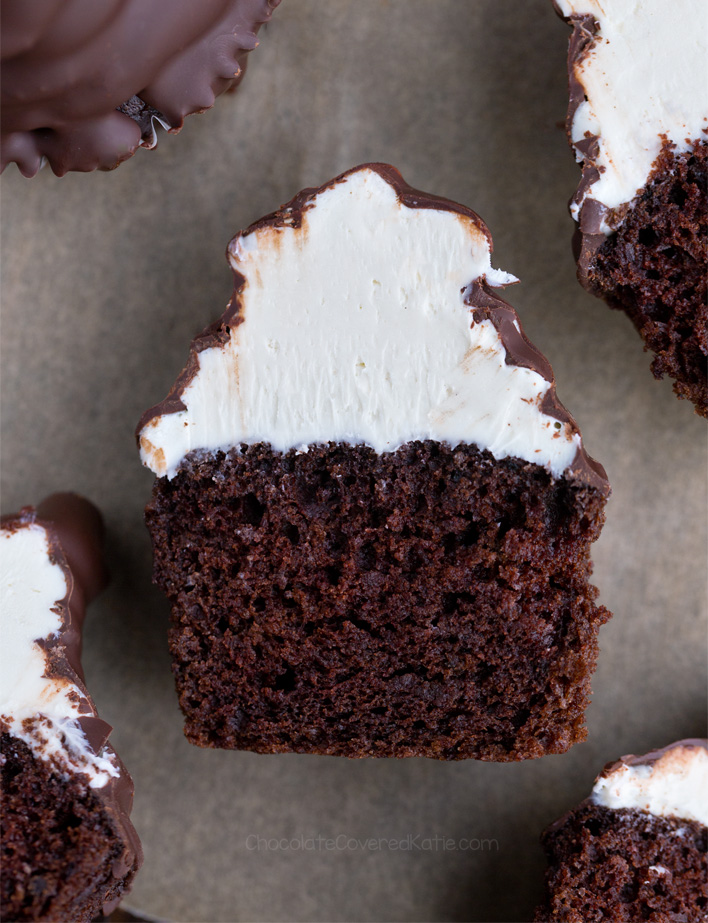 If you know how to make regular cupcakes, you can make these.
All you have to do is take your favorite cupcake recipe (any flavor cupcakes you want!), add the frosting on top, then freeze before dipping in chocolate so the frosting doesn't melt or fall off.
I used my favorite chocolate cupcakes for the recipe below, but you could also make them using the Vegan Vanilla Cupcakes if you'd prefer.
Or maybe even these vegan Pumpkin Cupcakes?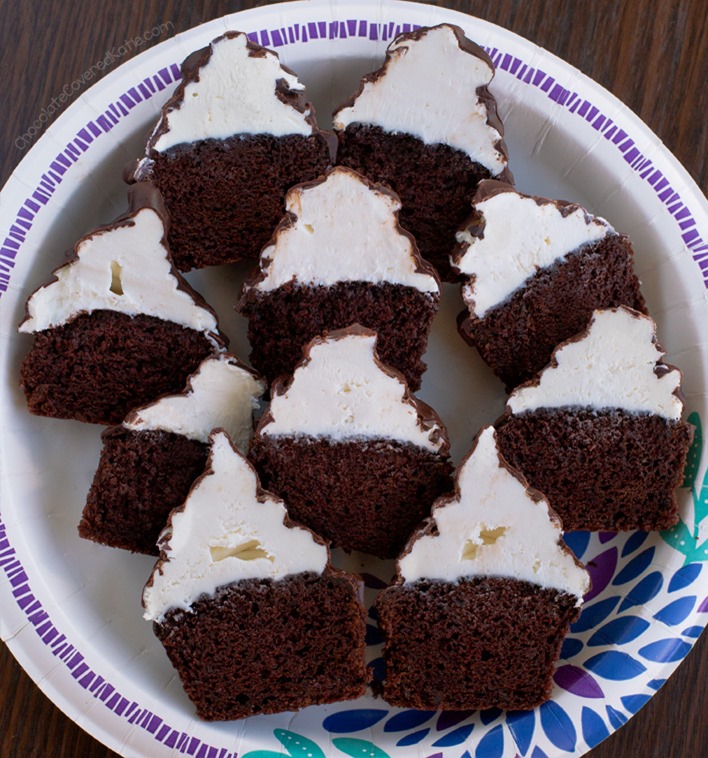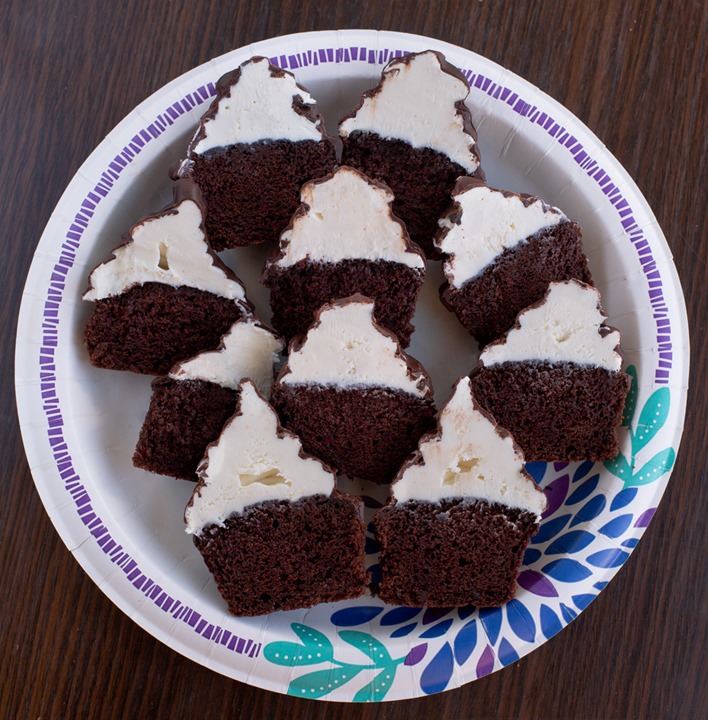 I've been in love with the idea of hi hat cupcakes for years.
With thick and fluffy frosting that towers even higher than the actual cupcake, how could you not fall in love?!
And then you dip the frosting in chocolate so that they're chocolate-covered… it's like these things were made specifically with me in mind!
But until this year, I'd always shied away from making them for myself because every recipe I'd ever seen was not vegan; you needed egg whites for the frosting.
I'd contemplated using my Vegan Marshmallow Fluff, which I've used successfully in the past to make vegan Mallomars, but I worried it might not be firm enough to make such a high tower – and I wanted my frosting to be super tall, just like a real hi hat cupcake!
(Not to mention, cream cheese frosting is better than meringue any day of the week.)
Watch The Recipe Video:
(Watch the cupcake video, above)
If you've been reading this blog for a while, you know that I really like brunch parties.
Because I wake up so early in the morning, events that don't even start until after 8 PM aren't really my thing. Brunch parties are also the best because food is the main focus. I decided to try these hi hat cupcakes for one such potluck brunch a few weeks ago, and they came out even better than I could have hoped.
Initially, I'd planned to serve them whole, but after cutting one in half for the photoshoot, I realized they're way prettier halved, because you get to see the frosting!


Vegan Hi-Hat Cupcakes
Adapted from these Vegan Chocolate Cupcakes
Vegan Hi-Hat Cupcakes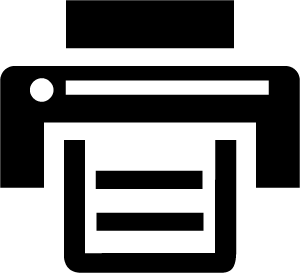 Print This Recipe
[mrp_rating_result show_count="false" show_rich_snippets="false"]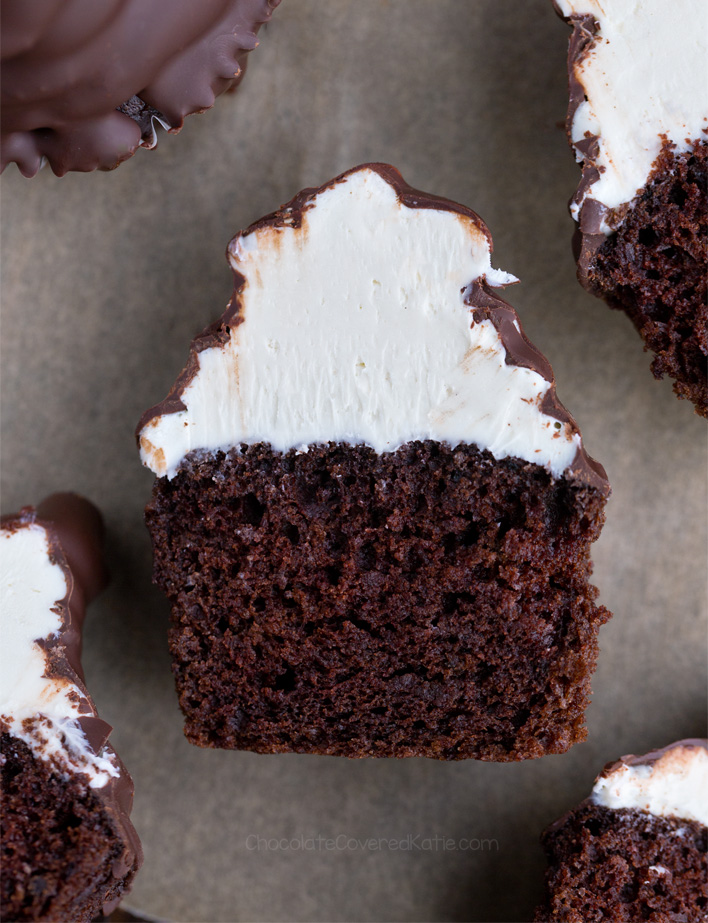 Ingredients
3/4 cup water
1/4 cup applesauce or yogurt (such as almondmilk yogurt)
1/4 cup veg or melted coconut oil
2 tsp pure vanilla extract
1 tsp white or cider vinegar
1 cup spelt, white, or bob's gf all purpose flour
1/4 cup unsweetened cocoa powder
2 tbsp Dutch cocoa, or additional unsweetened
3/4 cup sugar, unrefined if you wish
1/2 tsp + 1/8 tsp salt
1/2 tsp baking soda
frosting of choice – I used the vegan cream cheese frosting recipe in this post
chocolate sauce, see below
Instructions
*For the 2 tbsp cocoa, I highly recommend Dutch for heightened chocolate flavor, but regular does work if it's all you have. To find Dutch cocoa, just look for the word "alkali" in the ingredients. Be sure to use regular unsweetened (not Dutch) for the initial 1/4 cup.
Cupcakes: Preheat the oven to 350 F. Line a cupcake pan with cupcake liners. In a mixing bowl, whisk first 5 ingredients. Don't forget the vinegar. Let the batter sit at least 10 minutes, and sift remaining ingredients except frosting in a separate bowl while you wait. Pour wet into dry, stir just until evenly mixed, and smooth into the cupcake liners. Only fill them up 2/3 of the way, because they rise quite a bit and you don't want them to burst and then sink in the middles (although if it happens, it's easy to hide with frosting!). Bake 20-24 minutes on the center rack, or until they've risen and are fully cooked in the middles. Let cool. These taste even better the next day, and the liners will also peel off easily after a day.
Frosting Method: Once cupcakes are cool, pipe your frosting. (I just put mine in a Ziploc and cut a hole in the side to squeeze the frosting out – super easy.) Place cupcakes in the freezer for an hour or so, to firm up the frosting. (Or refrigerate overnight if you prefer.) Once frosting is hard, dip in melted chocolate – I carefully melted about 8 oz chocolate chips (or use these Sugar Free Chocolate Chips) with 2 tbsp oil for a smoother sauce. Re-freeze to firm up chocolate shell.
You can also turn them into Oreo Hi Hat Cupcakes!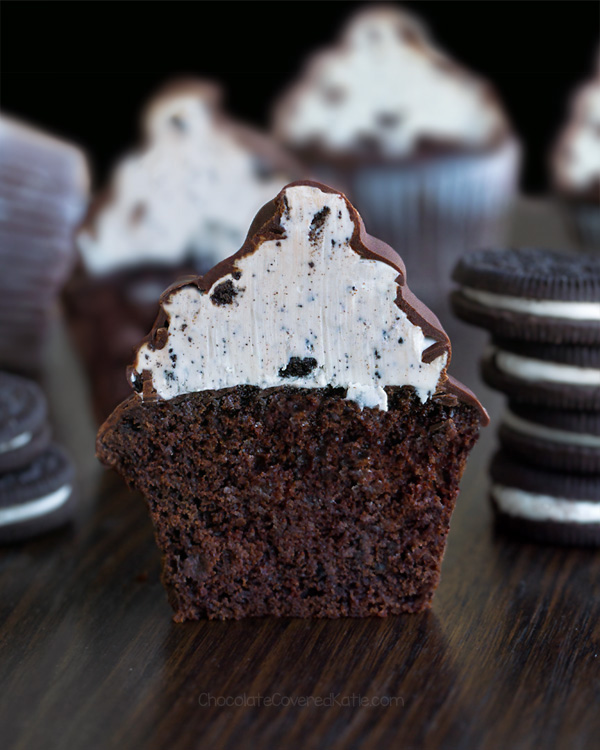 The cupcake recipe is the same as above, and I used the Vegan Oreo Buttercream Frosting recipe from the bonus pack of my Hello Breakfast Cookbook.
Recipes Trending Right Now: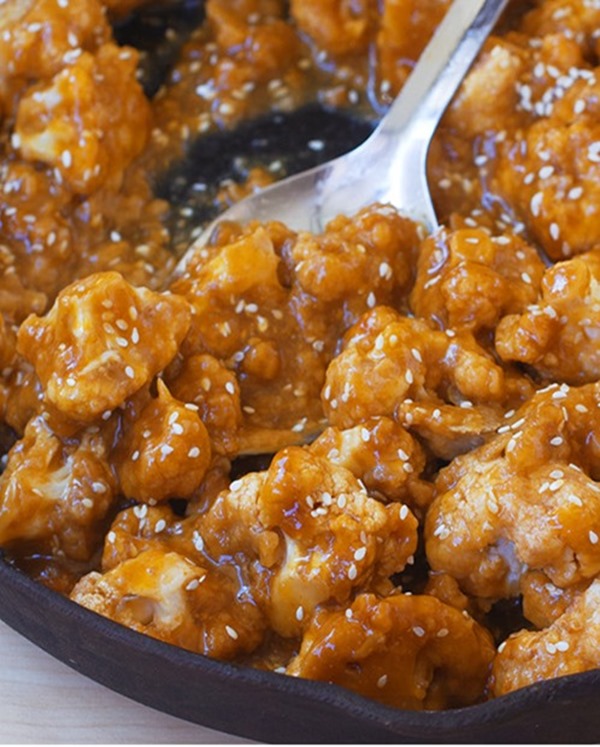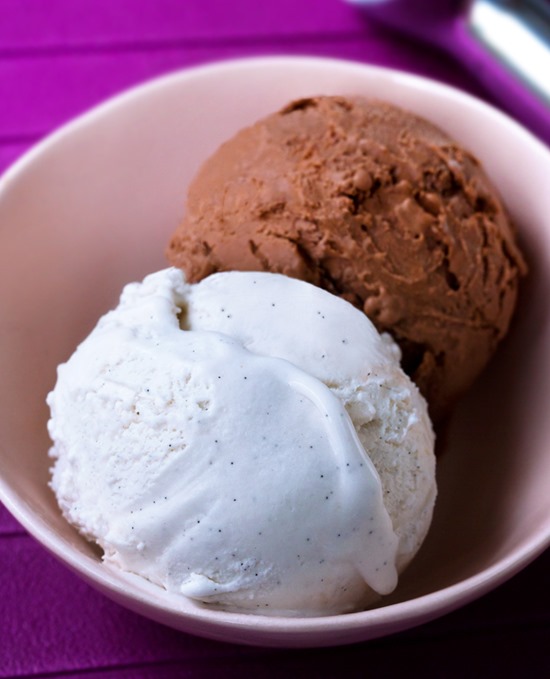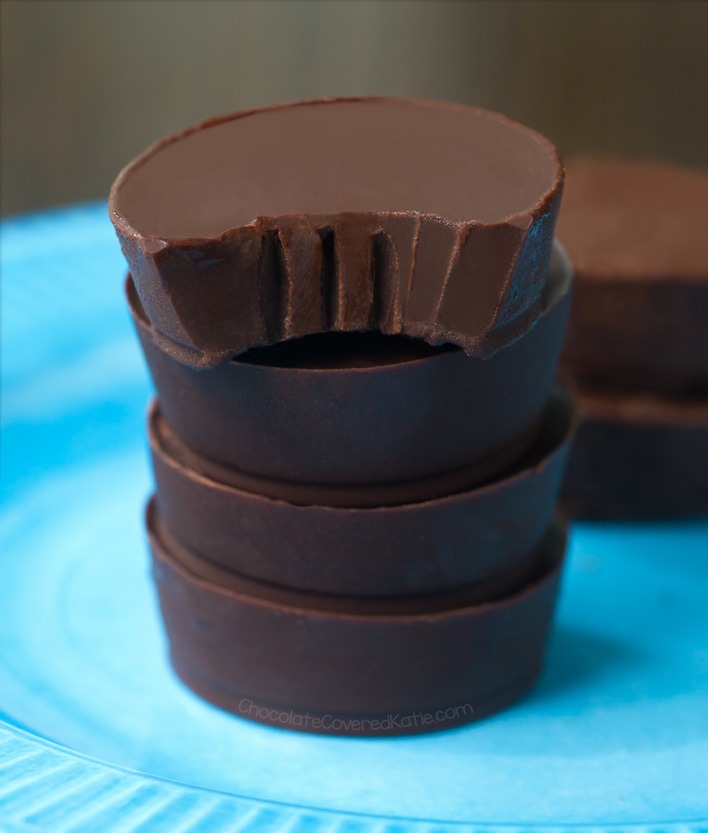 Fat Bombs (Keto Friendly)