Question for all my fashion friends: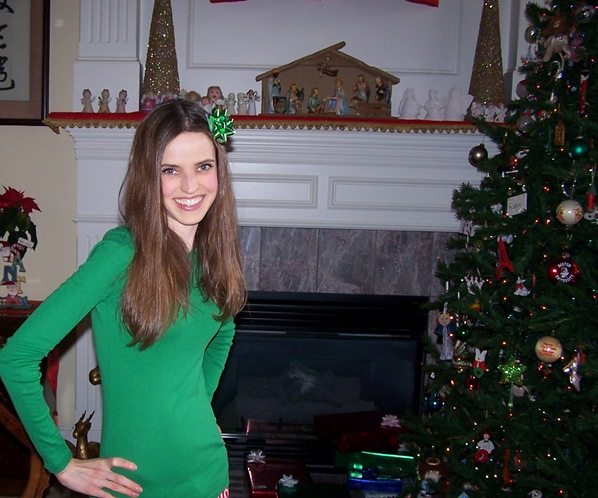 When will Christmas bows come into style?
For our Christmas Eve party, I decided on a recipe that originated from a cookbook. But, par for the course when I try to follow a recipe, my impulsive hands had to do their own thing. This is how Polenta Casserole (nicknamed "Christmas Polenta Casserole" for the party) came into existence.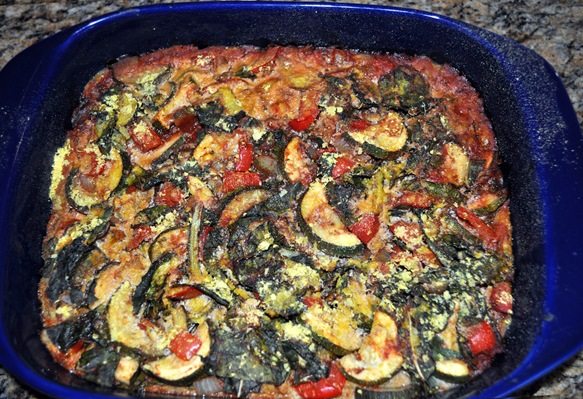 Polenta Casserole, with a healthy dose of nutritional yeast.
Above, after sittin' pretty in the oven for a while. Below, the polenta dinner, pre-baking: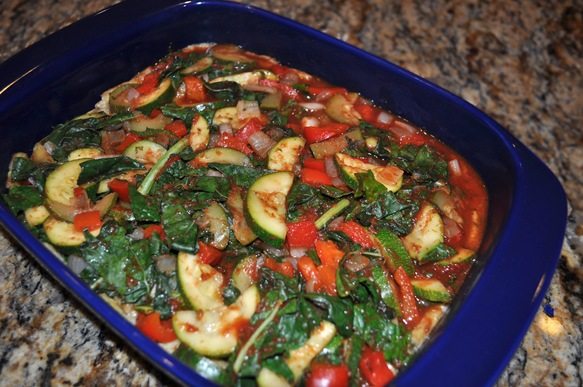 Christmas Polenta Casserole
2-3 bell peppers, chopped (I used 220g)
4 cups zucchini, sliced (I used 560g)
1 onion, chopped (I used 120g)
2T soy sauce (such as tamari)
4 cups kale (or other greens), chopped (I used 110g)
1 tsp each parsley, dill, onion powder
1/2 tsp salt, 1/2 tsp oregano and basil
2/3 cup (or more as desired) jarred or homemade pasta sauce
1 cup cornmeal (I used whole-grain polenta)
2 tbsp nutritional yeast, plus more for the top
1. Sauté the first three ingredients, in sautéing liquid of choice (oil, water, or broth), over high heat for 5 minutes. Then cover and simmer 5 more minutes. Add tamari and cook on low (covered) for 5 more minutes.
2. Add all remaining ingredients (except polenta), as well as 1/2 cup water. Stir and cover again. Cook until veggies are soft. Serve over cooked polenta (made with a little salt), and sprinkle nutritional yeast on top, as desired.
*For a true casserole, put the cooked polenta in an oiled pan and bake at 350 for 25 minutes. Then put the veggies on top, sprinkle with lots of nutritional yeast, and bake again for 35 minutes. But I am lazy and therefore will probably skip all these baking steps next time!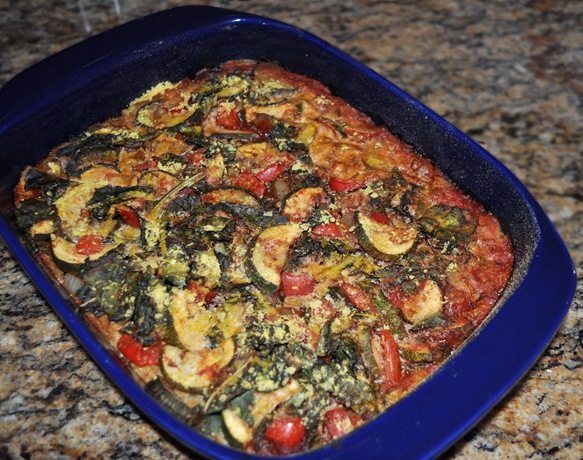 Amidst all of the lamb and pork and macaroni, this casserole was definitely the most festive-looking dish at the party. I'd say it was the most-tasty, too… but obviously I'm biased.