Conversation on Christmas Eve:
Me: Mom, are y'all sleeping in tomorrow? I was thinking of going out running, but if you want to open presents early, I won't.
Mom: Ooh good! You go running. Then I can make bacon for breakfast and it won't bother you.

So out I went. And upon my return, I made my own (bacon-less) breakfast: Zucchini Bread Oatmeal.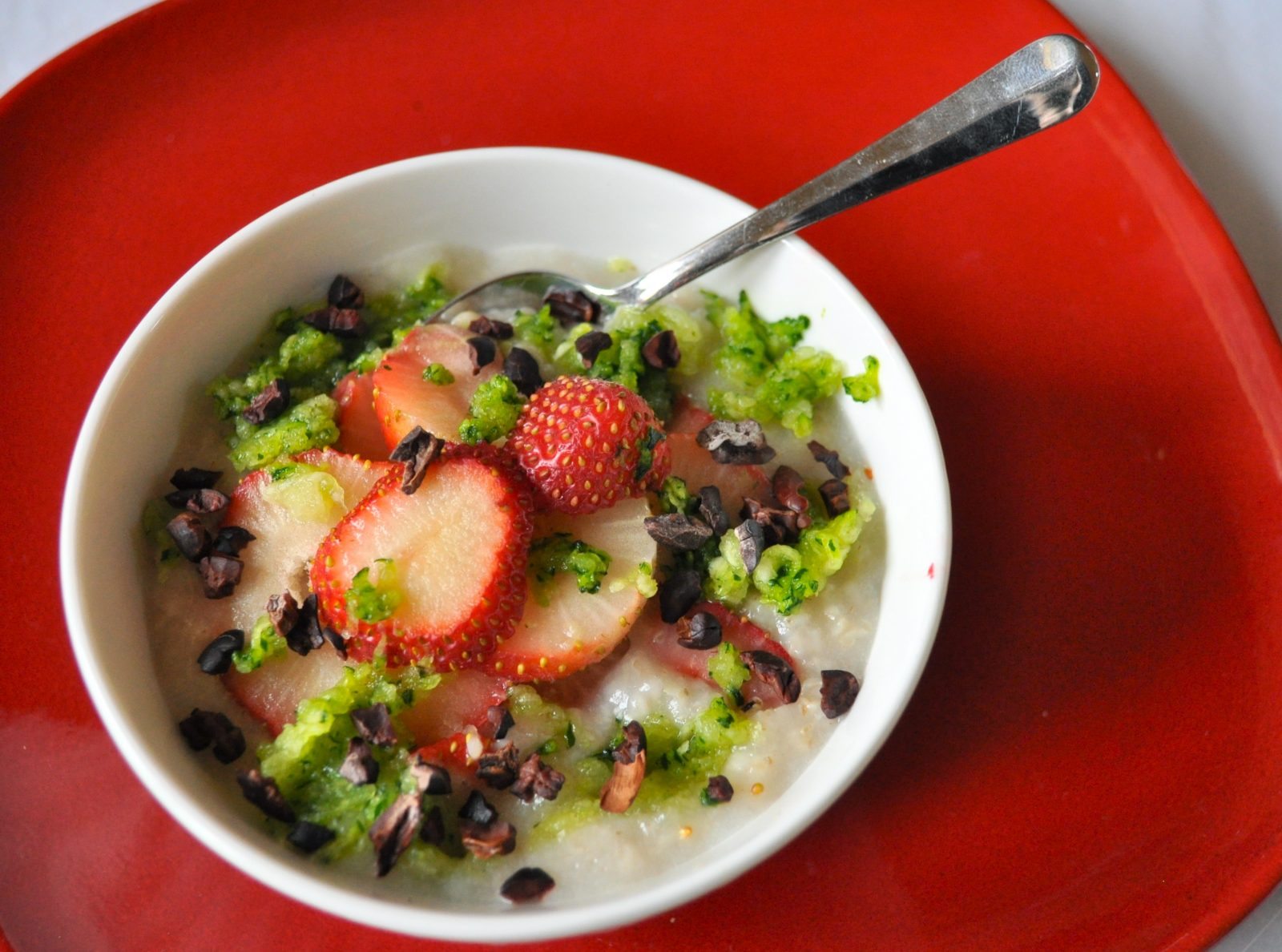 I wanted to put a Christmas twist on the oatmeal.
Red options abounded: strawberries, pom seeds, raspberries… but what about green?? I wasn't feeling adventurous enough to try spinach oatmeal. So zucchini it was! A squirt of soyatoo topped off the Christmas fiesta. I also mixed in some coconut butter; you could stir in some Healthy Cream Cheese Icing.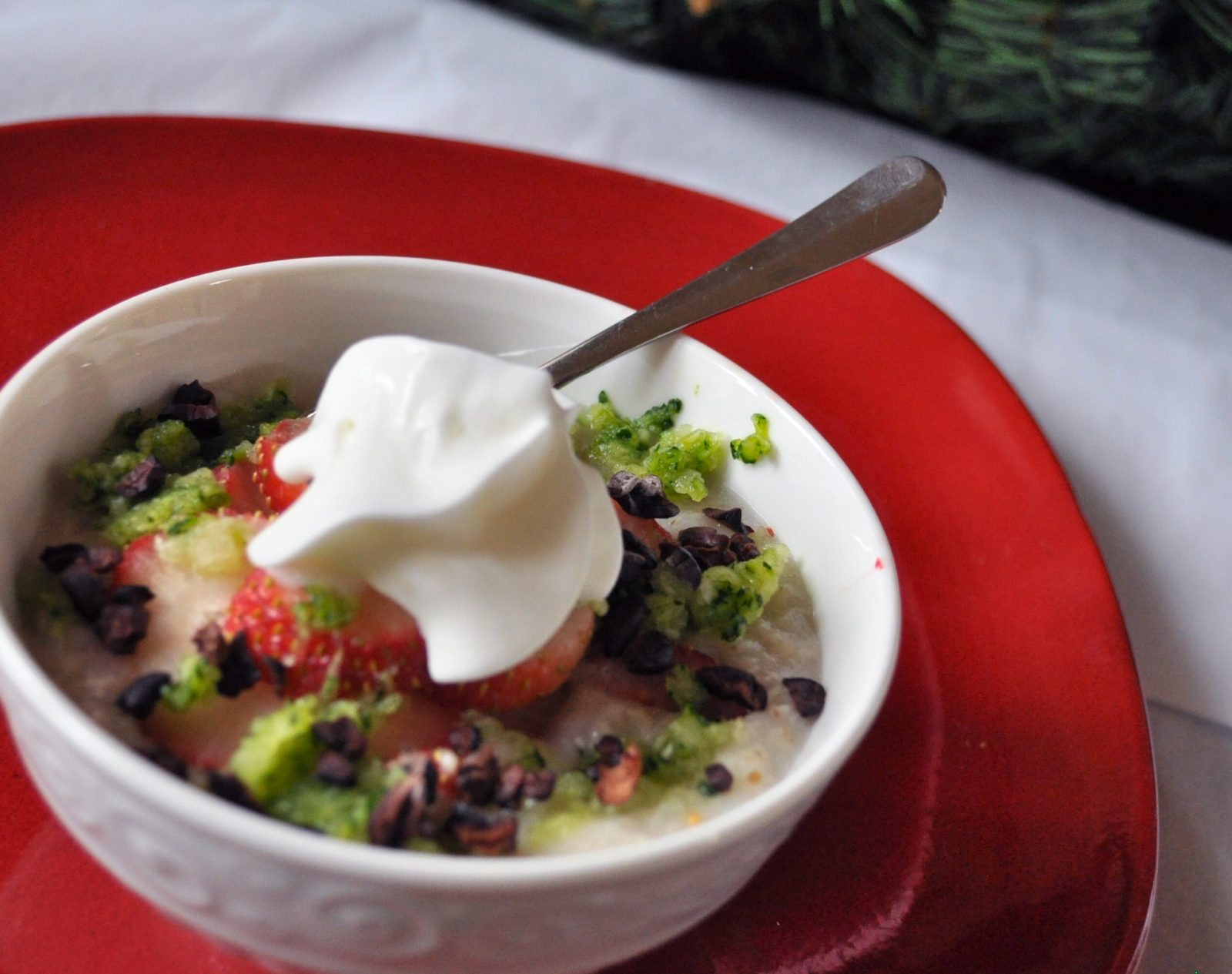 Obviously you wouldn't normally find strawberries in zucchini bread. But I added them in order to keep with the Christmas theme. And although cacao nibs have nothing to do with Christmas, the chocoholic in me had to add them too!
Zucchini Bread Oatmeal
(serves 1)
1/2 cup rolled oats
1 1/2 cups milk of choice (I like almond milk)
1/4 tsp salt
1/2 a very small zucchini, grated very finely
sprinkle of cinnamon
1/4 tsp pure vanilla extract
sweetener as desired
1 tbsp walnuts
1-2 tbsp chocolate chips
optional: non-dairy creamer
optional: I like to stir melted coconut butter over the top
Cook your oats–on the stove or in the microwave–with the salt and water, stopping before all the water is absorbed. (I microwave for 4 minutes, then leave in the microwave 5 more minutes. Time will depend on your microwave wattage, so add more time if you have a low-wattage microwave.) Fridge overnight, until the water is absorbed.
This makes the oat size double, the idea behind the Voluminous Oatmeal Trick.
Right before eating, add all remaining ingredients and heat. Stir in the creamer (or more milk) if desired.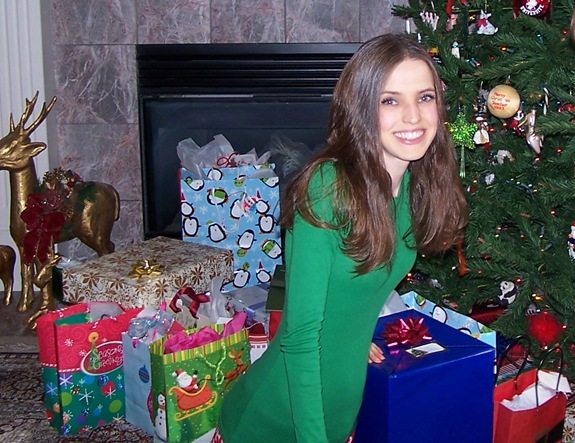 Of course, your zucchini bread oatmeal will probably be more enjoyable if you do not have a certain sister who stares at you throughout your entire breakfast-eating, saying, "Hurry up so we can open presents!" After breakfast, I made her wait even longer so I could at least run a brush through my knotted post-run hair! (And yes, I totally did change back into my pajamas after running.)
What's your favorite way to eat oatmeal?
I can't choose just one; I have a bazillion Healthy Oatmeal Recipes!