I like burgers too much.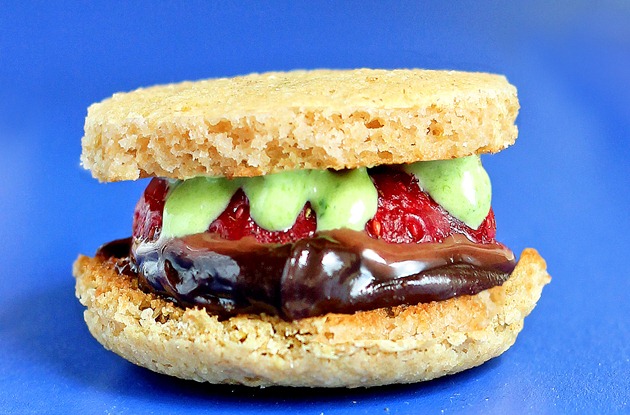 Mmmmm burgers…
But wait!
Of course today is April Fool's Day, and the burgers are actually whoopie pies.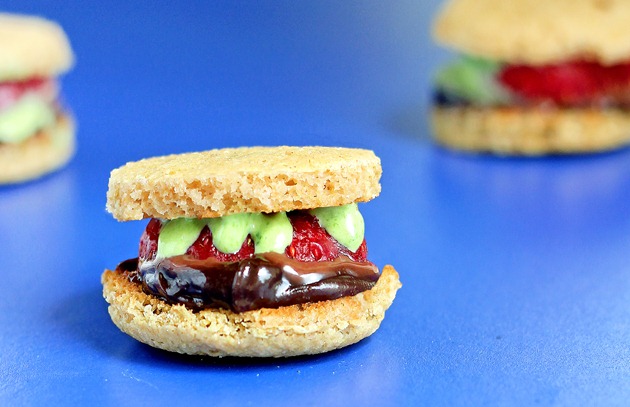 Mmmm chocolate burgers.
Who needs meat when you can have chocolate??
Hamburger Whoopie Pies
(makes 12 circles)
Based on these: S'mores Whoopie Pies.
1/4 cup milk of choice
scant 1 tsp vinegar
1/2 cup whole-wheat pastry flour (or white flour)
1/4 tsp baking soda
1 tsp baking powder
just over 1/8 tsp salt
1/4 cup evaporated cane juice (or white sugar)
1 1/2 tablespoons applesauce
1 tablespoon water
1 1/2 tablespoons oil (coconut or canola/veg)
1/4 tsp pure vanilla extract
Preheat oven to 375 F. Mix vinegar into milk, and set aside. In a separate bowl, combine dry ingredients and mix very well. Then put all the other liquid ingredients into the vinegar mixture and stir. Pour wet into dry, and stir to combine. Drop tiny circles (a little over the size of a silver dollar) onto 1 or 2 cookie trays. (Or, if you have a whoopie pie maker, you can use that!) Bake around 8 minutes.
For the fixins:
Feel free to get creative. I used strawberries to represent tomatoes. For the green frosting (i.e. the spinach!), I used the following recipe:
2/3 cup Mori-Nu silken-firm tofu (140 g) (I'm sure soft-silken would work too!)
6 tablespoons raw cashew butter or coconut butter
scant 1/8th tsp salt
small handful spinach (You can't taste it! But if you doubt me, you can use food coloring instead.)
1/2 tsp pure vanilla extract
sweetener to taste (stevia, agave, sugar, etc.)
Blend everything in a blender, food processor, or Magic Bullet cup. This frosting is thicker when cold, so it's a good idea to make it up ahead of time. But don't frost the whoopie pies until just before serving (or frost them and then store in the fridge). I put the frosting in a plastic bag and cut a tiny hole in the side to squirt it out.
**For a soy-free frosting, add the vanilla extract and spinach to the following recipe (and sub the pb for coconut butter or raw cashew butter): Soy-Free Frosting.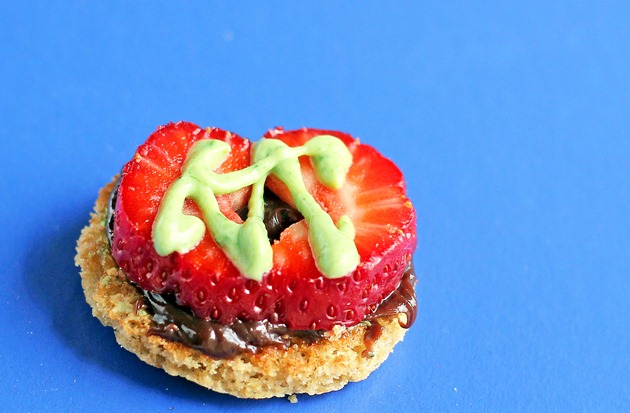 For the chocolate:
You can use your favorite hot fudge sauce, chocolate frosting, or melted chocolate chips. Or you can even make vegan brownies and cut out circles for your burgers.
I used my favorite chocolate recipe: Hot Chocolate Butter.
Question of the Day:
Have you ever played an April Fools joke?
Also, does anyone have a good joke idea I can use on my roommate? I thought about setting the clocks back two hours, but she's not working today so she probably wouldn't even notice or care!
P.S. No, I didn't expect to fool you with my obviously-not-real burgers. I realize not everyone is as gullible as I am. (Last year, I fell for Vegnews' tweet that Paula Deen was turning vegan and signed on to be a spokesperson for Earth Balance!)