Um, hello breakfast!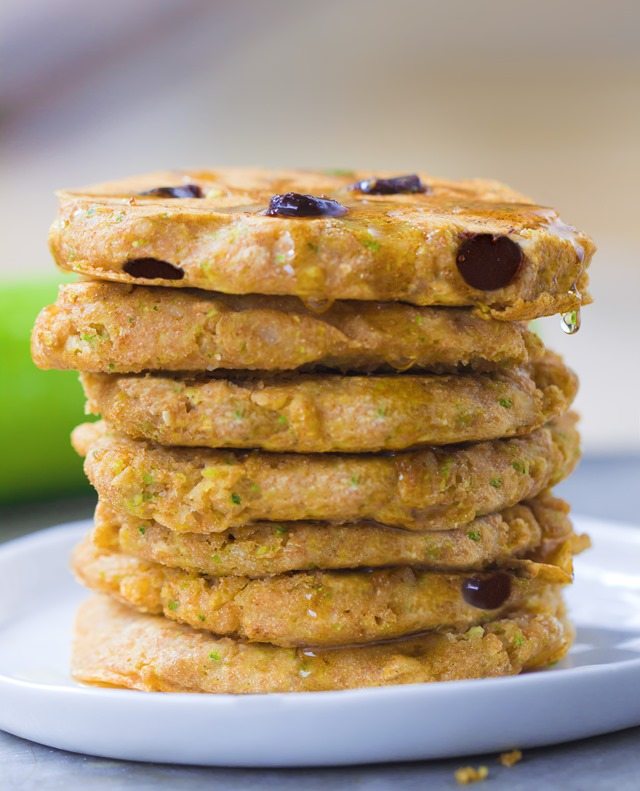 A giant stack of extra fluffy zucchini pancakes, stuffed with melty gooey chocolate chips and covered in hot maple syrup – These always disappear so quickly!
Can every meal be breakfast, please?
Imagine eating a stack of these for breakfast, lunch, and dinner every single day. I could get used to that. The zucchini keeps these pancakes incredibly soft and moist even without any oil or fat in the recipe, and you really can't taste the sneaky zucchini in here at all. They'll remind you of eating homemade zucchini bread, just in the form of pancakes!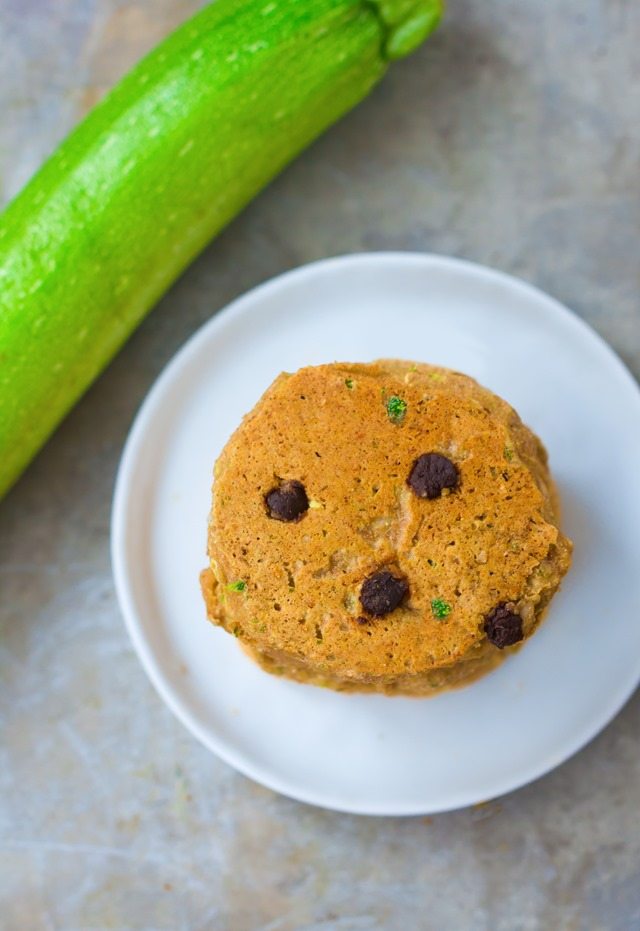 Did you know Saturday was National "Sneak Some Zucchini Onto Your Neighbor's Porch" Day?
A little over a year ago, when I was moving into my apartment, one of my new neighbors saw me out in the hall and introduced himself, asking if I needed help with the precariously balanced boxes in my arms. I thanked him and said I was fine but that it was nice to meet him. Maybe my nice-to-meet-you smile is too big… I don't know… but suddenly out of nowhere, a girl appeared from the doorway of their apartment, scowled at me, and said emphatically, "I'm Emily, and I'm his WIFE" as if she thought I'd been trying to steal her husband.
Awkward…
For obvious reasons, I decided it was best to skip National "Sneak Some Zucchini Onto Your Neighbor's Porch" Day this year and keep the zucchini all to myself. 😉
P.S. That's not even close to being the weirdest thing that's happened to me since moving to DC.
Sometimes I think I should give up cookbooks and write soap operas instead. I have so much material!
Zucchini Pancakes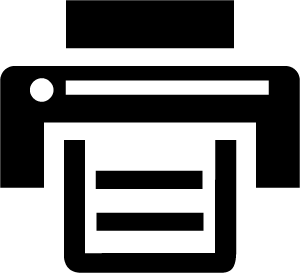 Print This Recipe
[mrp_rating_result show_count="false" show_rich_snippets="false"]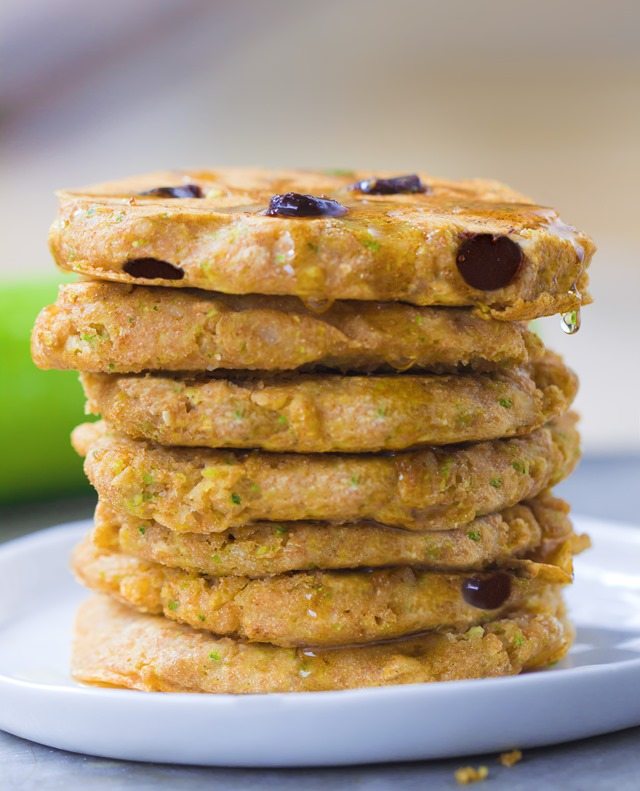 Ingredients
1 tsp pure vanilla extract
1 1/2 tsp white or apple cider vinegar
pinch stevia, or 1 1/2 tbsp pure maple syrup
1/4 cup milk of choice (Decrease by 1 1/2 tbsp if using maple syrup) (60g)
1/3 cup finely grated zucchini, loosely packed (60g)
1 tbsp oil OR more milk of choice
1/2 cup spelt, white, or Arrowhead Mills gf flour (65g)
3 tbsp rolled oats (15g)
optional 1/4 tsp cinnamon
scant 1/4 tsp salt
1 tsp baking powder
mini chocolate chips, optional
Instructions
Whisk together the first 6 ingredients in a bowl. In a separate bowl, stir together all remaining ingredients, then pour wet into dry and whisk to form a batter. (If batter is too thin—which might be the case, depending on the flour you've used—just add a little extra flour until you achieve a pancake-like batter.) For fluffiest results, refrigerate the batter at least 15 minutes before proceeding. Grease a medium skillet and place over medium heat. Once hot, drop on small ladles of batter. When the edges begin to look dry, flip and cook one additional minute before removing from the skillet. It may be necessary to re-grease the skillet between batches to prevent sticking. You can freeze extra pancakes if desired, placing a layer of parchment or wax paper between each pancake.
LINK OF THE DAY: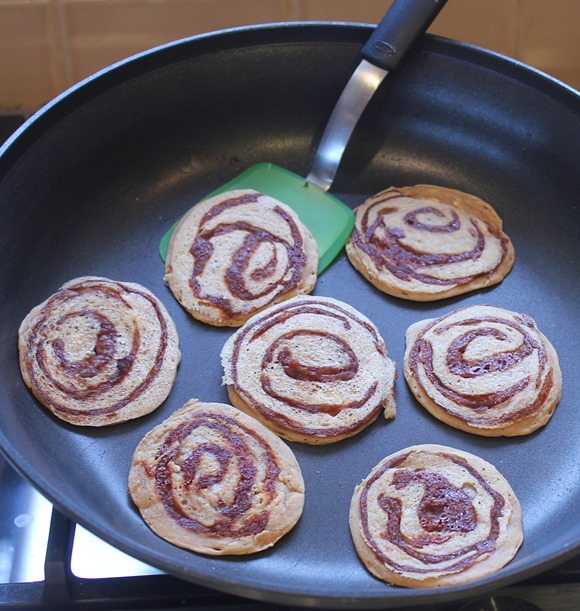 Cinnamon Roll Pancakes – with a good-for-you "no sugar" cinnamon roll swirl