How to make the best fluffy vegan pancakes, with just a few basic ingredients and endless flavor possibilities!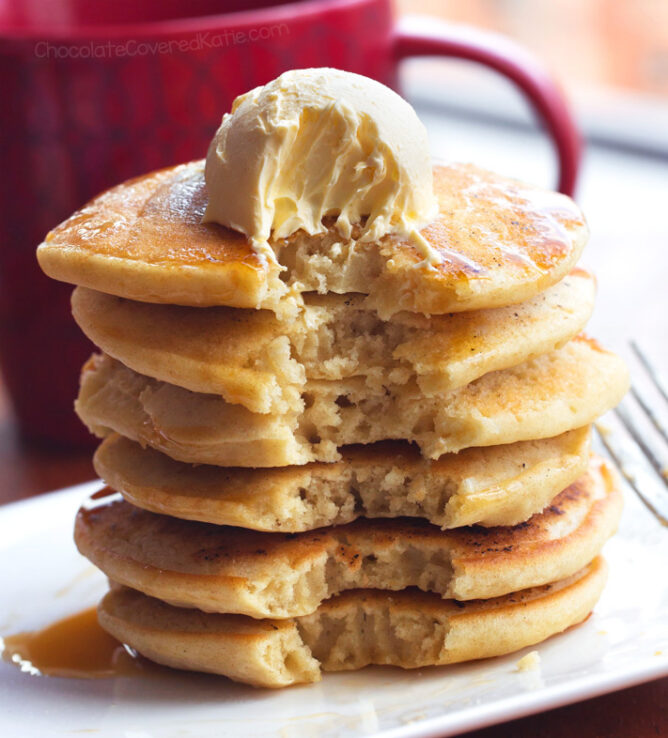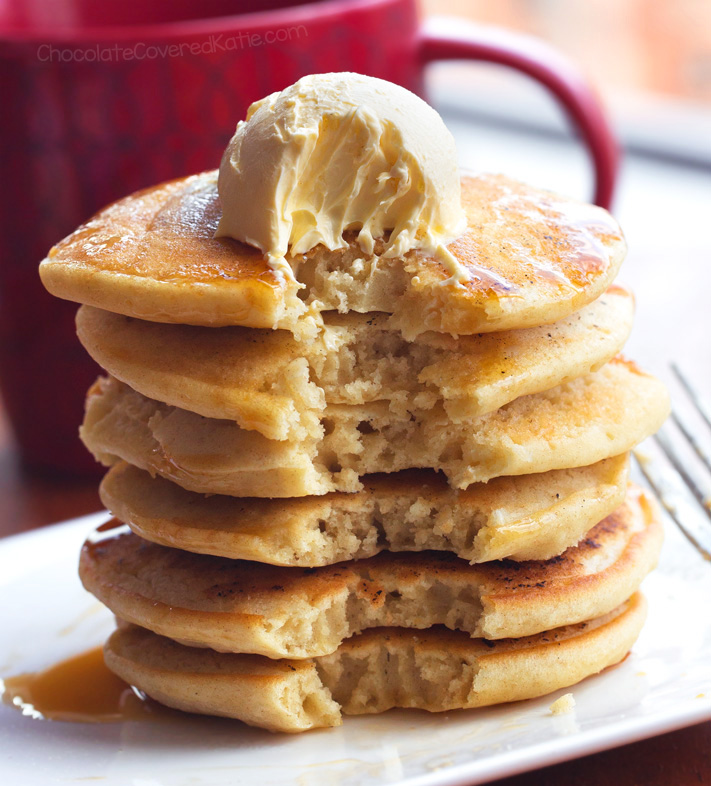 Easy Healthy Vegan Pancakes
If you like soft and fluffy diner-style pancakes, this is the recipe to try.
It yields super thick and buttery pancakes, no crazy ingredients required.
In fact, you might already have everything in your kitchen pantry to make these pancakes right now!
You May Also Like: Vegan Cheesecake – NO Cashews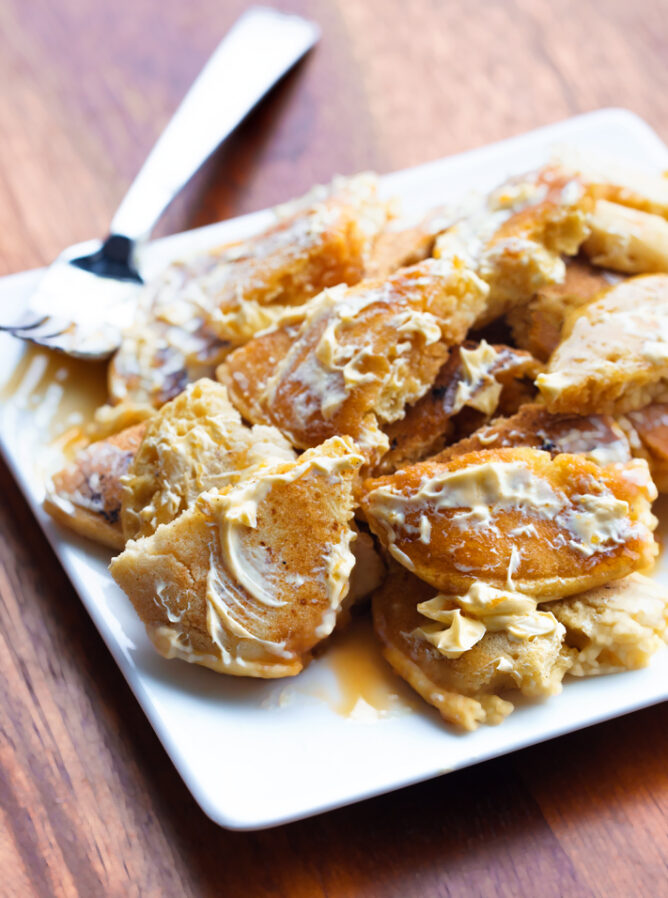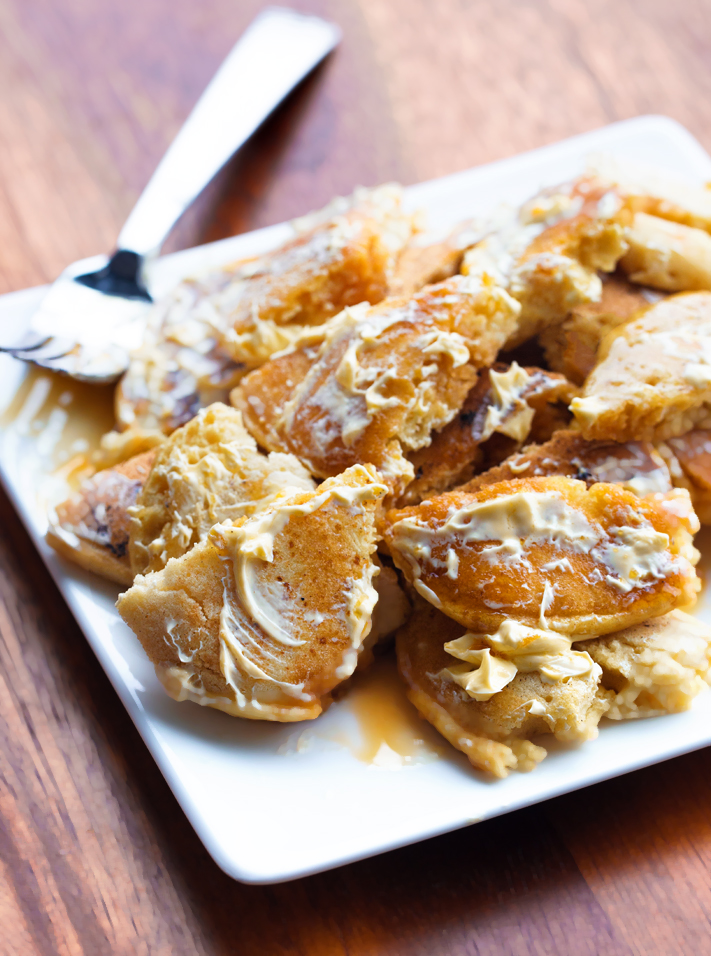 Non Vegan Approved Pancakes
(Yes, really)
Even if you're not a vegan or vegetarian, this is a fantastic recipe to keep on hand for any time you run out of eggs.
Because they're made with simple basic ingredients, non vegans love these pancakes too. They taste like regular pancakes because they ARE regular pancakes.
How Can You Make Pancakes Without Eggs?
The simple secret trick? Just add a little vinegar to your pancake batter!
Seriously, that's all there is to it. No need for flax eggs or applesauce. Vinegar will react with the baking soda, making the batter bubble up and causing the pancakes to rise as they cook.
If you've ever tried a vegan pancake recipe that turned out flat, gummy, or disappointingly unlike the soft and fluffy homemade pancakes you remember from your childhood, this recipe will completely change your idea of vegan pancakes.
Also Try These Vegan Brownies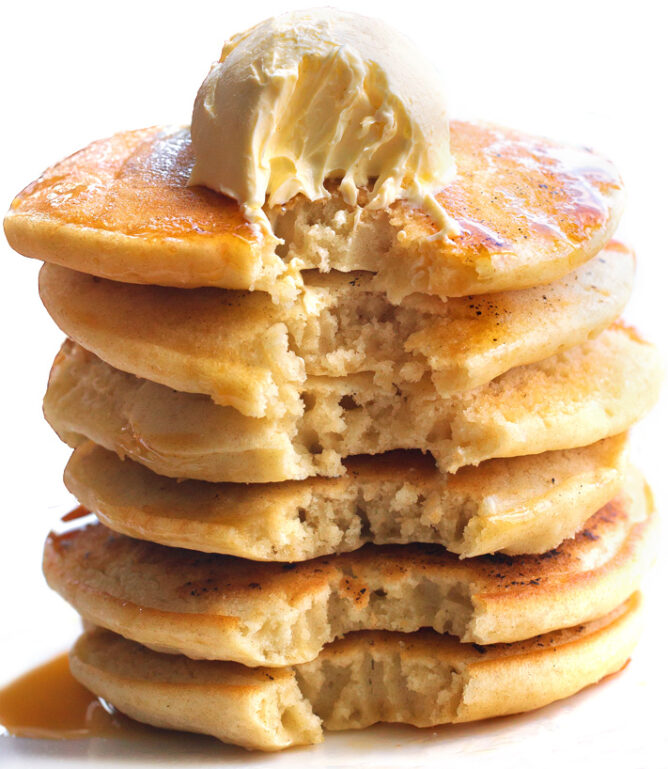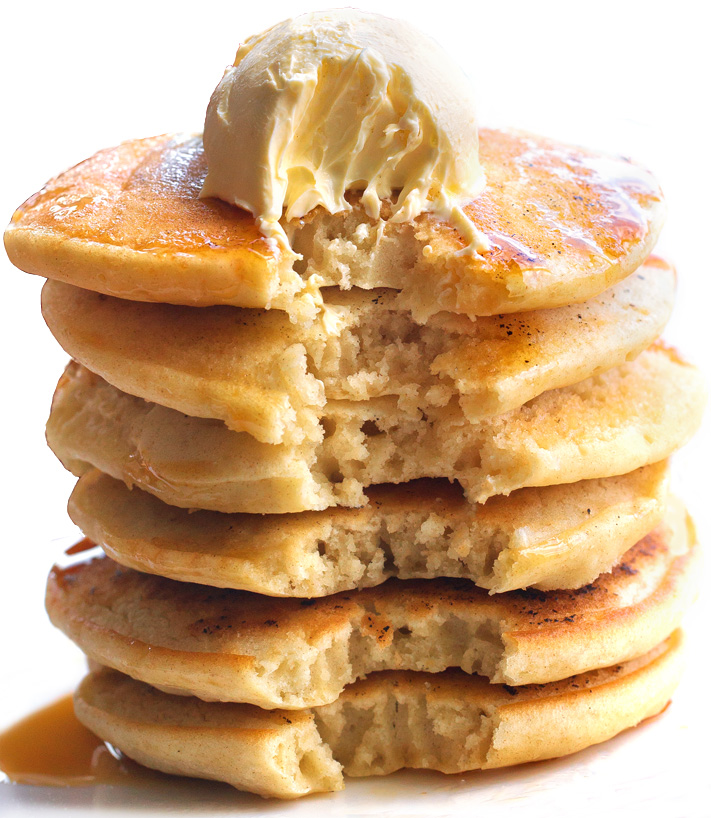 Vegan Pancake Recipes – 5 Ways
Chocolate Chip Pancakes – obviously I'm partial to this one
Coconut Whipped Cream and jam – it tastes like eating strawberry shortcake for breakfast!!
For vegan blueberry pancakes, press a few berries into each pancake right after they go on the skillet
Or replace 1/4 cup of the milk with mashed banana, for vegan banana pancakes
And of course there's always the classic – maple syrup and butter. Use your favorite vegan butter, or spread on some coconut butter or peanut butter.
Vegan Pancake Ingredients
If you have flour, baking soda, vinegar, salt, and baking powder, you already have everything you need to make this easy pancake recipe.
Stir in the optional rolled oats to make vegan oatmeal pancakes, or use oat flour or gluten free all purpose to make gluten free pancakes.
I've not tried making them with buckwheat or whole wheat flour yet (and I don't recommend using coconut flour), so please feel free to report back if you experiment!
The recipe works with either milk of choice (such as almond, soy, or coconut) or water, and the sugar can be omitted if you want savory or sugar free pancakes.
For a healthy breakfast that tastes like dessert, try topping the pancakes with Banana Ice Cream!
Above – watch the video how to make vegan pancakes.


Vegan Pancakes
The easy recipe for how to make the best vegan pancakes that non vegans love too!
Ingredients
1

cup

flour

(or try these Flourless Pancakes)

6

tbsp

rolled oats,

or 1/4 cup additional flour

2

1/2 tsp

baking powder,

and 1/8 tsp baking soda

scant 1/2 tsp salt

3/4

cup

milk of choice or water,

or more as needed

2

tsp

white or cider vinegar

1

tbsp

oil or nut butter,

or omit for fat-free

1-2

tbsp

sugar or sweetener of choice

(can omit for savory)
Instructions
The recipe works with spelt, white, gluten free all purpose, or oat flour. Feel free to experiment with other flours, and be sure to report back with results if you do!

To make the pancakes, stir dry ingredients in a bowl, then stir in remaining ingredients. For extra fluffy pancakes, let the batter sit 10 minutes to thicken. Or if thinner pancakes are desired, you can skip that step and add more liquid to thin out the batter. Some flours will need more water than others, so add more until you achieve a pancake batter. (If you accidentally add too much liquid and the batter gets too thin, cook them anyway and they become crepes!)

Grease a nonstick skillet well and heat on medium. When the pan is hot (test by adding a drop of water – the pan is ready if it sizzles), drop small ladles of batter and press down. Don't make the pancakes too big, or they'll be done on the edges before the centers cook. If desired, press a few berries or banana slices into each pancake, or sprinkle on some chocolate chips. Using a spatula, flip when edges begin to look dry. Let them cook for an additional minute or so before removing from the heat. Re-grease the skillet after each set of pancakes, to prevent sticking. To save time in the morning, you can make up the batter the night before if you wish and refrigerate in a covered bowl. Or leftover pancakes can be frozen to thaw and enjoy at another time.

View Nutrition Facts
Notes
*If you're a visual person, be sure to check out the video above showing how to make the pancakes. And if you're looking for a low carb pancake recipe instead, be sure to try these Keto Pancakes.
More Healthy Vegan Breakfast Recipes