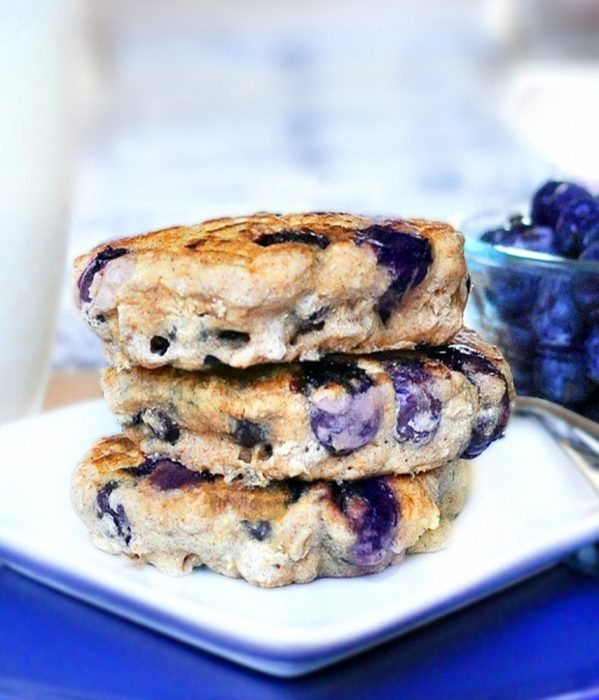 Pleasantly Plump.
One might use these words to describe the blueberries I recently purchased at Whole Foods. I'm always excited when summer rolls around and organic blueberries no longer cost an arm and a leg. And a pinky toe. Sadly, the lower prices don't last forever, and I therefore make it my mission to eat as many blueberries as humanly possible while they're available!
Here's one of my favorites: Healthy Blueberry Muffins – soy-free / dairy-free / egg-free.
Today, however, I wasn't feeling the muffin vibe. And so I spent the entirety of my run dreaming up new ways to incorporate blueberries into breakfast. Finally, I settled upon blueberry pie. In pancake form.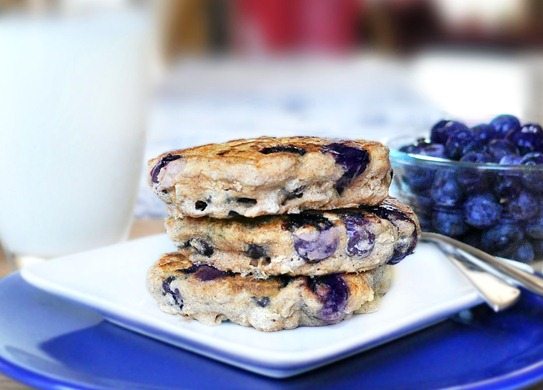 These blueberry pancakes are ginormous… Seriously, the fattest pancakes ever!
Print This Recipe
Ingredients
1/2 cup blueberries
1/3 cup flour (ww pastry, white, spelt, or Bob's gluten-free)
2 tbsp rolled oats
1/2 tsp cinnamon
2/3 tsp baking powder
1/8 tsp salt
1/2 tsp pure vanilla extract
1 tbsp sugar or 1 packet stevia
1/3 cup milk of choice
Unless you like the taste of fat-free pancakes, add 1 tbsp oil and reduce milk by that amount.
Instructions
Combine dry ingredients in a bowl, then add wet. Mix, but don't overmix. Cook on an oiled (or sprayed) pan, on low-medium, flipping each pancake once. Top with syrup, powdered sugar, or Cashew Cream. Or you could even boil some more blueberries (with a bit of sugar, if you wish), and smash them, to make a compote.
Edit: Although I had not yet started including nutrition facts at the time of this post, the stats for this recipe should be pretty similar to the nutrition facts for my *Pineapple Upside Down Pancakes*.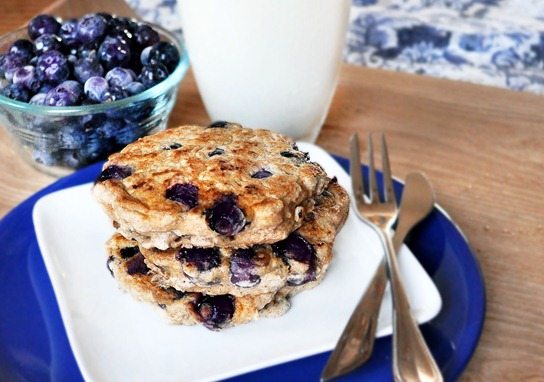 Thanks to everyone who is liking the Chocolate-Covered Katie Facebook Page!!!
Please let me know if you want me to like your pages in return!