Hi chocolate munchkins!
I first wanted to quickly answer a question. A lot of y'all have asked if there's a way to get my posts without having to remember to click on the website every day.
If it's easier, you can get CCK recipes by email.
For today's post, my friend, Scott, wanted me to show you his invention. He decided yesterday's brownie bites would be even more exciting when stuffed with peanut butter. I swear, my influence is rubbing off on him; he's starting to think like a foodie!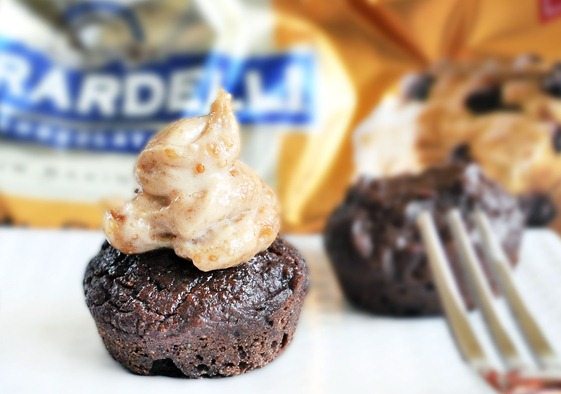 Above, a pb-stuffed Fudge Munchkin.
That's not actually Scott's stuffed brownie. His looked ugly! But, as he reminded me, "Who cares how it looks, Katie? It's the taste that's important. And this tastes awesome!" Spoken like a true foodie.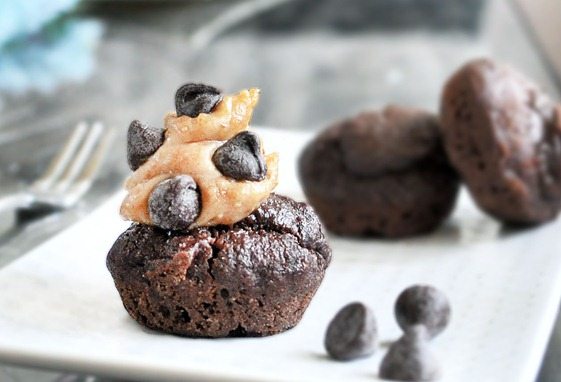 How to make Stuffed Brownie Bites:
You could shove a pastry bag up the bottom of the Fudge Munchkin. (Oh my gosh, how naughty does that sound?!) But I just cut out a little hole, piped the icing into the brownie bite from the top, and then piped on more icing to conceal the hole.
For the frosting: I mixed peanut butter with a little almond milk and agave to thin it out. Then I stuck it in a plastic bag and cut off the corner.
But you could also use Peanut Butter Frosting.
Scott had an even easier answer: He cut his brownie in half, spread on the frosting on the bottom half, and then messily smeared more pb frosting on top. Okay, so maybe he's not such a foodie after all!
It's a regal snack: Peanut butter crown on Chocolate Brownie Bites.
Question of the Day:
Are any of the guys you know foodies?
Or are they more like all my guy friends: if it's food, they eat it! My dad, however, is the ultimate foodie, especially when it comes to wine and cheese. I think he likes Whole Foods even more than I do!
Also, how would you stuff your brownie bites?
How good would they be stuffed with Cookie Dough Dip?!