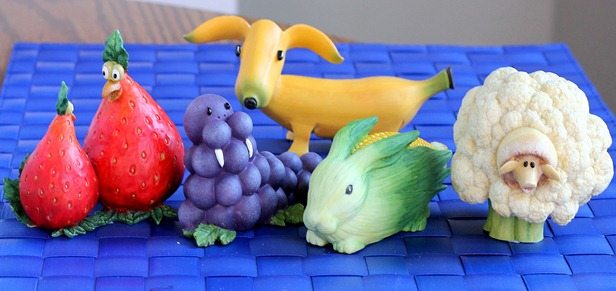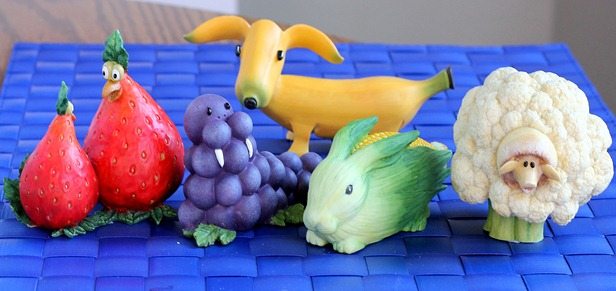 I love cute things.
Maybe it's because I grew up in Tokyo, Japan: home of Hello Kitty, Super Mario, and world capital of all things super-cute. In any case, I now own the five most adorable animal figurines on what I'm pretty sure is the face of the entire planet.
It's all thanks to my funny friend, Sarah.
We have a strange tradition of giving each other Easter presents instead of Christmas gifts (her idea). Last year she presented me with a hideous stuffed longhorn, and I've been making fun of her for it ever since. (The stuffed longhorn currently resides in my closet. Batman is terrified of it!) This year, Sarah promised she'd get me something much cuter. And I have no idea where she found them, but she was definitely true to her word: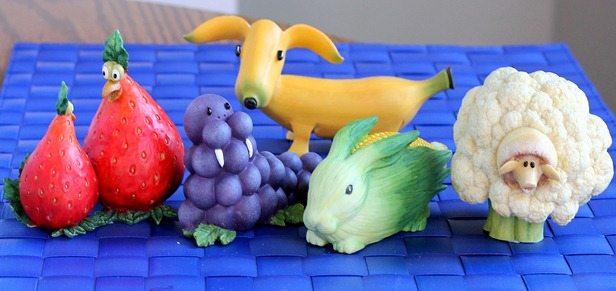 (Click on the photo to enlarge)
Aren't they fun? Apparently the company—Home Grown Foods—also makes a cabbage puppy, mushroom lion, carrot goldfish, parsnip giraffe, cantaloupe turtle, kiwi koala… I might have to go back and get more! Close ups: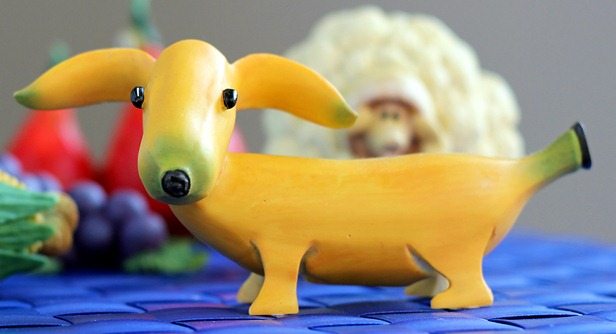 Banana Puppy!
I could so turn him into Chocolate-Chip Banana Bread.
What do you think? Too weird?
I named the purple guy John Lennon.
The rest still need monikers… suggestions??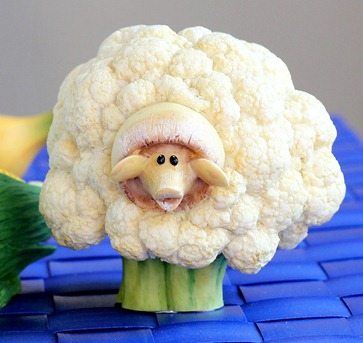 Ooh look: Cauliflower Chicken Nuggets!
Yum yum yum…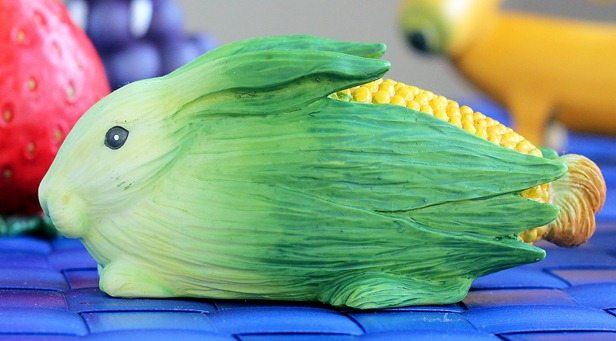 Speaking of things that are cute…
New blog feature:
Every now and then, the site hits a snag I just can't seem to fix by myself, even though my knowledge of tech-y things has grown by about a million since starting this blog. I'm lucky to have a tech guru friend best known in the blogworld as "Zesty Cook." If—like me—you're sometimes flummoxed by the technological demands of running a website, Zesty is a great guy to know. To anyone whose blog is in need of some tech assistance, I recommend going to his site for help: Zesty Blog Consulting. He will fix issues with your blog, or he'll even get you set up if you don't yet have a blog and aren't sure where to start. (If you want to switch from blogspot to wordpress, he'll do that too.)
He's behind the new little pictures to go with all my previous posts:
To see an example: Click here
I wish I could say I implemented the change by myself. But when I tried, the website ended up with giant pictures taking over the entire screen; certainly not the cute photos for which I'd hoped.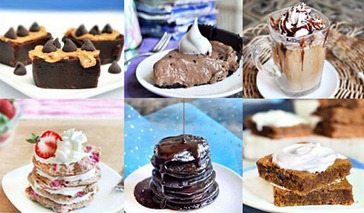 Question of the Day:
So which of the animal figurines is YOUR favorite?
I can't seem to choose… If I must choose a favorite, I'll go with the corn rabbit. No, the cauliflower sheep. Or the banana dog. Or… See? I can't choose.
P.S. for real cute animals, check out this old post.