Guess what…
You probably already have all the ingredients to make this: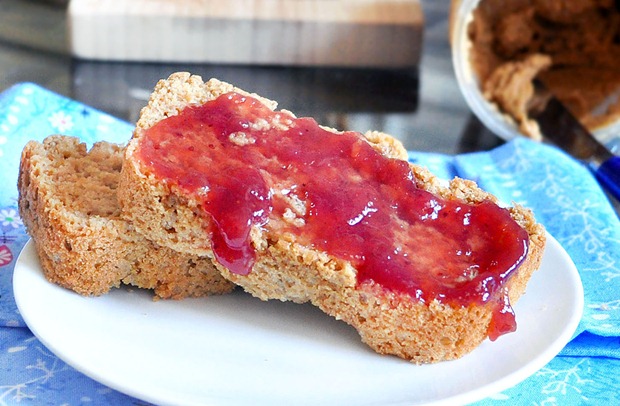 So there's no excuse not to make it.
Lame excuse #1:
"But I'm at work right now and can't leave my office."
Solution: Tell your boss you're taking the rest of the day off for personal reasons. Better yet, tell him/her you're going home to make peanut butter bread and you promise to bring a slice in return for a raise. (Then conveniently "forget" to save a piece. When you taste how good this bread is, you will see that the raise just isn't worth it.)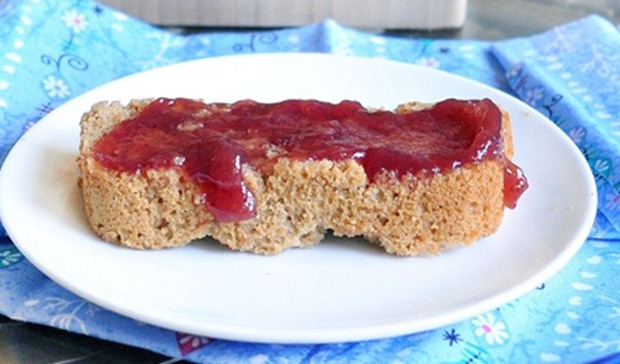 Lame excuse #2: "I'm too lazy."
There's no yeast in this super-simple recipe, and you don't need a mixer or even a blender. The prep work takes just 5 minutes!
Lame excuse #3: "I don't like peanut butter."
Solution: Then make this bread with almond butter, or cashew butter, pea butter, sun butter, whatever.  Bam. Problem solved. If only all problems were so easy to fix.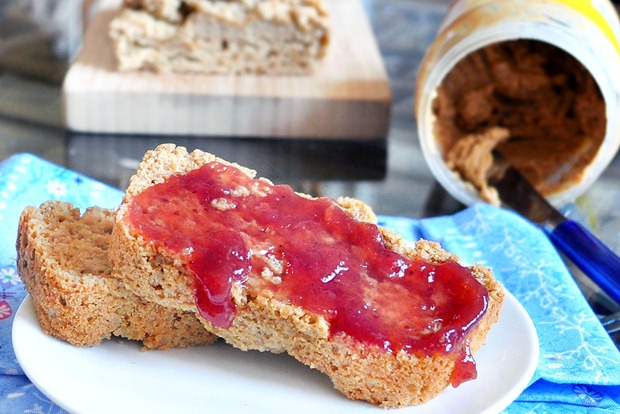 Lame excuse #4:
(You're still going? Really??)
Just go make it already! 😉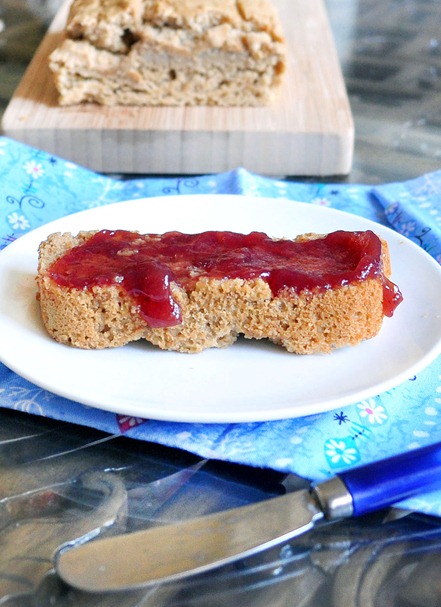 Peanut Butter Sandwich Bread
(Yields 1 regular-sized loaf)
Recipe found here: Healthy Peanut Butter Recipes.
2 cups spelt flour or white whole-wheat flour (or white, or gf all-purpose) (If using the gf all-purpose, it will work without xantham gum, but for best results add 2 tsp)
1/3 to 1/2 cup peanut butter (or nut butter of choice)
2 tbsp applesauce (or 2 tbsp more pb, or mashed banana, )
sweetener (see recipe directions for amount)
1/8 tsp uncut stevia extract (or 1/4 cup more sugar, or 4 stevia packets)
1 tbsp baking powder
1 tsp salt (I used salted pb as well)
1 tsp cinnamon
2 tsp pure vanilla extract
1 1/2 cups milk of choice
optional: chocolate chips, chopped peanuts
You can use any of the following as your sweetener: brown sugar, xylitol, coconut sugar, regular sugar, or evaporated cane juice. If you want a sandwich bread, use 1/3 cup. If you prefer a sweeter peanut butter bread, increase sweetener to 2/3 cup. (Either way, also add the 5th ingredient in the ingredient list.)
Preheat oven to 375 F. Mix the dry ingredients very well. Then mix in wet. (If your pb isn't super-creamy, microwave it 40 seconds, or until soft.) Pour into a sprayed loaf pan and bake 40-45 minutes. Let cool at least 15 minutes before slicing.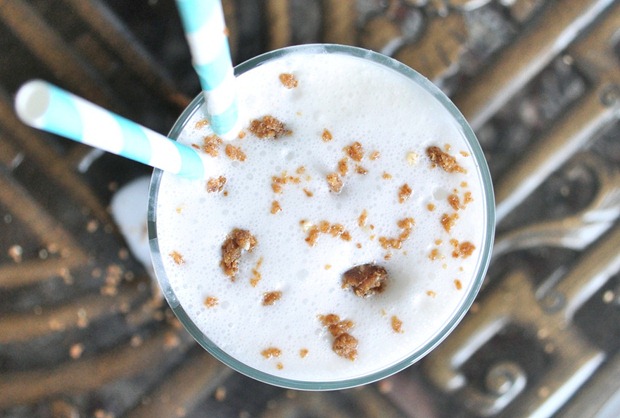 For peanut butter overload, serve with: PB Cookie Dough Milkshake.
Question of the Day:
Do you like a specific type of bread for sandwiches?
I usually like plain whole-wheat bread (or sometimes Ezekiel cinnamon-raisin). And I just discovered Whole Foods' "health starts here" chia bread, which is also really good. But homemade bread is the best… If only I could find the time to make it!