Healthy Cadbury Creme Eggs?!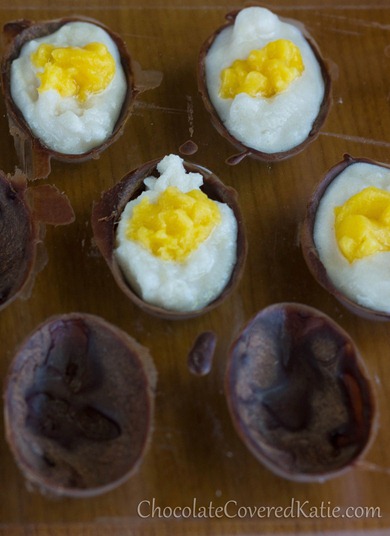 Today, those ubiquitous Cadbury Creme Easter eggs are receiving a much-needed healthy makeover.
Goodbye high fructose corn syrup.
Goodbye artificial flavors.
Goodbye Yellow #6.
(By the way, if you google to try and find out what ingredients comprise Yellow #6, you get some creepy results…)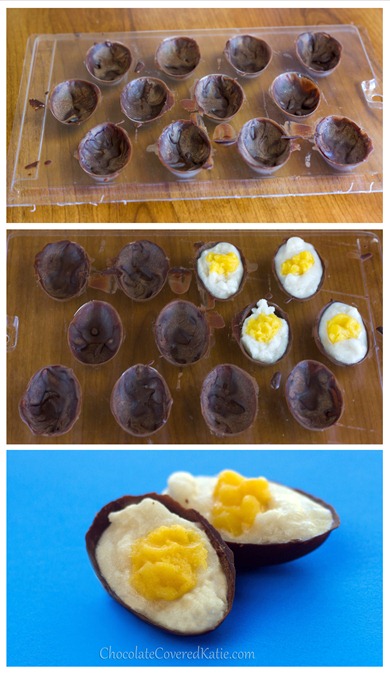 Instead of stuffing the homemade vegan Cadbury creme eggs with a gloppy mess of powdered sugar, corn syrup, and butter, I decided on something way better…
Filling them with ice cream!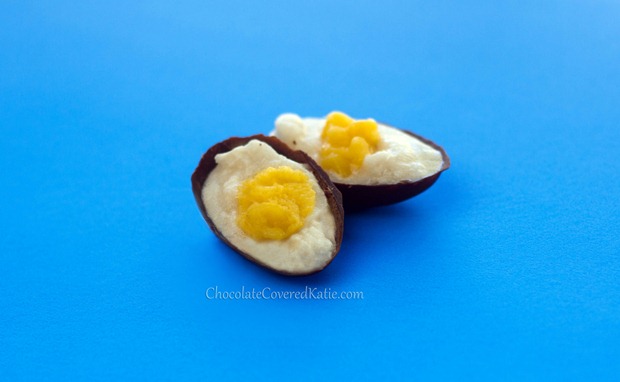 Healthy Cadbury Creme Eggs
Yolks & Cream Filling:
1 bag frozen mango or peaches (240g)
1/4 cup milk of choice (60g)
pinch stevia extract OR 1-2 tsp sugar
cream cheese (such as Tofutti) OR vanilla ice cream of choice (such as my healthy ice cream recipe) if you prefer ice cream eggs
Chocolate: (Or skip the chocolate recipe below and simply melt a bowl of chocolate chips)
1/4 cup cocoa or cacao powder (20g)
2 tbsp virgin coconut oil, liquid (20g)
1 tbsp pure maple syrup or agave (15g)
First, get out an egg-shaped mold (available at places like Michaels, for about $1, in the cake-decorating section) and put it in the freezer to chill. Then make the yolks. (If you wish to save time, you can skip the yolk recipe and simply buy a carton of mango ice cream, such as SoDelicious brand. Or skip the mango and use more cream cheese naturally colored by mixing in a small pinch turmeric.) To make the yolks, combine the first three ingredients in a high-powered blender and blend until completely smooth. Scoop out and freeze while you make the chocolate. Combine chocolate ingredients and stir to form a thin sauce, then take out the chilled candy mold and paint chocolate in a thin layer around the bottom and up the sides of each egg, using a small spoon. Freeze five minutes, then do another layer. Fill with the ice cream or cream cheese that has been warmed to a spreadable consistency, then add a tiny scoop of the yellow filling to the middles. You'll have leftover yolk filling, as the larger recipe is necessary for smooth blending. I made "deviled" eggs by leaving them open, but you can meld two together by coating the seal with extra chocolate sauce if you'd prefer.
View Healthy Cadbury Cream Eggs Nutrition Facts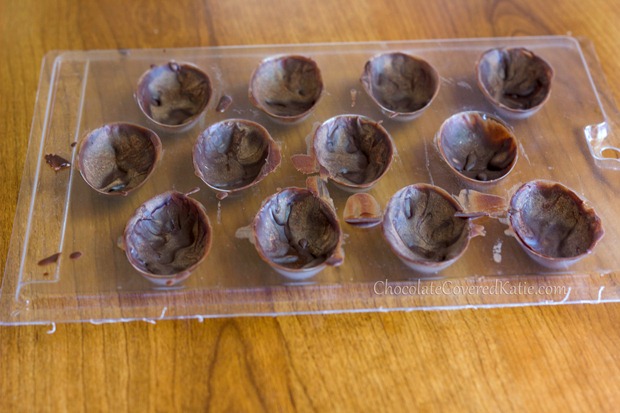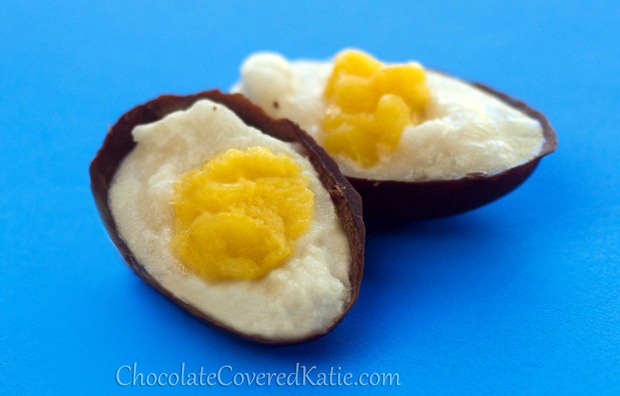 Question of the Day: Have you ever tried a Cadbury Creme egg?
I've actually never eaten a real Cadbury Creme egg. My childhood Easter baskets were filled with so many chocolate bunnies that I guess there just wasn't room for any egg-shaped confections. I'm curious as to what they taste like… Might have to order a vegan Cadbury Creme egg online to see. Apparently they really do make such a thing!
LINK OF THE DAY: