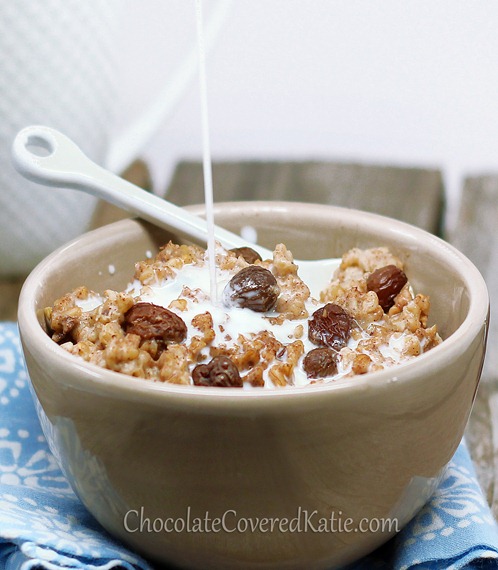 My kitchen has seen everything from Chocolate Oatmeal to Peanut Butter Oatmeal.
And a quick google search for "oatmeal recipes" will show you that I'm hardly alone in my proclivity for oatmeal experimentation. Recipes exist for carrot cake oatmeal, spinach oatmeal, Oreo oatmeal, soy sauce oatmeal…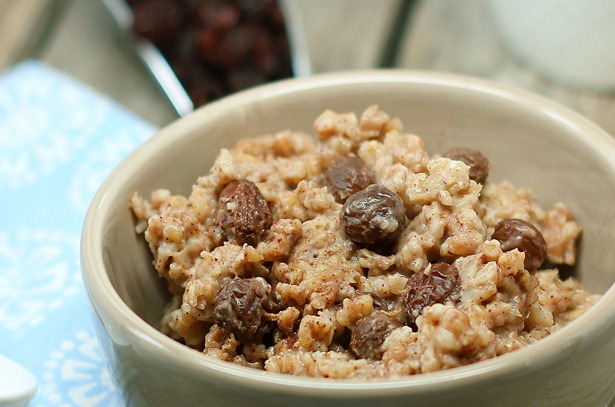 However, sometimes the classic is best.
(I'm looking at you, soy sauce oatmeal!)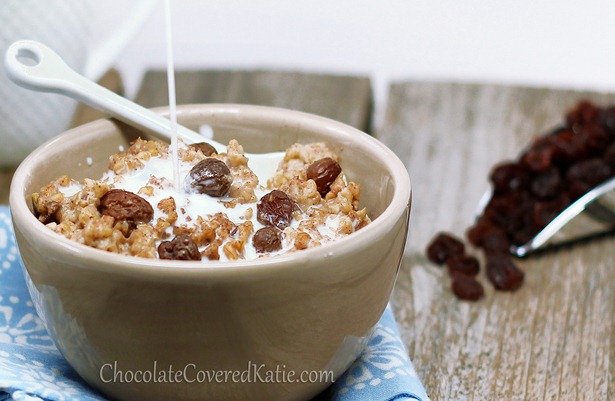 Oatmeal-raisin is always a classic; like the little black dress of breakfasts. It will never go out of style.
Oatmeal Raisin Cookie Oatmeal
(Makes 4 servings)
3 cups milk of choice (720g)
1 cup steel-cut oats (160g)
1/2 tsp plus 1/8 tsp salt (I think oatmeal tastes much better with a little salt, but you can use less if you normally make–and enjoy–oatmeal without salt.)
1 1/2 tsp cinnamon (level)
1/2 to 1 cup raisins (70-140g)
1 tsp pure vanilla extract (4g)
sweetener and toppings of choice
If you have a slow cooker: Lightly grease the bottom of the crock pot, then add first 5 ingredients and stir. Cook on low for 3 1/2 hours. Turn off heat, then add the vanilla, sweetener of choice, and any other toppings or mix-ins you wish. (If you don't have a crock pot, bring the milk to a boil and then add the next four ingredients. Lower to a simmer, and simmer 20-25 minutes or until thick. Then stir in the vanilla, sweetener, and other toppings of choice.) You can store leftovers in the fridge – it's a good idea to add a little extra liquid (milk or water) when reheating.
I made sure to wear green yesterday, had my Irish oatmeal for breakfast, and also attended a St. Patrick's Day celebration. It was a crazy party: 4 girls, drinks, and an entire key lime pie cheesecake (my recipe) all to ourselves. That's a party, right?
If there is cheesecake, it's always a party!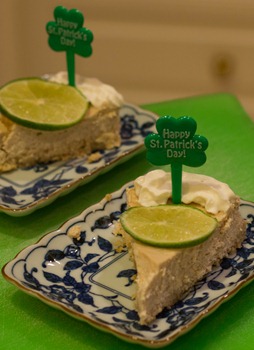 (Ugly nighttime lighting. Really good cheesecake!)
Question of the Day:
Would you be brave enough to try soy sauce oatmeal?
Or spinach oatmeal? Oatmeal with spaghetti sauce? Since oatmeal is a grain just like pasta and rice, I guess it's not as weird as it sounds to flavor the grain with something like soy sauce. Still… I think I will stick to the raisins!
Link of the Day: 25 Healthy Oatmeal Recipes