These waffles keep you full for hours!
The recipe makes two carrot cake waffles… and you can eat them both.
Soft and indulgent waffles, covered in a thick layer of frosting. It's almost like eating real carrot cake for breakfast, without that crash-and-burn feeling you get from consuming too much sugar. You can enjoy all the deliciousness of carrot cake, while getting heart-healthy fiber, whole grains, and vitamins at the same time!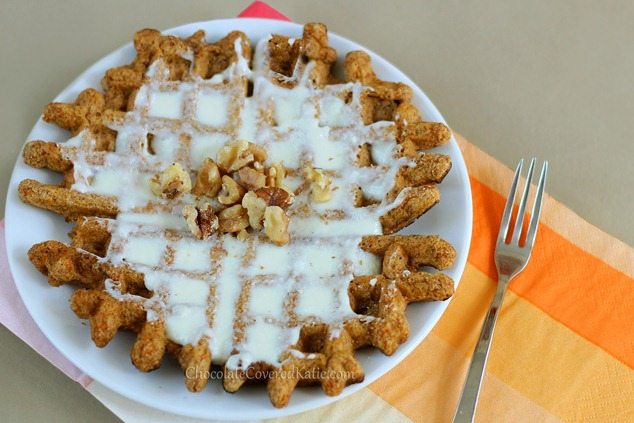 These waffles are best with coconut butter or my Healthy Cream Cheese Frosting.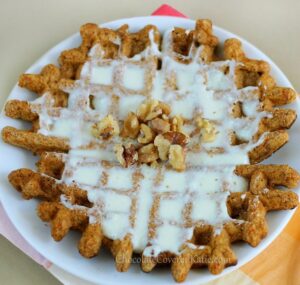 Carrot Cake Waffles
(Makes 2 waffles)
1/2 cup spelt flour (or all-purpose or Bob's gluten-free) (60g)
1/2 tsp cinnamon
1/4 tsp salt
1/4 tsp baking soda
1 tsp baking powder
pinch stevia extract, or 2 tbsp agave or pure maple syrup
1/4 cup shredded carrot (32g)
1/3 cup milk of choice (decrease by 2tbsp if using the agave/syrup) (80g is 1/3c)
1 tbsp more milk of choice or 1 tbsp oil (15g)
1 tsp pure vanilla extract (4g)
Combine first 6 ingredients in a mixing bowl, and stir well. In a separate bowl, combine remaining ingredients. Grease your waffle maker, with oil or oil spray (be sure to grease well if using the oil-free version), then let it preheat. Pour wet ingredients into dry, and stir to make a batter. When the iron is hot, pour half the batter into the center of the iron, and close the lid. (My machine has a light that goes out when the waffle is ready. Don't lift the lid before the waffle is finished cooking.) Frost these vegan carrot cake waffles with either coconut butter or my healthy cream cheese frosting (linked below the second photo in this post).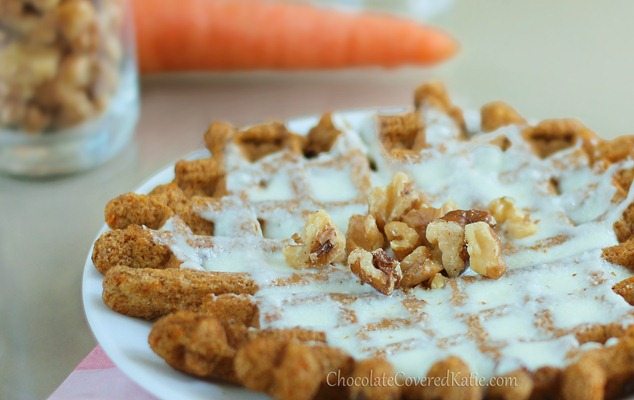 Link of the Day: