Healthy Cadbury Creme Eggs?!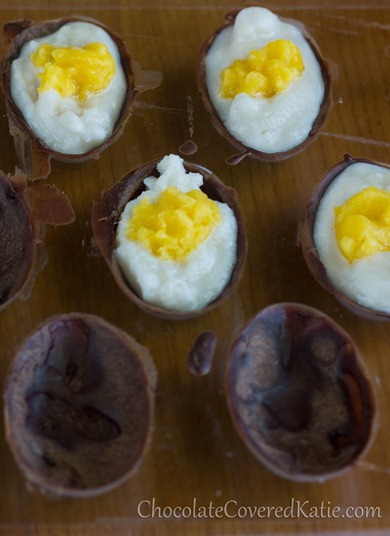 Today, those ubiquitous Cadbury Creme Easter eggs are receiving a much-needed healthy makeover.
Goodbye, high fructose corn syrup
Goodbye, artificial flavors
Goodbye, Yellow #6
By the way, if you google to try and find out what ingredients comprise Yellow #6, you get some creepy results…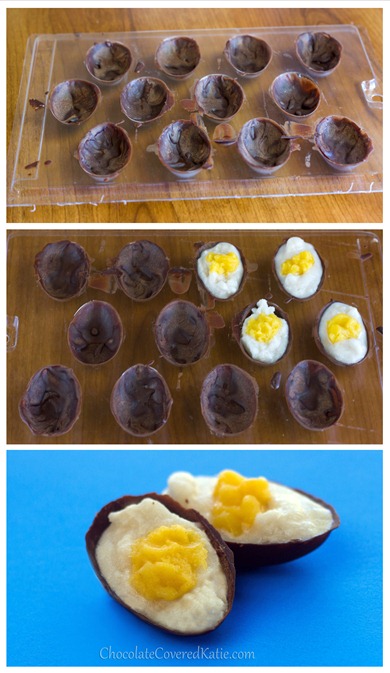 Instead of stuffing the homemade vegan Cadbury Creme eggs with a gloppy mess of powdered sugar, corn syrup, and butter, I decided on something way better…
Filling them with ice cream! Have you ever tried a Cadbury Creme egg? My childhood Easter baskets were filled with so many chocolate bunnies that I guess there just wasn't room for any egg-shaped confections, and I've actually never tried a non-vegan Cadbury Creme egg. I'm curious as to what they taste like… Might have to order a vegan Cadbury Creme egg online to see how these healthy Cadbury Creme eggs compare.
If you don't want to do the ice-cream thing, I'm also including an option below that does not need to stay frozen. Both ways are delicious and perfect for Easter!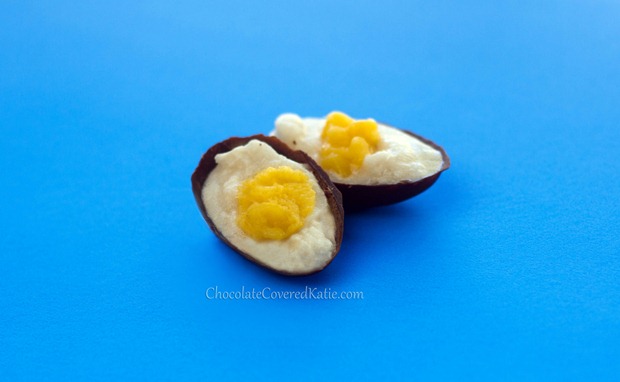 Healthy Cadbury Creme Eggs
(Completely vegan!)
Yolks & Cream Filling:
1 bag frozen mango or peaches (240g)
1/4 cup milk of choice (60g)
pinch stevia extract OR 1-2 tsp sugar
ice cream of choice, such as my Healthy Ice Cream Recipe, OR coconut butter or cream cheese, such as TJ vegan
Chocolate:
(Or you can skip the chocolate recipe below and simply melt a bowl of chocolate chips)
1/4 cup cocoa or cacao powder (20g)
2 tbsp virgin coconut oil, liquid (20g)
1 tbsp pure maple syrup or agave (15g)
*If you don't want to keep the eggs frozen, you can skip the yolk recipe and simply use more cream cheese or coconut butter, naturally colored by mixing in a small pinch turmeric.
First, get out an egg-shaped mold (available at places like Michaels, for about $1, in the cake-decorating section) and put it in the freezer to chill. To make the yolks, combine the first three ingredients in a high-powered blender and blend until completely smooth. Scoop out and freeze while you make the chocolate. Combine chocolate ingredients and stir to form a thin sauce, then take out the chilled candy mold and paint chocolate in a thin layer around the bottom and up the sides of each egg, using a small spoon. Freeze five minutes, then do another layer. Fill with the ice cream or cream cheese that has been warmed to a spreadable consistency, then add a tiny scoop of the yellow filling to the middles. You'll have leftover yolk filling, as the larger recipe is necessary for smooth blending. I made "deviled" eggs by leaving them open, but you can meld two together by coating the seal with extra chocolate sauce if you'd prefer.
Link Of The Day: