On this page, I tried to answer the questions I commonly receive. If I didn't answer a question you may have, please feel free to leave a comment!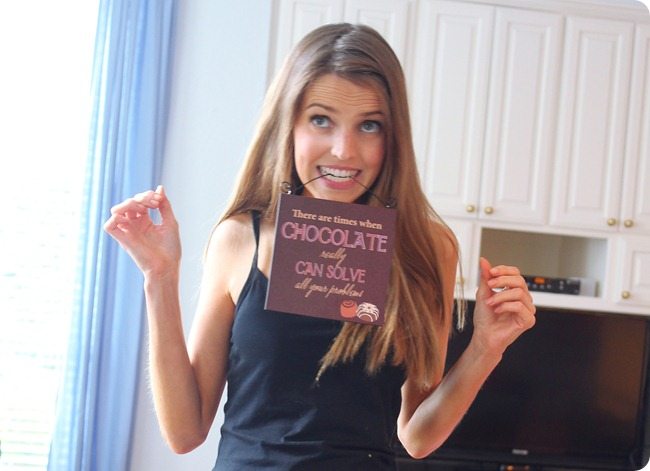 Frequently Asked Questions:
Is there an easier way to see your recipes?
Yes, you can simply click here: Get FREE recipes delivered to your inbox
Many people prefer to get the recipes by email so they don't have to remember to keep checking back for new recipes. It's 100% free, and you get just the recipes, with no annoying advertisements.
How can I contact you?
I receive hundreds of questions each day, so please be patient with me as I try my hardest to respond to as many as possible! Here are links to the CCK Facebook Page and the CCK Pinterest Page, and you can also reach out at chocolatecoveredmedia at gmail dot com. Or leave a comment on any one of my blog posts.
Blogging
Do you have advice for other bloggers?
Here are all my posts tagged: Life As A Full-Time Food Blogger.
What's your favorite recipe on the blog?
Not surprisingly, I am partial to the chocolate pie, brownies, and pudding cake recipes; but I also really love the ice cream–especially the pistachio ice cream recipe in the Chocolate-Covered Katie Cookbook.
The definite reader favorites are the Cookie Dough Dip and the Black Bean Brownies. More reader favorites can be found on the right sidebar of the blog!
Can I post one of your recipes on my own blog? And can I use your photos?
I'm ridiculously happy when someone tries one of my recipes. I do ask, though, that you link back to the recipe instead of posting it on your site unless you've made major changes. I have big plans for some of my recipes. But please feel free to use any of my photos as long as you give credit.
Running/Exercise
Do you run every day?
Edit: for why I no longer run at all, see this post: Why I Gave Up Running.
Do you lift weights?
I used to hate weight lifting almost as much as I love chocolate. (Okay, maybe not that much.) But once I started working out with a friend and talking the whole time, I discovered I actually look forward to going to the gym.
Katie
Do you have a job?
Yes. As of June, 2011, this is my job!
Can you share your stats? How much do you weigh?
I am 5'5 and don't regularly weigh myself.
You mention you've lived all over the world. Where exactly have you lived?
I was born in England and have also lived in Philadelphia, Japan, China, The Philippines, Texas, and Washington, D.C.
Photography
What camera do you use?
I have a little Canon Rebel and vascillate between an f/1.8 and a 100mm macro lens. Love them both. (Photos on posts up until about a year ago were taken with a simple point-and-shoot camera.) Someday I'd like to buy a Canon 5D. Someday… when I can afford it!
Have you taken any photography classes? What tips do you have for someone who wants to take better photos?
Everything I know comes from observation and practice. My biggest tip to readers who want to improve their photos: practice practice practice! And observe others' photos on sites like foodgawker or pinterest, making mental (and sometimes actual) notes on what aspects of the photo you like and what you dislike.
Health and Diet
You seem to eat very healthily. Do you ever eat unhealthy foods?
I try to make sure my meals are balanced, and I strive for variety. But I don't stress out about it and will never eat a food just because it's supposedly good for me. Worrying about eating a "perfect" diet seems more detrimental to one's health than a few grams of trans fat or white flour every now and then. Luckily the foods I crave are usually pretty healthy; however if I'm out with friends, on vacation, or someone surprises me with a not-healthy-in-the-slightest homemade baked good, you can bet your boots I'll happily eat it!
Many of your recipes are extremely low-calorie. Why is that?
Many of the people who read my blog are trying to lose weight or can't just eat as much as they want. I try to make my recipes relevant for as many people as possible, and therefore I'll give variations in my recipes so that everyone can make them. This way people can make the recipe as high-fat or low-fat as they want. (It's also why I try to include gluten-free options and test each recipe with different sweeteners and flours.)
Do you really eat all the desserts you post?
I personally taste-test every single recipe I post on my blog. Many of the recipes—especially ones with chocolate—will be consumed entirely by me. (Or the addictive Peanut Butter Cookie Dough Cookies. I don't share those!) However, my friends love being taste-testers, and I'll often send them home with food. Then there are some recipes that I create specifically because I think you will like them; these are not necessarily my personal favorites (cake batter doughnuts, pbj blondies, etc.). Friends will happily eat anything I don't want.
Are you anorexic?
I'm not, but I am aware it's a suggested search term if you google my blog name, which is why I wrote the following post: Chocolate-Covered Katie Anorexic?
Is this a vegan blog?
You definitely do not need to be a vegan to enjoy these recipes! You simply need to be someone who enjoys delicious desserts. (You fit this description, right?) I'd guess that a large percentage of my readers probably aren't vegans or vegetarians, and most of my real-life friends, who taste-test many of the recipes for me, aren't vegetarians.
Final Questions:
Is there a way I can get your recipes by email?
Yes, you can click here: Get FREE healthy dessert recipes delivered to your inbox.
If you sign up, you will get only my new recipe posts, never any annoying advertisements.
Do you really eat chocolate every day?
Every single day. Usually at least twice.