My sister doesn't hate oatmeal per se.
But, like many others, her idea of oatmeal is the mushy, runny goo one finds at cheap hotel buffets.  Needless to say, she's not the food's greatest fan. Always up for a challenge, I decided to repeat the oatmeal conversion process that worked so well on my friend.
Remember my recipe for "Cookie Dough" Oatmeal?
Time for a sisterly heart-to-heart:  "Little Sister, what's your #1 favorite dessert food?" (Notice the carefully-selected choice of words this time.)Having just returned from college (for spring break), Sister Dearest must've been thinking of her current home when she answered, "Boston Cream Pie!"
Boston Cream Pie?  Really?  Of all the yummy desserts out there?  Aside from her beloved Boston Cream Pie doughnuts, I don't think I've ever even seen Little Sister eat Boston Cream Pie.  But if that's what she wanted, that's what she was gonna get! The first source I called upon for inspiration was not a pie book; twas a cupcake book.  But this wasn't just any old cupcake book.  No, it was the king of all cupcake cookbooks, Vegan Cupcakes take over the World.  Having never made Boston-Cream anything before, I relied on that vegan genius known as Isa Chandra Moskowitz for help.  I loosely (very loosely) based my oatmeal concoction on her recipe (page 65).  The result is pretty darn gorgeous, doncha agree? And according to Little Sister, it tasted amazing as well. But you don't have to take her word for it; you can try Boston Cream Pie Oatmeal for yourself!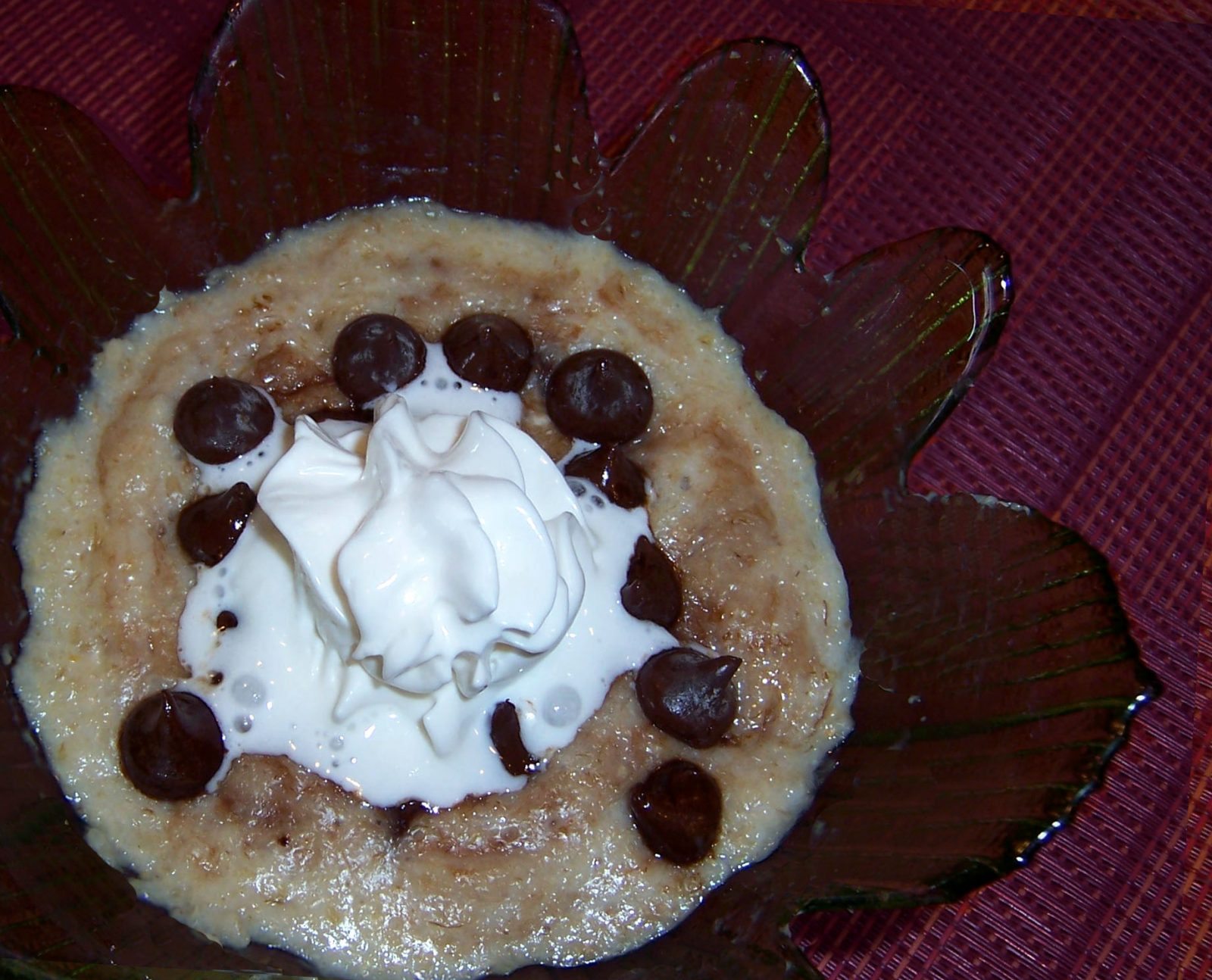 *Drumroll please*
CCK's Boston Cream Pie Oatmeal
1 serving cooked oatmeal (cooked with water or milk; your choice)
1/4 cup silken firm tofu
1/8 tsp salt, or to taste
2 tbsp powdered sugar or my sugar-free powdered sugar
1/2 tsp to 1 tsp vanilla extract
1/4 cup milk of choice
Chocolate chips
Optional: Soyatoo whipped cream
To cook the oatmeal, you can use the "Voluminous Oatmeal" Trick.
Blend the cooked oatmeal with all other ingredients but the chips and Soyatoo. Transfer to a bowl, add some chocolate chips, and microwave until they're a bit melty.  I then stirred the melted chips into the oatmeal and added more chips on top. Go to town with the whipped cream! Then, if you're smart like my sister, you'll mix the whipped cream into the oatmeal to get it reeeeaaaally creamy.  Here's a pic of her bowl, after mixing: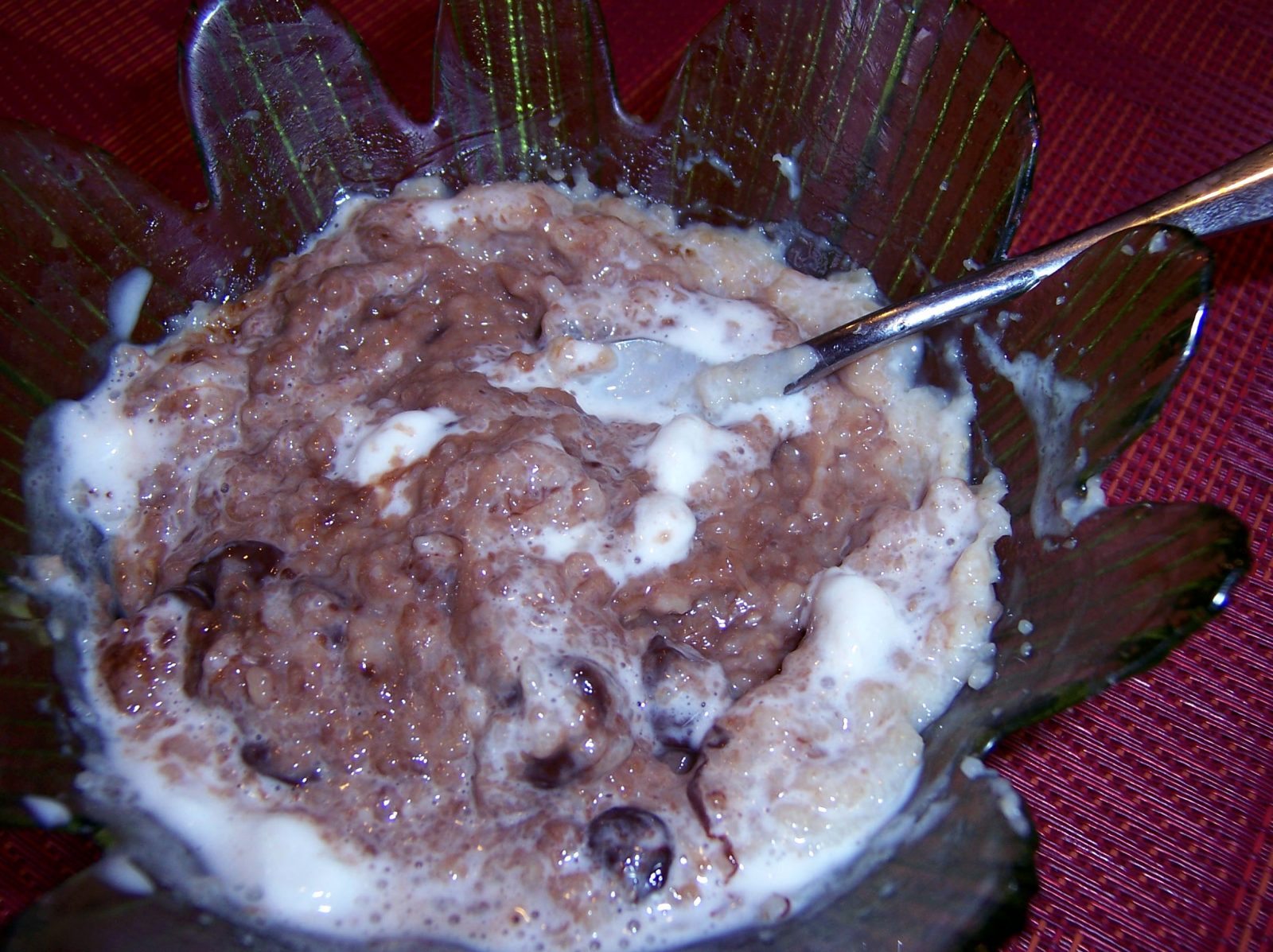 See, I told you she was one smart cookie!
Sharing time: What's your favorite dessert?
Who knows; I just might turn it into oatmeal!