Chocolate chip cookie dough nice cream – dairy free, vegan, & no added sugar.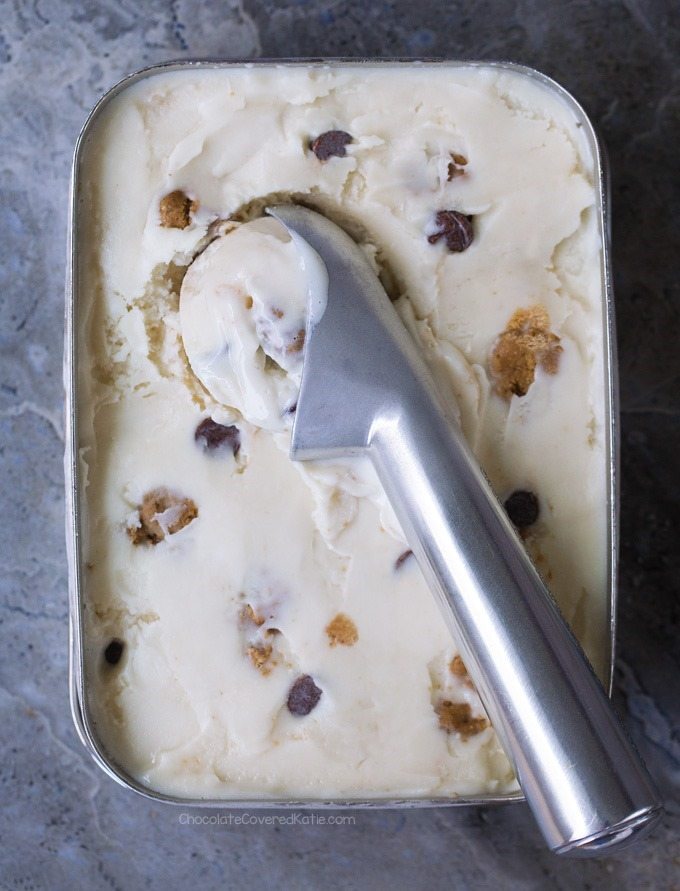 So… apparently cookie dough ice cream didn't exist until 1991.
This really makes me wonder what we all did before that time. I'm trying to remember a world without cookie dough ice cream, but it's almost as difficult as trying to remember what the world was like before the internet.
Or iPhones.
I first tasted cookie dough ice cream as a child growing up in Tokyo, Japan. By that point, they'd started selling the flavor in America (thanks, Ben & Jerry's), but it wasn't readily available to purchase in Japan. So my resourceful mother decided to make homemade cookie dough ice cream for us by replacing the egg in her usual chocolate chip cookie recipe with water and stirring pieces of unbaked cookie dough into store-bought vanilla ice cream.
Needless to say, it was pretty amazing.
Making this cookie dough nice cream brought me straight back to childhood. Suddenly I was five years old again, eating ice cream straight from the container… and of course eating all the cookie dough pieces first – Tell me I'm not the only one who does that!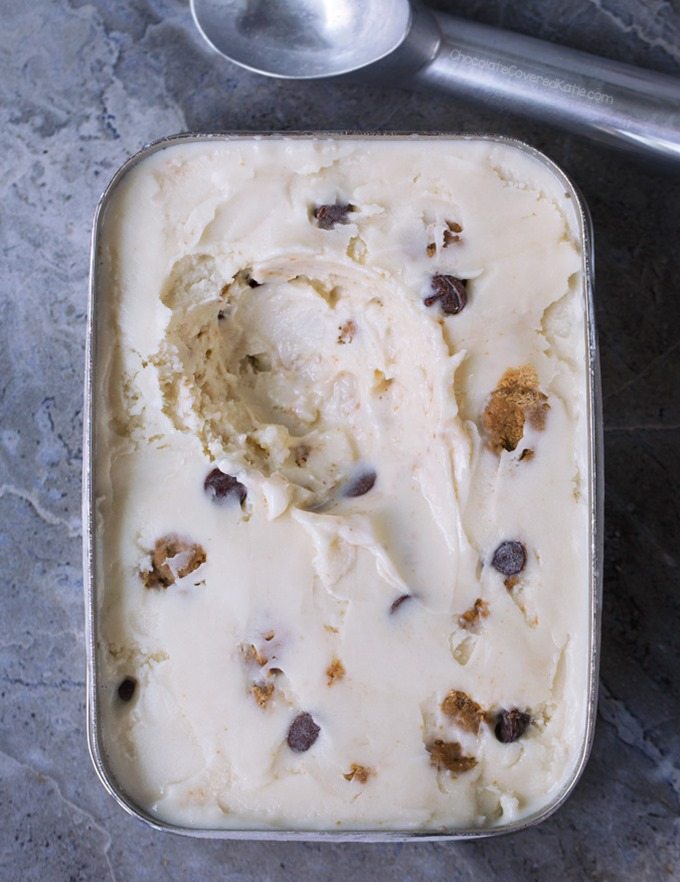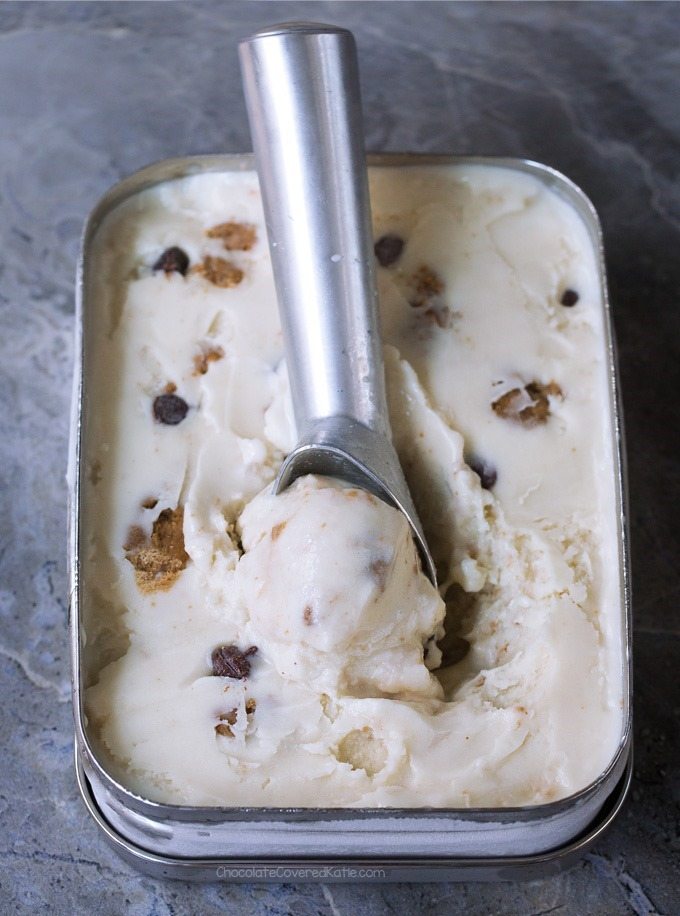 For the cookie dough component of this recipe, you have a dizzying array of choices. I give out one option in the actual recipe listed later in this post, or you can choose to use any of the following options if you'd prefer:
Or use the dough from any of my Healthy Cookies Recipes – They are all egg-free!
For the ice cream base, I list three different versions because I know you all like options. There's a coconut-based option, a cashew-based option, and a banana-based option; and all have their benefits. If I want cookie dough ice cream that truly tastes reminiscent of real cookie dough ice cream you can buy in pints at the store, I will go with the Healthy Haagen Dasz option (which also happens to be one of my personal favorite recipes on the blog).
The banana option is of course not as rich as the other two, but it is much quicker to make and also lower in fat and calories for those who want or need a lower-calorie option. This option can also be entirely free of any added sugars, thanks to the natural sweetness of banana making up the base.


Cookie Dough Nice Cream
**For banana-free, simply use my Healthy Haagen Dasz or Coconut Ice Cream recipe instead of the base below.
Cookie Dough Nice Cream
Print This Recipe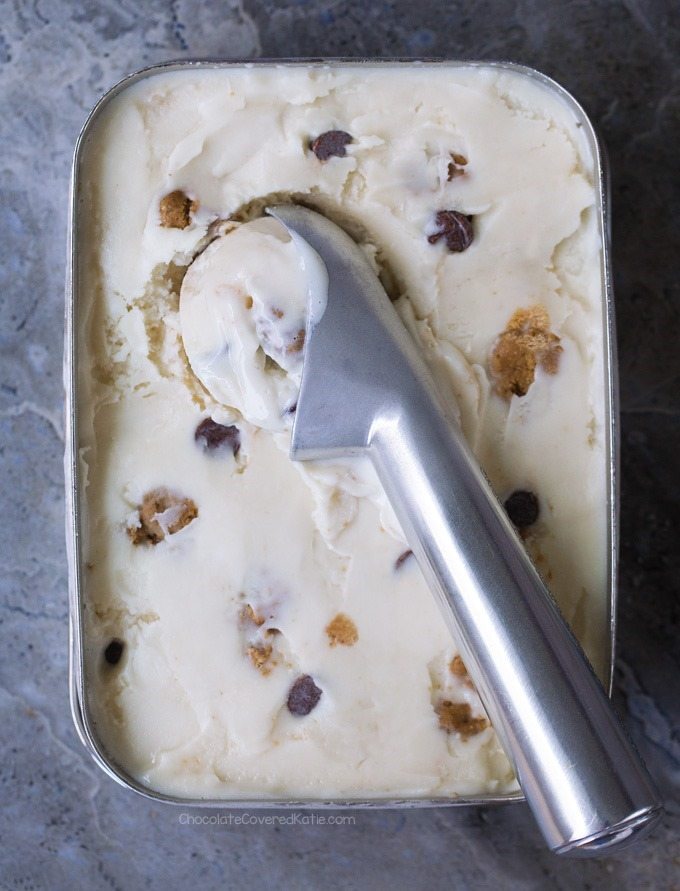 Ingredients
2 overripe, frozen bananas
pinch of salt
optional 1/2 cup coconut cream or raw cashews, for a richer taste
chocolate chips or pieces of chocolate bar
Instructions
If using the optional nuts, soak them 6 hrs to soften, then drain completely. Be sure to start with bananas that are brown or at least turning brown. Peel and cut into pieces, then freeze in an airtight bag or container. To make the ice cream, blend all ingredients until completely smooth. You can add the chocolate before or after blending. Stir in pieces of your favorite cookie dough or use my recipe directly below. Serve immediately in a bowl, or freeze in a container until firm, then scoop out with an ice cream scoop. As mentioned earlier in this post, the banana version is great for a lower-calorie or quicker option; or you can use one of the two bases linked above if you'd like a cookie dough ice cream that is more reminiscent of real store-bought cookie dough ice cream.
5 Ingredient Cookie Dough
(Feel free to use the Raw Cookie Dough Recipe if you'd prefer)
1/4 cup quick or rolled oats
1/4 cup nut butter of choice, or allergy-friendly sub
1 1/2 tbsp liquid sweetener of choice OR pinch stevia
scant 1/16 tsp salt
1 tbsp flour of choice or protein powder or oat bran
Stir all ingredients together. If too dry, add a little milk of choice or water until it resembles cookie dough. Roll into balls. If you don't want a peanut butter cookie dough taste, try raw cashew butter, almond butter, or even walnut butter! Allergy-friendly can use sunbutter, soybutter, coconut butter, or pea butter. This makes enough cookie dough for multiple servings of ice cream, so store leftover cookie dough balls in the refrigerator or freezer.
More Nice Cream Flavors: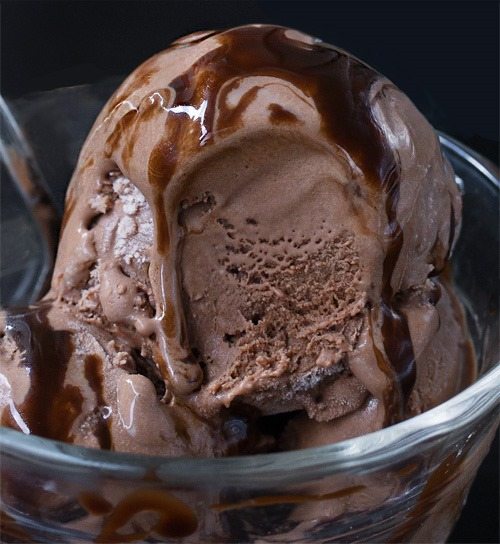 Chocolate Peanut Butter Cup Nice Cream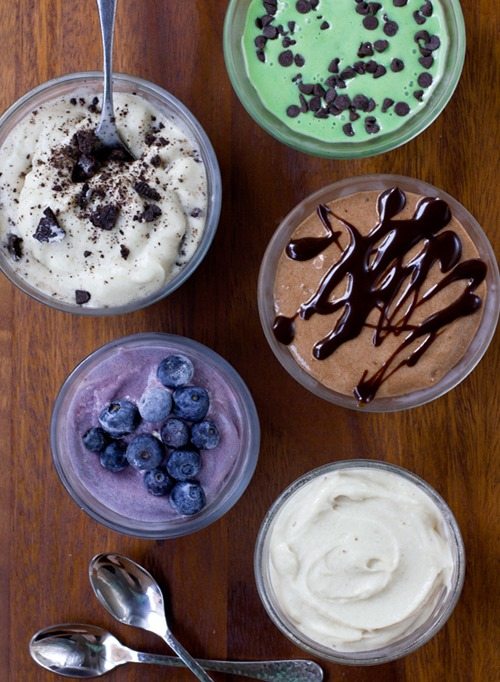 Banana Ice Cream – 10 New Flavors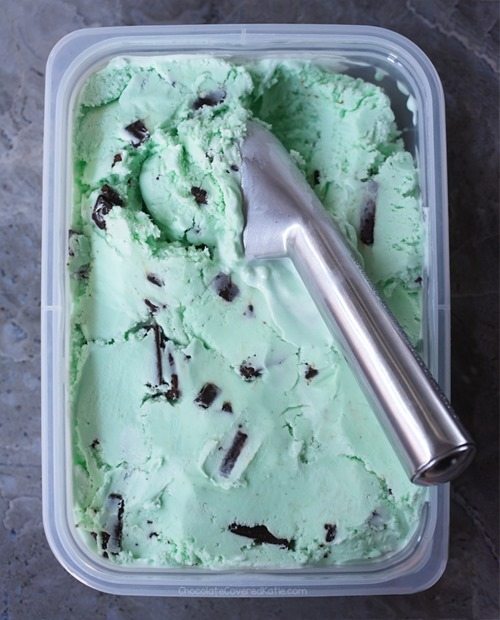 Mint Chocolate Chip Nice Cream