I'm loving the beautiful weather. It's weird to think last week was –4 and today will reach over 80 degrees. Warm weather does not mean I give up my beloved breakfast grain bowls; I just eat them cold! (Actually, I eat cold oatmeal in winter too. I'm strange like that.)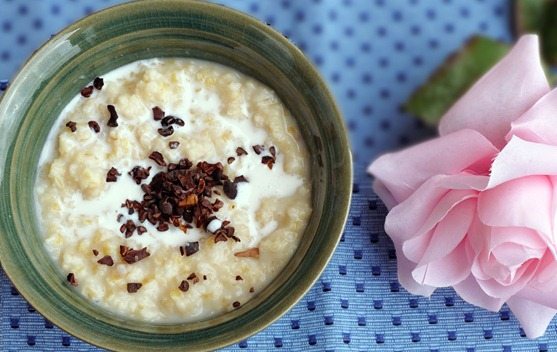 Today's brekkie was a twist on my Blueberry Muffin in a Bowl.
And I ate it outside, in the sunshine!!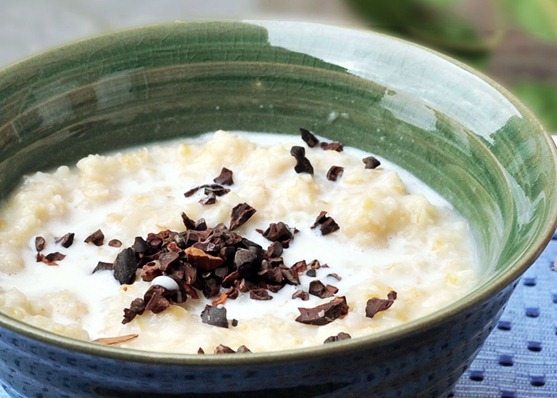 (Yes, I had other foods to go with my bulgur. And no, the fabric flower was not one of them.)
Magic Breakfast Pudding
(serves 1)
1/3 cup dry bulgur (40g) (I use light, as opposed to dark) (You can also make this pudding with oats.) 
1/4 tsp salt
1 cup water (240-260g) (Or more, if using oats)
2 tbsp (or more, if desired) nondairy creamer (I use Silk)
toppings of choice (today I went with cacao nibs)
optional sweetener (When I make this for others, I use 1 pack stevia or 1T sugar)
3 drops coconut extract… a.k.a. magic drops (with oats, I use 6 drops)
Cook your bulgur, with the salt, in the water. (I like to cook mine the day before, so breakfast comes together much more quickly.)
Here's a good tutorial: How to Cook Bulgur.
Right before eating, add remaining ingredients and stir. I like to pulse mine in the magic bullet a few times. You could also use a blender or hand blender… or omit the blending entirely!)
Question of the Day:
What'd you have for breakfast today?
Yummy thought of the day: Peanut Butter Cookie Dough Dip